Battle of Slots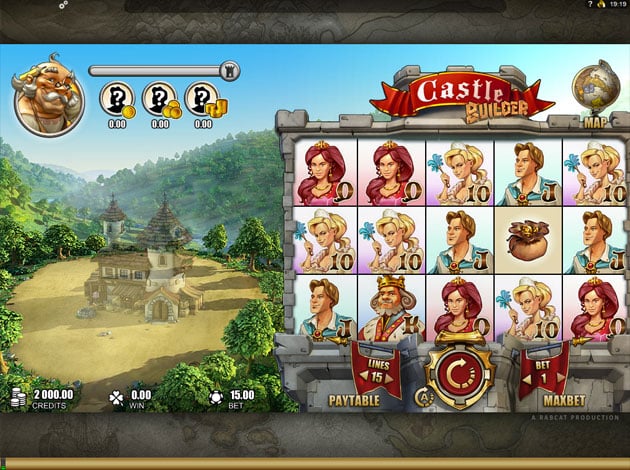 Play Castle Builder online: Check out our slot review below
Welcome to the fun video slot Castle Builder, this video slot is a new breed of 5-reel slot. Let yourself be guided on an extra ordinary journey to a medieval world of fantasy. This video slot is really different to the other ones, here you will get different building orders from different kings in the world.

Your first quest starts in the kingdom Forana where you will build a small summer house for the princess Famaal and her husband. In order to progress the construction of the house you have to accumulate the construction symbols on enabled paylines, and parts will then be added to the housing. There are various construction symbols and those are standard, bronze, silver and gold. The finer the construction symbols are, the higher value gives a building when it is completed. However, it is harder to get the finer construction symbols as it needs more of them on an active payline. By the default symbol requires only two to win girders. You can follow the construction process at the top left where it says what percentage of the castle which is completed.

When a building is completed, the Prince will move in, but first you have to choose which of all the Princess's admirers who will get the honour of being her husband. You have three different choices and each person sits on a different amount of money, which is not revealed until you have made your choice. Just like in real life, there are poor, middle-income earners and the wealthy. If you manage to pinpoint a rich your balance will increase dramatically!

After that it's time for the next task which you must build a palace for another princess. Here's how the game continues until you have completed all the tasks and built all the castles in each kingdom. To see how you are doing, you can easily click on the builder that you will find near the top left corner and it will then appear in a table on which castle you built and what you have left to build.

In this video slot, you will find that the symbols are in various royals and all their riches. You can read more about each symbol and their value in the pay table you find in the game. Wild symbol in Castle Builder represents the builder itself and substitutes for all other symbols are in the game. The symbol thus helps to complete winning combinations.

Before you start playing, you can set how many paylines you wish to be active, and how much you want to bet. Want to play with max bet, there is a button to press named maxbet. Then also all paylines are activated. Even autoplay feature is available in this video slot, and it finds you obliquely to the left of the spin button. There you can set from 5 to 500 automatic spin, and there is also a box to click if you want to play with solid gameplay. Need Help? Do not worry, you can find the rules at the top right of the game where you can get some help.

Play the popular game Castle Builder now and join one extraordinary trip you will never forget. Try the game for free or play for real money here on Videoslots.com.