Battle of Slots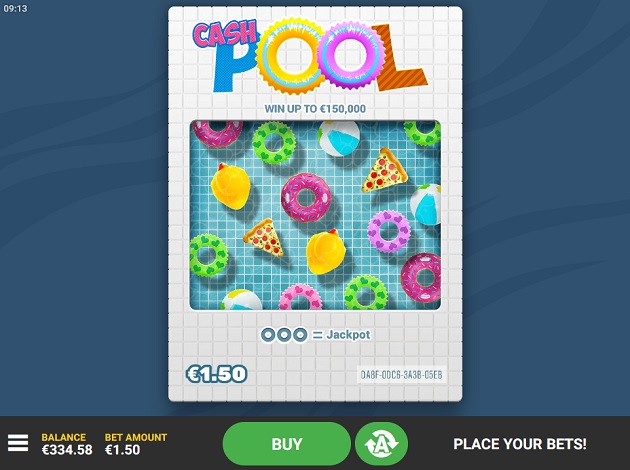 Play Cash Pool online: Check out our review below
Cash Pool Introduction
It's time for a dip in cool, refreshing waters of the pool, but first someone really needs to remove all toys and other flotation devices from its surface! Hacksaw Gaming continues its trend for unusual takes on the scratch card format as it tasks you to scratch off a whole load of, well, stuff from the surface of the pool in order to reveal the numbers lying in the bottom. Find 3 identical numbers and the prize is yours! Prizes start from 0.6x your bet, and cans reach all the way up to 100,000x!
One might wonder when the first swimming pool was invented. No one knows for sure, of course, but it is believed humans have been making watering holes for bathing and swimming for thousands of years. In Pakistan one can find the Great Bath of Mohenjo-daro, an elaborate ancient bathing site complete with terraced decks. It was probably used for ritual bathing but who knows, maybe the inhabitants of the citadel complex it was part of did swim laps in it!
Cash Pool Game Features
Cash Pool is a virtual scratch card game featuring the graphic of the titular pool. You need to scratch off all items from the surface to uncover a total of 9 numbers. To start playing you need to buy your card for the bet amount shown on the bottom. The bet amount is fixed, and as such cannot be changed. Once you buy your ticket you need to start scratching in order to reveal what lies in the bottom of the pool. You can also press the Scratch All button to instantly reveal the numbers. If you match 3 numbers you win the corresponding prize.
Cash Pool Free Spins and Bonuses
Being a scratch card game Cash Pool has neither free spins nor bonuses.
Cash Pool Payouts
Winning a prize in Cash Pool requires uncovering 3 matching numbers on the same card. There are 12 prizes in total, which are as follows.
0.6x your bet
3.33x your bet
6.66x your bet
13.33x your bet
26.66x your bet
40x your bet
53.33x your bet
66.66x your bet
666.66x your bet
3,333.33x your bet
6,666.66x your bet
100,000x your bet
Cash Pool Graphics and Sound
Like other Hacksaw Gaming scratch card games, Cash Pool features a clean and simple design. The card holds features a swimming pool covered with all sorts of objects, including flotation rings, rubber ducks and even oversized pizza slices. The bet size is in a white font on the bottom left corner of the card. The Buy and Auto Play buttons are green and easily accessible beneath the card itself. The Auto Play button gives you the option to automatically buy from 10 to 1,000 cards and instantly scratch them, without need to press the buttons yourself.
Cash Pool Conclusion
Hacksaw Gaming remains a dependable name in virtual scratch card space and it remains on brand with the combination of stylish design and simple gameplay seen in Cash Pool. These games are easy to get into and, in the case of Cash Pool, there's a full retinue of 12 prizes on offer. Play Cash Pool here at Videoslots Casino today!
Gambling is a form of adult entertainment only. You must be over 18 to play. Play responsibly.