Battle of Slots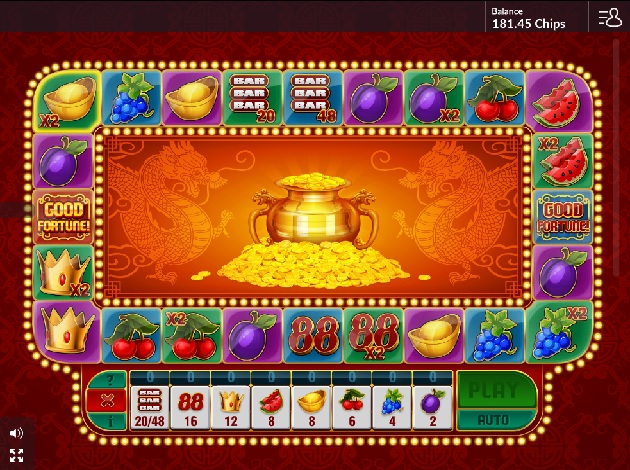 Play Cash Out Fortune online: Check out our slot review below
You are about to enter a video slot out of the ordinary. You won't see anything basic or standard here, no normal 5x3 grid either. The reel set is set up as a rectangle. Here you instead have 24 symbol squares and a total of 12 different symbols. Behind this innovative game is the Riga-based game developer, GamesOS. This is Cash Out Fortune!
I am sure you have played a game from GamesOS at some point in time. They have delivered many popular and successful games in their time, and players absolutely love them.
GamesOS is a company that offers multi-channel brands and various game types. Among others offered are casino games, soft games, mini games, downloadable casino clients, mobile casino, and software. Apart from this they also develop gaming platforms and payment solutions for players all around the world.
GamesOS has been a leading iGaming software provider for more than 12 years now, and you can find their offices in Minsk and Riga. All games provided by them are custom designed, both graphic and design wise, but also as they design their gaming platforms. These platforms are available for both desktop and mobile devices to fit all kinds of players, whether you are on your desktop or on the go.
Some of the games from GamesOS are By the Rivers of Buffalo, China Megawild, Gems and the City, Cleopatra Treasure, and Blackjack.
But now it is time to find out more about the masterpiece, Cash Out Fortune!
Cash Out Fortune main game
This video slot is truly one of a kind, offering something few other games can bring. It might look slightly complicated at first, but it is not as hard as it might look. You place your bet, press play, and the marker will start moving.
The symbols you can come across on the reels are some of the classic slot machine symbols mixed with others. The lower valued symbols are then of the plum, the grapes, and the cherries. These can include all award you between 2x and 6x your bet. The medium valued symbols are of the golden bowl with a golden bullet in, the watermelon, and grapes and these can award you between 8x and 12x your bet, and the symbol "88" can grant you a staggering 16x your bet. The higher valued symbols are the two BAR symbols; one can award you 20x your bet, and the other can grant you 48x your bet.
Apart from these, GamesOS has also made sure that we have a few extra symbols to keep a lookout for. These are the Good Fortune symbols. We will get more into how these look, how they work and what they can award you shortly.
Cash Out Fortune theme, graphics, and music
When you start the Cash Out Fortune video slot, you are taken straight to the game. You are then met by a dark red backdrop with patterns. The game field is placed in front of this rectangle and the middle of this you can see two dragons and a giant pot of gold.
The graphics and the design are very well-made, and the symbols are all vibrant and colourful, filled with details. We are glad to see something new and innovative taking over the otherwise regular reel sets.
Cash Out Fortune payout
As you might understand by now, Cash Out Fortune is a unique addition offering reels that are quite different from normal. You can see 24 squares, 12 symbols, and a marker that moves over the game field. You can choose yourself which symbols you wish to bet on, and the minimum bet value for one symbol is 0.5 coins. When you then press Play, the marker will start moving. This then stops randomly on one of the symbols on the game field, and if it lands on your chosen one, then that symbols' multiplier will multiply your win.
Cash Out Fortune bonus game
There are two different symbols in Cash Out Fortune video slot. These are the two symbols with "Good Fortune" written on them. One is red, and one is blue.
If you land on the red symbol, the golden marker will grow to cover three entire symbols. If you then land on the blue symbol, the golden marker will grow and cover five squares. These are certainly very valuable to land on, with using a similar effect on the symbols as an Expanding Wild Symbol does – transforming and expanding itself onto other symbols to grant wins.
Cash Out Fortune free spins
Cash Out Fortune is not like any other video slot, as you may know by now. But therefore, there is no Free Spins Feature offered in the game. But if you are in the mood to play these, you can simply have a look at some classics such as Starburst from NetEnt, or maybe Arcader from Thunderkick. These and many other games in our collection grants you a similar theme inspiration with Free Spins Features.
Cash Out Fortune special features
Gamble Feature
There is a Gamble feature offered in Cash Out Fortune video slot, and this feature is automatically triggered when you land a win as big as, or bigger than, your 3x bet or the same as your 8x bet. Here you get to choose between the red and the golden dragon, and if you guess right, your win is doubled. If you wish not to play the Gamble feature, you can simply press Collect and continue as usual.
We hope that you will find this one of a kind video slot as thrilling and fun as we do. It is not often that you get to see a game like this, brought to you by one of the best game providers in the industry. Have a look and see what you think, you will surely not regret it!
Good luck!