Battle of Slots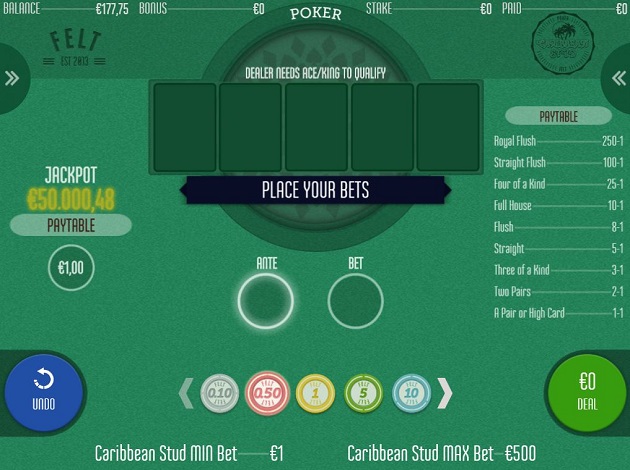 Play Caribbean Stud online: Check out our review below
Finally, it is time to play some high-class poker – Caribbean style! A classic poker game that is one of the biggest and most well-liked is coming your way to grant extra thrills and possibilities of some real wins. This game is brought to you by Felt LTD, one of the best when it comes to online table games. This is Caribbean Stud Poker!
Felt LTD is, as mentioned, one of the world´s most exclusive, dedicated, and leading providers of online table games in most genres. The main focus at Felt is to create authentic and realistic looking games that can take players on a gaming experience like no other – an experience similar to the one when playing in a real-life land-based casino. These qualities mixed with intuitive interfaces, while using only high-tech and cutting-edge technology makes their games stand out in the crowd with games that can entertain for hours ends.
Felt creates a connection between the real casinos and a modern, and straight forward design of games. They are all made to look as real as possible, with high-end graphics and sound effects. And what might be one of the best things – Felt games are available for play via desktop, tablet, and mobile – also in both single and multi-player formats, meaning you can play these games with others.
If this sounds thrilling to you – then you should check out some of their other games. You have Caribbean Stud, 6in1 Blackjack, Buster Blackjack, and Double Ball Roulette
Let us find out more about the all-time favourite Caribbean Stud Poker!
What is Caribbean Stud Poker
Caribbean Stud is a style of poker, one where you have five cards on the table and where you go heads-to-heads with the dealer behind it all. The goal of the game is simple; you need to beat the dealer´s hand with your best five card poker hand. But there is a lot more than just getting a good hand behind the wins, and will get more into that soon.
How to play Caribbean Stud Poker
The first thing you need to do when starting the poker game up is to choose your chip. At the bottom of the screen, you can see the chip selector with various chip values. You just press on the value you wish to play your hand with, and that value will then be highlighted in white to make it clear.
Then it is time to place your ANTE bet, meaning the starting bet, and you can press on the bet position named just that to make the ANTE. The white left middle circle on the table is where you put the normal bets.
Your total bet can contain various chips with various values, for example, you can play with a chip worth 10, 15, 5, etc. And you can change and alter these how you wish by going to the chip selector.
The Jackpot bet
The jackpot bet is placed in the same way as a normal bet, but on the circle with "Jackpot" written on it. This will then be highlighted. The jackpot bet means that you have the option to place the Jackpot bet, and the fixed bet level of this is of €1.
To be able to place this bet, you need to select €1 worth of chips in the chip selector. Once the Jackpot bet is complete and ready, you press "Deal" and the hand will be dealt, and the game will start.
The game round and how it works
The cards are dealt after you are satisfied with your bet and pressed Deal. The cards will be dealt from left to right, and you are given five cards that are all faced up, and the dealer will be dealt five cards, and four of them will be faced down – the last of them faced up.
This is where you must choose between Folding and Betting.
Fold; if you for any reason find your given hand weak or not good enough to beat the dealer, then you have the option to fold your hand. You will then lose the ANTE bet, as well as the Jackpot bet. But if your intuition is right – then it will be worth it at the end.
Bet; if you, on the other hand, believe that your hand is good enough to beat the dealer´s, then you are ready to place the bet. To be able to bet, you need to place a bet that is exactly double the amount of the ANTE bet, but there is no fuss or hardships with counting. When placing the double ANTE bet and pressing the green button, the game automatically doubles it for you.
How can you win?
As said, you need to beat the dealer's hand, and if yours is higher ranked than the dealers´, then you will win that hand. Your ANTE bet will be paid 1-1, and your bet is then paid according to the paytable.
Game Rules & Payouts
This game is played with one deck of 54 cards, without Jokers, and only one hand can be played at a time. The cards are always shuffled before each new game.
For the dealer to have a chance of beating you, he must have Ace/King, or better to qualify for the hand.
Your five-card poker hand determines the payout of the wins, and the stronger your hand is, the higher the win gets.
Behind the Royal Flush, winning wise comes the Straight Flush, Four-of-a-kind, Full House, Flush, Straight, Three-of-a-kind, Two Pair, and One Pair or less. These are all in order, from the start are the most rewarding, with values that vary between which ones you have on your hand.
Tips and conclusions
A great tip for a new beginner is to always raise the bet if you find yourself with a hand of a Pair or higher and always to fold if you see that the dealer has an Ace, King or higher. They are small tricks, but they can get you a long way!
Do you feel that you have the hang of it yet? If not, you can always check out the game rules and the paytable within the game itself. Even better, you can simply try and practise the game before-hand.
It is an incredibly fun way of playing poker, and Caribbean Stud is surely the game for true gamers and one that seeks to win the hand of gold.
Good luck!