Battle of Slots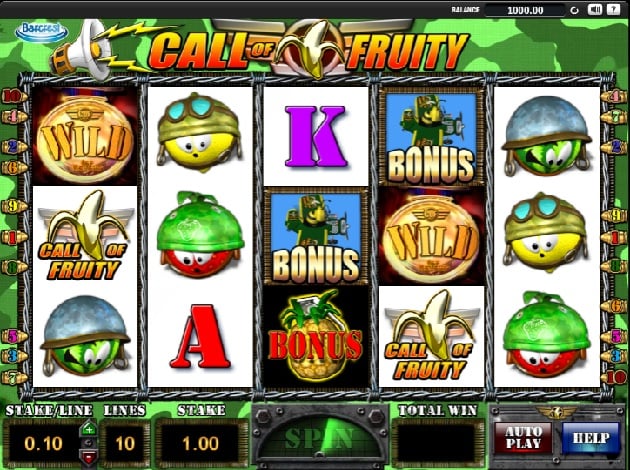 Play Call of Fruity online: Check out our slot review below
Attention Sergeant Apple! Bring private Lemon, Strawberry and Melon and report to general Basket, you have been chosen to go for a mission behind enemy lines. A fair warning, this could turn in to a real cocktail but those god darned Vegetables has gone too far this time. Can you stand on the side-lines and watch as the Vegetables defy us? We Fruit has been forced into the backseat while the likes of Potato and Carrot has been taking all the glory. Enough is enough.
Call of Fruity is an exciting new video slot from Barcrest, where you get to stand and defend the values you believe in. By bombing the naysayers into oblivion. So put your boots on, strap that helmet on and answer the Call of Fruity.
Call of Fruity is made by Barcrest, one of the most reliable game providers out there. They have provided casinos all over with brilliant games such as "Rainbow Riches". If this game is something that makes your blood pump then we highly recommend Money Mad Martians Cosmic Cash.
Call of Fruity is a video slot with 5 reels and 10 paylines with three different bonus features. Starting with the Pick Me bonus which is initiated when you get one or more Bonus symbols on reel one, three and five simultaneously. When the bonus has been started you get to choose between three different symbols that can either hide a multiplier or the elusive Bonus symbol. Should you find the Bonus symbol it is time to load up your guns and ship out, because it is time to start the Bomb the Sight bonus feature.
Bomb the Sight works like this, there is 12 bunkers, each one has a multiplier hidden behind them. When the bonus starts you choose three bunkers to bomb and this removes the multiplier hidden behind those. When this is done you get the Make me an offer choice where you get to choose between bombing three new bunkers and taking the offered multiplier. This is where the tactician inside you needs to wake up and make a decision. You can earn up to 500 times your bet on this bonus.
Last but not least is the Fly-By Bonus that triggers when you get the fly by symbol on reel two, three and four. When this happens reel two, three and four become wild, and reel one and five spins again to reveal symbols. This bonus can also go as high as 500 times your bet.
Call of Fruity has a very military feel to it, with classic marching music and drums to keep you pumped up and with its exciting bonus system we would like to say it is one of our favourite video slots. The game has a classic camouflage look and you could easily lose it in a forest. If you could lose a video slot at all that is.
So what are you waiting for? Let those darned Vegetables meet their planter.