Battle of Slots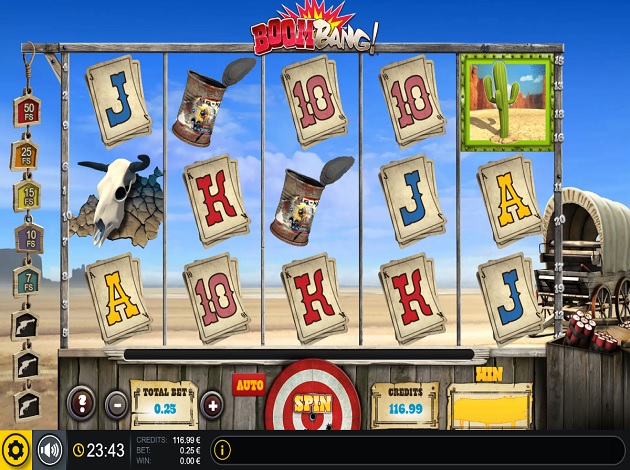 Play Boom Bang online: Check out our slot review below
Boom Bang Introduction
The world of video slots tends to be a world dominated by sevens, fruits, Cleopatra and trips to outer space, but the most classic theme of them all has to be the Wild West. This is a theme that absolutely never grows old and it is fantastic to occasionally be served with little reminders of why it is so fluidly combined with gaming.
A beautiful game interface with a thin frame is the first thing we get introduced to when playing Boom Bang. The board is set against a beautiful background in the shape of the Wild West and contains our playing symbols. These symbols come in the form of dice (the low-paying symbols) and portraits of Native Americans (the high-value symbols).
It is impossible to judge the quality of a game before you have tried it, but GAMING1 is off to a very good start with Boom Bang as you will notice that this is a project that has demanded both time and effort, something which is always greatly appreciated by our players.
Boom Bang Game Features
Sitting still when playing Boom Bang for the first time becomes a real challenge, mainly thanks to the music. It is incredibly important that a game set in the American Wild West manages to give the player a feeling of actually being in the Wild West, and this is something GAMING1 has mastered and a lot of the credit for that has to go to the music. The music instantly gives you the feeling of being in The Good, The Bad, and The Ugly, a feeling that can only mean one thing: GAMING1 has done an excellent job with Boom Bang.
Boom Bang has a reel set of 5 reels by 3 rows and can be played from just € 0.25 but if you feel like a real cowboy, nothing stops you from betting higher amounts up to € 25. The game features 20 winning paylines on which you can form winning combinations starting from left to right.
Boom Bang Free Spins & Bonuses
Boom Bang is a game that emphasises a solid main game coupled with good animations and beautiful graphics, it is not a game that needs to use a host of complicated bonus-features for us to remain interested. Luckily, GAMING1 threw in some extra features anyway – just because they love us.
Should you ever be lucky enough to get 4 winning spins in a row, you will be rewarded with free spins. Four winning combinations in a row give you 7 free spins, 5 give you 10, 6 give you 15 free spins, 7 give you 25, whilst 8 winning spins in a row result in a whopping 50 free spins!
In addition to all these Free Spins, we are also offered something called a Super Game. This is a feature that is activated once you win an amount 100 times your own bet. This is not a feature you will come across very often, but it is still a very worthwhile feature as it is incredibly rewarding every single time it shows up.
Boom Bang Payouts
It always smart to have a look at the paytable before spinning on a new game as this reveals which symbol/combinations we should hope to achieve in order to get the biggest payout possible. This table is very easily accessible in Boom Bang, all you need to do is click the question mark to the left of the spin-button. This brings up the paytable and reveals that our low-value symbols come in the form of classic dice. The Cactus is our most rewarding symbol closely followed by the Skull, the Whiskey and the Old Can.
Boom Bang Graphics & Sound
Good graphics and animations are essential when attempting to make a decent Wild-West based game as this is a theme that has been rather well-explored in the past. GAMING1 has understood that completely and the result is a game that will not bore you.
Great graphics, simple but beautiful animations and apt music create the perfect atmosphere for a treasure hunt in the Wild West and as players, we can only applaud GAMING1's efforts.
The layout and design of Boom Bang is very intuitive and well-made, but the game's autoplay function is still worth a mention. This feature is located on the left-hand side of the spin button and is here simply called "auto". This is a nice little function that allows you to spin 10, 50 or unlimited amount of times.
Boom Bang Conclusion
This game has no weaknesses, it is pretty close to perfect. With beautiful graphics, spotless design and perfect music together with a good main game and well-functioning bonus features, this is a game that has to be tried. Very well done to GAMING1!
About the Provider
GAMING1 is a company that provides a complete range of services and solutions to help casinos and sports betting sites optimize themselves. This full-service partner specializes in high-performance online casino and sports projects and offers everything from consultancy, platforms, marketing, CRM, management, investments and more.
The company focuses solely on land-based casino operators who take it to the next level, giving players a unique and excellent experience. It is important to keep up with this fast-paced industry – and GAMING1 is well aware of this. This is one of the reasons to why the company went from land-based to online games, granting everyone accesses to the games, at any time.
With core values being performance, integrity, involvement, team spirit, and fun – this is a company that guarantees the best platforms, most innovative games and services. Everything is done in-house, making sure that GAMING1 can adapt its services according to the needs of their partner, which makes the cooperation's both smoother and nicer for both parties.
At Videoslots.com we offer games such as Cash of Lords and Plasma Fusion, with more coming up!