Battle of Slots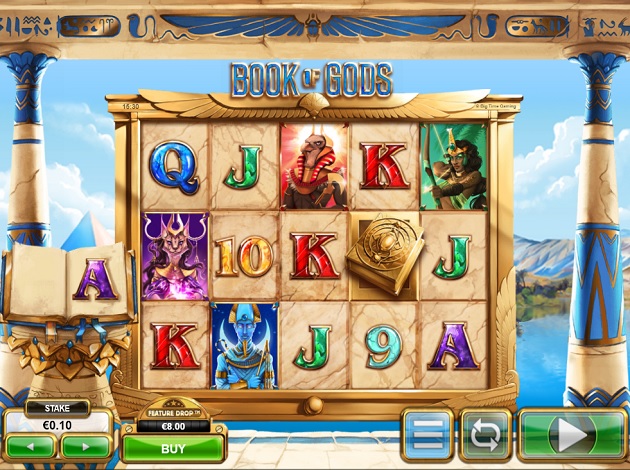 Play Book of Gods online: Check out our slot review below
Book of Gods introduction
Books are a communicating resource often containing literature. It is put together or glued together with two sheets which contains text and/or images. The purpose of books is to pass on information which can include stories, fairy tales, reports, statements, research, history, and so on. Big Time Gaming has got the hang of it and has written a book which's cover is made of the most pure of gold and the finest of leaves. This book is thought to enlighten the most powerful Gods in history. Let us open the book together!
We are proud to present; Book of Gods by Big Time Gaming!
Book of Gods features
As soon as you start Book of Gods Video Slot, you are met by a harmonic atmosphere that comes with turquoise seas and a baby-blue coloured sky. In the centre of the image, you will see the game field placed, one made up by 5 reels over 3 rows. You will have a staggering 243 ways-to-win and all wins are formed when landing combinations from left to right.
To the right side of the reels, you can see a control panel where you can do your settings for bets as well as activating Autoplay. In the menu, you can see all symbols and its values as well. The symbols are all fairly good valued, with the books as the highest valued. Following these are the goddess, Ra, Aladdin, and Tarzan. The standard card deck symbols are then the lower valued symbols of the game.
Book of Gods free spins and bonuses
The symbols of the golden books are not just any symbols – but also acts as Wild Symbols. This means that as they land on the reels, they will step in to substitute for other symbols in order to create winning combinations.
There is also a special feature of Book of Gods Video Slot, this is triggered by the open book to the left side of the reels. In each spin, the book will browse the pages and as the reels stops, you will see one of the card deck symbols. The symbol that is then displayed in the open book will thereafter duplicate itself on the reels, continuing to fill entire reels for higher wins.
The game also comes with a thrilling Free Spins Feature which is triggered as 3 or more Wilds (which are also Scatters) which lands on the reels. The number of spins you are awarded depends on the Scatters you land:
3 golden books award you 15 Free Spins
4 golden books award you 20 Free Spins
5 golden books award you 25 Free Spins
At the start of the feature, one of the four Gods will be crowned to a cloning symbol, which means that the almighty is displayed on the reels to increase your chances of winning. As more Wilds and Scatters land on the reels, you will be awarded even more Free Spins.
To finish it off – there is also a feature called "Feature Drop" offered in the game. This can be triggered at any time in the game and gives you the chance to increase your chance to win.
Book of Gods payout
As we already mentioned briefly, there are 243 ways-to-win, which pays from left to right on the reels. For a win to be formed, you must land 3 symbols matching in surrounding positions.
Book of Gods graphics and music
Book of Gods is a divinely stunning Video Slot with tremendous graphics and cool designs. In the backdrop of the game we can see turquoise water which reflects a few flair pyramids in ice-blue colours. slightly right to the reels you will instead see green nature with mountain chains lining up, palm trees, and vegetation everywhere. The sky is so blue, and white fluffy clouds are stretching beyond the horizon.
About Big Time Gaming
Big Time Gaming is an Australian gaming provider with an incredibly experienced team, with a CEO who has been involved in the online casino industry for nearly 20 years. Together they have built up a business that made itself known to be incredibly consistent and always deliver casino games of the highest quality. They work primarily with the development of video slots but they develop other casino games such as roulette and blackjack as well.
Big Time Gaming has a very wide breadth of games which all are available in over 20 languages, including Russian, Japanese and Chinese. You can find the Big Time Gaming games on some of the largest online casinos in the world.
Big Time Gaming has quickly built an envious track record when it comes to game development and this is contributed to their CEO Nik Robinson, the CTO Huw McIntosh and Ian Schmidt, their Creative Director. As CEO Nik has over 20 years of forefront gaming experience having worked for NT Media which became part of New International in 2005. Huw, on the other hand, has also an impressive history with over 10 years of experience having worked with Openbet and NT Media. From his end, Ian has a vast track record with Rock Star Games.