Battle of Slots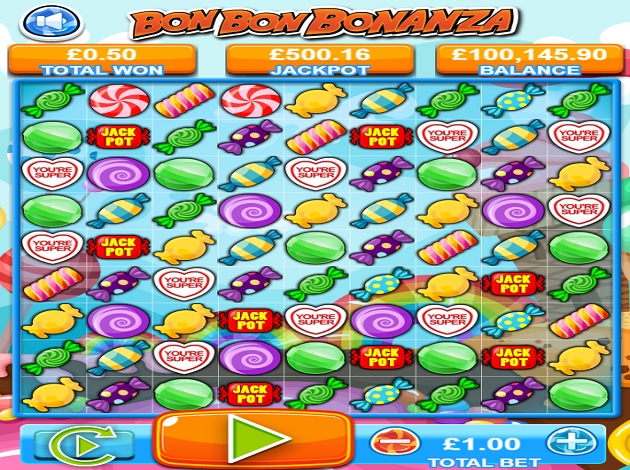 Play Bon Bon Bonanza online: Check out our slot review below
Bon Bon Bonanza Introduction
Are you in severe need of a sugar fix? Are your energies down to a bare minimum? Can't get through the day? We at Videoslots.com have the right medicine for you, and it's not one of those salty drinks that will make you pout in disgust.
Candy features sugar as the main ingredient: be it chocolate, chewing gum, caramel, marshmallows, toffee and sugar candy. Candy usually comes in small pieces, even though the very definition of candy may depend on the food treatment, as well as a culture since what is considered to be food in one culture may actually be considered as dessert in another.
To us, it matters very little if candy is part of the main or dessert: with Bon Bon Bonanza from Betdigital, you're bound to get a lot more than your sugar fix.
Bon Bon Bonanza Game Features
Bon Bon Bonanza is an online slot that truly lives up to its name: all of 9 reels by 9 rows filled with candies of all sizes, shapes and colours stare at you like you would stare at a vending machine full of those little sugary things. Play this video slot from a minimum of € 0.2. Bon Bon Bonanza doesn't go for the traditional approach to casino slots – instead of traditional paylines, it uses a Tetris-style method where at least three matching symbols sitting next to each or on top of each other will land you a winning combination – but there's a lot more to the slot than that.
Bon Bon Bonanza Free Spins and
bonuses
Match three, four or five similar symbols horizontally or vertically anywhere on the reels to earn a prize, but with four of a kind, you are awarded a dynamite symbol which will blow out a whole row of candy and award you a prize of 5x. There is also a bomb symbol which will blow the whole screen away and give you a payout of 10x the original wager once it is activated. Note, however, that both symbols have to be used together with another 2 similar symbols for all these winning explosions to happen.
In addition to blowing candy all over the place, Bon Bon Bonanza includes a special feature game when you land 3 "You're Super" white candies next to each other. You then enter a minigame where you can move the symbols to create wins (or if you're too lazy, click on "Auto Play" and the game will sort itself out). Winning combinations are accumulated until the Mega Feature Meter Bar is full, after which you will receive your sugary prizes and enter yet another bonus mode at random.
Entering the Wheel of Fortune will see you spin to win a multiplier prize; the Pick a Win mode will have you choose among three bags of candy to reveal a cash prize; the Pinata is to be thrashed and beaten until it explodes to pay you a mega cash prize!
In the big bag of goodies that is Bon Bon Bonanza, there is also a progressive jackpot that is awarded when you receive 3 adjacent jackpot symbols next to each other at the centre of the board. The progressive jackpot amount can be seen at the top of the screen and depends on how much you have wagered in the game. If you hit the jackpot, the amount will reset to the initial value and will begin to rise again.
Bon Bon Bonanza Payouts
There are plenty of colourful-candy symbols in this online slot – twelve in all excluding the "You're Super" symbol. You are paid the same amount whether you land 3, 4 or 5 symbols next to each other, and the highest paying symbols are the green bonbon and the orange-and-pink twirl (both at 10x).
Bon Bon Bonanza Graphics and Sound
The sweet world of Bon Bon Bonanza treats you to a bit of nostalgia – if you've ever binged on candy as a kid you'll instantly recognise symbols such as the heart-shaped bonbon with "You're Super" written on it, and you'll be familiar with the colourful world of the mixed bag of sugary fuel.
Bon Bon Bonanza Conclusion
Bon Bon Bonanza arrives in an unusual 9x9 setting and an atmosphere closer to an arcade computer game from the 90s than a traditional online slot – but here, top marks go to Betdigital for the ideas, design and feature packed video slot they have created. Get spinning away at Bon Bon Bonanza but do make sure you brush your teeth before bedtime.
About the Provider
Betdigital is a fairly young gaming company founded in 2011 and based near Oxford in the UK. The company was founded with the focus to develop content and systems mainly for the UK and international gaming market. Even though the company is relatively young it still holds over 50 years' experience in the business, with a knowledge base in the development and sale of gaming products for so-called cross-platform content. This has helped them grow fast and steadily to become one of the companies on which to keep a close eye.
Betdigital created, among others, two completely in-house made products – named SystemX and GRID. These were the business' very first cross-platform engines for gaming, and they instantly drew attention from third parties.
Apart from this, Betdigital also offers and develops high-quality content and games that are offered to operators all around the world. They offer fun, entertaining, video slots with rewarding features and a lot of different themes and types.
Playing games from Betdigital is certainly a unique experience with their unique designs and creations. Everything made in-house, makes it even better. Check out their portfolio at Videoslots.com now!
Play in our Battle Of Slots
Don't miss out on the opportunity to play a thrilling Battle with our special, unique and very first social online casino experience – Battle of Slots. Videoslots.com gives you the chance to play first time Battles against your friends and other players on Videoslots.com with games from NetEnt, Thunderkick and Play'N Go. There is only one Battle of Slots – and you'll only find it on Videoslots.com!