Battle of Slots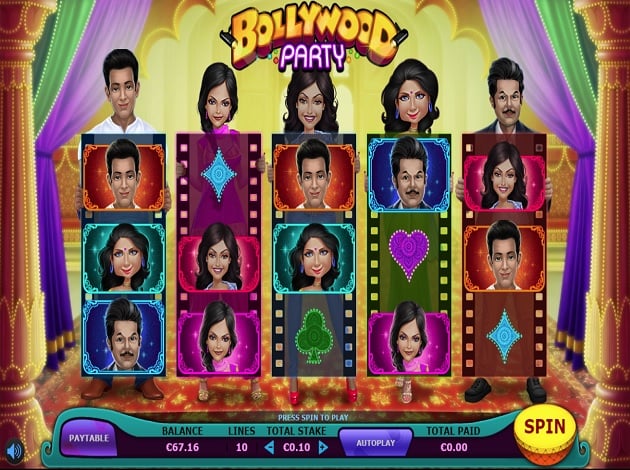 Play Bollywood Party online: Check out our slot review below
Bollywood Party introduction
The Hollywood of Asia is based in Mumbai (Bombay) – and is called Bollywood! This is the name of the Indian popular film industry, actually the world´s largest film industry in terms of film production. In terms of ticket sales, Indian cinema sold an estimated 3.6 billion tickets every year around the world – in comparison to Hollywood´s 2.6 billion tickets sold in the same time frame. The films are feature films, Hindi film to be precise.
Bollywood started more for telling the story of India – in their own way, about the struggle for independence, its constant struggle to achieve national integration, to emerge as a global presence, and to show the political issues and poverty. There are numerous infamous Bollywood films, as you may have understood. One of these is 3 Idiots – a film that landed as the 10th highest grossing Indian film in overseas markets with a gross of $30.5 million. But it doesn't have to be Bollywood to be an amazing Indian film, which was made clear when Slumdog Millionaire was released. Showing the life of a "slumdog" and his life in India landed the film $377.9 million in the box office, as well as 8 Academy Awards, Golden Globes, and various film festival awards.
India is a grand industry – and Bollywood is surely taking over the stage with all its masterpiece. Today we are about to meet 5 of the most well-known Bollywood actors, this in the brilliant – Bollywood Party Video Slot by Sigma Gaming!
Bollywood Party features
Bollywood Party is a present theme, being the most popular industry in the world. This Bollywood-inspired Video Slot says it all, offering a look at the actors and fun parts of it. The lower valued symbols are made of the card suits in various patterns and colours, is the hearts, clubs, spades and diamonds. The higher valued symbols are then the five Bollywood-stars. You have the infamous, Shan Rukh Khan, the beautiful Deepika Padukone, Katrina Kaif, and Rani Mukherjee, as well as Amitabh Bachchan. All known for being big parts of the film industry – involved in many of the favourite films throughout the years of Bollywood feature films.
These symbols are all quite valuable, but it, of course, depends solely on the bet you choose to play in the game.
Bollywood Party free spins and bonuses
There are no specific bonuses or free spins in this game – but there is a Bollywood that will make up for that, both in wins and in entertainment. The 5 Bollywood stars we talked about all have the lead role in the Bollywood Dance Streak Bonus.
The Bollywood Dance Streak Bonus can be triggered randomly after any spin where on or more of the same symbol is in the view on at least 3 reels. Any initial wins are awarded and the cast will then start dancing with their associated reel (all have each a film roll in various colours as reels), to a new position. Any wins in the resulting window is instantly awarded. Dancers can re-trigger and the awards from the initial spin and all dances are added to give the overall win from the game.
Bollywood Party payouts
Bollywood Party is played with 5 film r(o)ells over 3 rows, and additional 10 paylines are in the game. The total bet is split equally between 10 paylines and is expressed as multipliers of line bets.
Bollywood Party graphics and music
Bollywood Party is a cheerful, fun and entertaining game – inspired by just what it sounds like. One of the most fascinating industries in the world, with endless stories to tell, these films are something out of the ordinary for other places of the world. But Bollywood has never been as big as it has become today – maybe it is because of immigration, or thanks to the Indian government's policy push to send not just art cinema but box office hits to film festivals. It has all become a phenomenon with a lot more attention than before – even taking up a place in the popular film app, Netflix!
Bollywood Party is as alluring as the films, with all favourite actors dancing – just for you! Visually, Sigma Gaming has done a very good job, adding sparking colours, nice details, impressive graphics and flair design, all mixed with all the right Bollywood-inspired sound effects.
About Sigma Gaming
A love and passion for gaming of all kinds is something important to succeed in the business of iGaming – and being able to become a well-liked and respected supplier of games. This is something Sigma Gaming knows about very well – launched with a compassion for creating, delivering, and executing. This is a game supplier with the eyes on the price and the focus on the rights, let us now find out all there is to know about Sigma Gaming!
What is Sigma Gaming, and what is the story behind it?
Sigma Gaming is a premium B2B game developer with a focus on delivering innovative and exciting content for the online markets, all over the world. The company was started by two men both with vast and grand experience in the industry and in their own fields – both with astoundingly over 35 years´ experience together. The two directors are Kevin McGovern and James Ramshaw – and these guys have done a brilliant job taking this company from foundation to destination in a short period of time.