Battle of Slots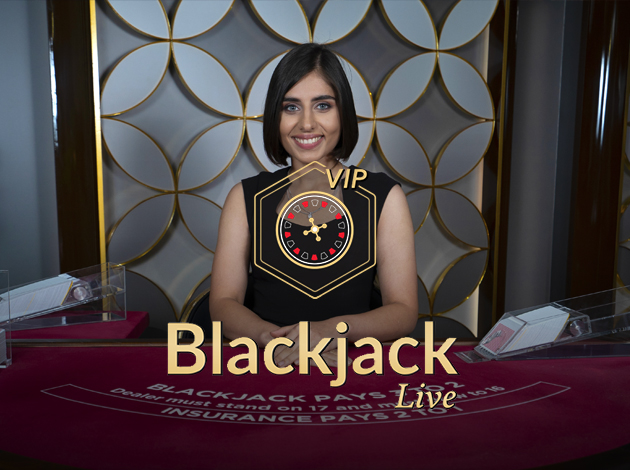 Play Blackjack VIP E online: Check out our review below
Blackjack VIP Introduction
OK so you're an old hand at this game by now, and what's more, you have your Blackjack strategy down to a "T." Well then, it's time to up the stakes and start making some serious bets in the VIP area. Welcome to Live Blackjack VIP, let's have a look around.
Live Blackjack VIP by Evolution Gaming is one of their slickest offering and comes complete with Pre-Decision, 21+3 and Perfect Pairs side bets in an exclusive red-table VIP setting. Multiple tables are available 24/7 to meet the demand for this popular Live Casino VIP game.
Blackjack VIP Game Features
Evolution provides a wide range of VIP Blackjack solutions, which also includes a variety of betting limits -- minimum bets vary by table.
The "Bet Behind" feature allows a virtually limitless number of players to places bets behind one or more of the main 7 players seated at the table. This adds an interesting multi-player aspect to the whole experience. Ideal for new players, the Bet Behind option is a low stakes way to sample the thrill of Live Blackjack. Players can Bet Behind while they wait for one of the 7 main seats. Alternatively, a player in one of the main seats can choose to bet behind any other seat.
The user interface highlights players that are on a winning streak with a gold medal next to their name. The number on the medal shows how many game rounds a player has won. One or two ribbons and up to three stars around the medal also provide at-a-glance indicators of just how 'hot' a player is. All seated and waiting players can see these scores and decide which lucky players to Bet Behind to try to increase their own chances of winning.
Play Blackjack at different levels
For a proper taste of the high-roller life, there is only one way to go: Evolution gaming's unique Diamond VIP Live Blackjack offers betting limits and excitement of the highest order in a sumptuous purple setting that evokes the most exclusive private members' room. As a result, this amazing VIP table is designed to attract an elite group of VIP players.
In an equally luxurious setting with a red and gold theme, Grand VIP Live Blackjack offers the same top-end VIP live gaming experience as Diamond VIP, but with a lower minimum bet. Professional dealers provide the ultimate in service, personally welcoming VIPs back to the table to play with fellow high-rolling players.
Platinum VIP Live Blackjack is another step on the ladder, with a slightly lower entry point than Diamond VIP and Grand VIP in terms of minimum bet. Platinum delivers yet more choice for VIPS who love to spread their betting across different tables.
Fortune VIP Blackjack provides even more choice for serious, high-wagering Blackjack players looking to try their luck across a wide range of tables, with a similar experience as Platinum. It has the same minimum and maximum bets as Platinum VIP.
Silver VIP Live Blackjack ups the stakes and the excitement of VIP Live Blackjack (below) in a modern and innovative VIP setting. Two tables each open 12 hours a day to provide extended choice at peak times.
Blackjack VIP Rules
The objective in Blackjack is to beat the dealer's hand by having a total that either exceeds the dealer's total or by not going over 21 when the dealer does. If you go over 21, your hand is deemed as being bust and you lose your bet.
Once you've placed your bet, you're dealt two cards face up whilst the dealer gets one card face up and the other face down. You can make an insurance bet when the dealer's face up card is an ace. Now it's time to decide whether you will stand, hit, surrender, double down or split.
If you are dealt 21 from the start (an Ace and a 10), you've got a blackjack. Blackjack usually means you win 1.5 times your bet, depending on variants and house rules. The core game is entertaining by itself, but there are also added-value features such as Pre-Decision, Side Bets, and Bet Behind to quicken the pace and pulse still further.
Blackjack VIP Graphics and Sound
To keep an authentic casino feel, Evolution Gaming has kept things minimal when it comes to visuals. Players have an interface bar at the bottom of the screen which lets them keep tabs on their bets and their balance as well as place side bets.
Blackjack VIP Conclusion
More than just a solid online blackjack experience, this is the best there is. Its intuitive interface and the easy flow of information with the dealer and other players make this Blackjack offering an easy bet for discerning players. Take your set right here at Videoslots and play Blackjack VIP today!
About the Provider
Evolution Gaming was founded in 2006 and since then, they've managed to revolutionise the European live dealer platform around the world. Their headquarters are in Riga, Latvia, but a majority of the employees are based in Malta as well. Since its conception, Evolution Gaming has become a leading B2B provider of Live Casino systems within Europe today.
Their Live Casino consists of real-life dealers that run the game in real-time on a casino gaming table just like you would find in a real-life casino. Players can engage with the dealer via a live streaming video link. Essentially, they've given players the option to go to the casino from the comforts of their home!
The vision at Evolution Gaming is to be the leading Live Casino provider in the world whilst ensuring that they create an unforgettable user experience as well as make operators successful. They accomplish this is by offering a localised Live Casino experience into regulated markets available on all digital platforms for online and land-based game operators, and players too.
Evolution Gaming is working towards maintaining and strengthening its position as a top Live Casino provider, while keeping up-to-date of developments within the global gaming market.
You can check out a wide variety of live Evolution games like Blackjack, Roulette, Baccarat and much more at Videoslots!
Play in our Battle Of Slots
Don't miss out on the opportunity to play a thrilling Battle with our special, unique and very first social online casino experience – Battle of Slots. Videoslots gives you the chance to play first time Battles against your friends and other players on videoslots.com with games from NetEnt, Thunderkick and Play'n GO. There is only one Battle of Slots – and you'll only find it on videoslots.com!