Battle of Slots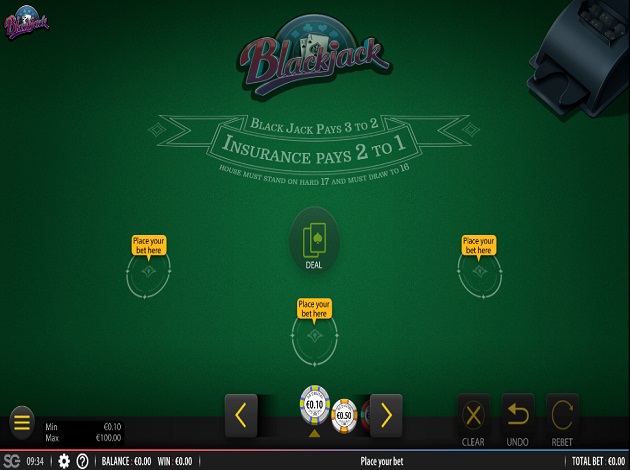 Play Blackjack online: Check out our review below
Blackjack Introduction
Blackjack is a pretty classic game that's been around for centuries, from the first time it was founded. It's been said that the game of Blackjack originated from Spain in the 17th century. This particular Blackjack game is from Red7 and is played with a 6-deck pack of cards that will be reshuffled between each and every game. You have the choice to play up to 3 initial hands, and in order to beat the house you need to get as close as possible as you can to 21 without busting!
Blackjack Game Features
You can choose to play up to 3 initial hands! A bet must be placed for each hand to be played. Two cards will then be dealt to each hand and two to the house. The house's cards will be dealt with 1 card face up and 1 card face down. The total of any hand is the sum of the card values in the hand, and the hand is resolved following a stand or a double, or if the hand busts.
Insurance
After the initial deal, if the house's face up card is an Ace, you will be presented with an option to make an insurance bet. The insurance bet is a bet that the house has a total of 21 exactly with 2 cards (Blackjack). The bet amount for the insurance bet will always be half of the bet for the current hand and you will be presented with the option to make an insurance bet for each hand in play.
Blackjack Rules
A hand may only be split as the first action on the hand and if the initial two cards are the same rank. A hand may only be split once; its not possible to split a hand that has already been split once. If a hand of 2 Aces is split, no further action will be allowed for these hands. You can select double for a hand after a split has been made.
The house must draw to 16. The house must hit on soft 17, and the house must stand on a hard 17. A hand with an Ace values as 11 is 'soft', otherwise it's 'hard'. A hand is considered bust when it exceeds a total hand value of 21. When only 2 cards are used to create a hand with a value of exactly 21, this is considered as 'Blackjack'. This only occurs for the first 2 cards drawn for a hand and does not apply to hands which have been split. Hands with a value of 21 will automatically stand.
No hand can contain more than 13 cards. Any hand containing 13 cards that has not bust, automatically stands.
Blackjack Card Values
In Blackjack, the card values are as follows:
Ace can be counted as 1 or 11
An Ace is counted as 11 if it doesn't cause the hand value to exceed 21. Each Ace is evaluated independently.
2-10 are counted as their respective number.
Jack, Queen, and King are counted as 10.
Suits are irrelevant in Blackjack.
Blackjack Payouts
Base Game
Win 1:1
Draw PUSH (when a bet is pushed it is returned to the player with no additional winnings)
Blackjack 3:2
Insurance
Blackjack Graphics and Sound
Blackjack from Red7 has a classic look and feel to it, representing the well-known Blackjack game. The table itself is green, and when the game is rolling it has a really smooth flow to it. At the top of the table, you will see the games title and logo while under it are some of the general rules to the game. At the top right-hand corner is the machine that holds the deck and releases the cards when you press 'deal'. Once the cards are dealt, they will be placed at the dealer's side as well as in all the positions where you have made a bet. The cards will then glide across the table.
There is an even more classic soundtrack playing in the background that has a jazz feel to it, with many piano notes embedded in it as well. You will also hear clicking sounds when you press buttons like making your bet or when you press the deal button. When the cards slide across the table, they also have a special sound effect that comes into play. Also, if you win, there will be fireworks that come into effect making it a truly exciting and engaging experience!
You can find the paytable information by clicking on the button at the bottom left-hand corner that has 3 yellow horizontal lines on it.
Blackjack Conclusion
Blackjack from Red7 is your typical, classic table game played with several decks of cards with one goal in sight: beat the house's hand! The very best possible collection of cards you can get is 21, which is Blackjack. What's more is that you have the potential to play up to 3 initial hands, so if you lose 1 or 2 of them but have the best hand in the third one you could beat the house!
Play Blackjack from Red7 for a real authentic, classy experience at Videoslots today.
Gambling is a form of adult entertainment only. You must be over 18 to play. Play responsibly.
About the Provider
Red7 is an online gambling software developer that's been behind the scenes providing content for some of the most well-known operators in the UK and Europe. So far, they've got a sizeable collection of games and they do a lot more than just producing slots (although they do this impressively well!) Red7 offers an impressive range of services, most notably their ability to convert Flash games to HTML5 as well as their creation of sports apps and online sportsbooks.
Red7 started out in the iGaming industry in 2011 as a small company based in Bristol, UK. Since their establishment, the company has worked tirelessly to grow and over the years, they've worked with many major partners, offering a range of services and products across the industry. Their range of services include art and design services, bespoke game and app development, converting existing Flash games to HTML5 games, platform integration, and quality assurance.
Red7 is much more than a slots provider and their portfolio is an impressive mix of games. They also have table games, instant win games like Keno, and interesting, themed scratch games as well. If you browse through their colourful portfolio, you'll notice that Red7 has already developed a clear, unique style of their own. A lot of their games are very cartoon in style, featuring cartoon graphics, bright designs, and cute animals, although they branch out into other themes as well.
Check out Battleship Direct Hit, Elvis Lives and Spartacus: Legendary Warrior at Videoslots.com!
Play in our Battle Of Slots
Don't miss out on the opportunity to play a thrilling Battle with our special, unique and very first social online casino experience – Battle of Slots. Videoslots gives you the chance to play first time Battles against your friends and other players on videoslots.com with games from NetEnt, Thunderkick and Play'n GO. There is only one Battle of Slots – and you'll only find it on videoslots.com!