Battle of Slots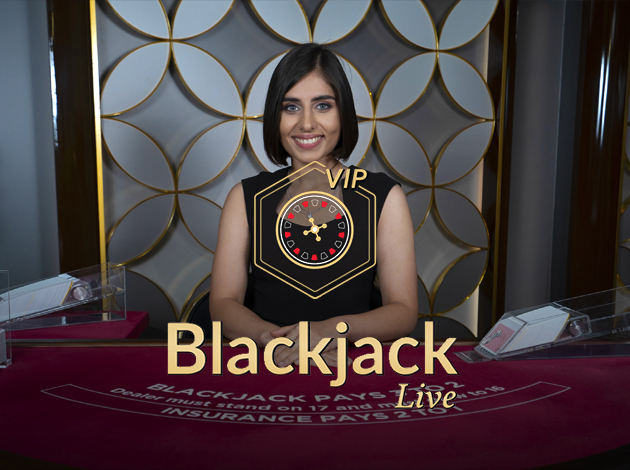 Play Blackjack Platinum VIP online: Check out our review below
Blackjack Platinum VIP Introduction
Over the decades, many historians couldn't pinpoint a set time in history as to when Blackjack was invented. One theory is that the game originated in the 18th century during the reign of King Louis XV, where the French game Vingt-et-un (21), was played on a regular basis in the Royal Court. It is also possible that older card games such as the Spanish Trente-un (31) and the French Quinze, (15) may have influenced the way in which Vingt-et-un is played and thus, they are considered as early versions of the classic game of Blackjack as we know it today.
Nowadays, thousands of blackjack table games aim to mirror the feeling you can get out of a land-base casino. Whether you're after a classic version of Blackjack or something that promises more of an adrenaline rush, look no further, Evolution Gaming have got you covered.
Combined with compelling graphics, elegance and a fast-paced environment, Evolution Gaming's Blackjack Platinum VIP is the ideal game for you if you're looking for exceptional VIP treatment.
Blackjack Platinum VIP Game Features
As well as being authentic to a land-based casino, Blackjack Platinum VIP aims to provide an enthralling world class experience. The minimum bet to play Blackjack Platinum VIP is 250 credits. Although this is a slightly lower entry point that other variations such a Diamond VIP and Grand VIP, Blackjack Platinum VIP allows for more choice to place bets across other tables.
Blackjack Platinum VIP is played on an elegant, grey table, where VIP players and high-rollers can place their bets and chat with the professional dealers in real-time.
Since this game tends to attract a more experienced crowd, features such as the Perfect Pairs and 21+3 Side Bets may be a welcome addition for players who prefer a more complex gameplay experience.
Perfect Pairs and 21+3 Side Bets
The Perfect Pairs side bet can bolster your winnings if you have a Mixed, Coloured or Perfect Pair. The 21+3 side bets are made up of the player's first cards and the dealer's card.
Pre-Decision
Hit and Stand
In Blackjack Platinum VIP, the dealer must draw to at least 16 and must stand on 17. If 21 is exceeded, the dealer loses the round.
Doubling Down
Receive a third card when doubling down to match the dealer's main bet.
Splitting Pairs
If your first cards are of the same value, you can 'split' them once in two separate hands.
Insurance
Blackjack Platinum VIP also comes with the exclusive insurance feature. You'll win twice the insurance bet if the dealer has an Ace + 10, Jack, Queen or King.
Blackjack Platinum VIP Rules
Blackjack Platinum VIP adheres to the same rules as any other Blackjack game. The game is played with eight decks of cards, the dealer draws till 16 and stands on 17 and you can split and double down. Blackjack pays 3:2 and the insurance pays 2:1.
Blackjack Platinum VIP Graphics and Sound
Being part of Evolution Gaming's repertoire, you know you can expect fantastic visuals out of Blackjack Platinum VIP. Without a doubt, the first thing that catches your eye is the distinguishable table sitting in a gold and red themed room. It simply can't get more exclusive than this!
Additionally, the high-quality full screen video truly manages to portray the graphics in the best catered towards fellow blackjack enthusiasts.
The live dealers are professional and very chatty, and are there to help you out if need be.
Blackjack Platinum VIP Conclusion
As the name stands, Blackjack Platinum VIP promises an gaming experience like no other. The exclusivity, friendly dealers, the impressive graphics… everything in this game has been designed to please. Be sure to check it out at Videoslots.com!
About the Provider
Evolution Gaming was founded in 2006 and since then, they've managed to revolutionise the European live dealer platform around the world. Their headquarters are in Riga, Latvia, but a majority of the employees are based in Malta as well. Since its conception, Evolution Gaming has become a leading B2B provider of Live Casino systems within Europe today.
Their Live Casino consists of real-life dealers that run the game in real-time on a casino gaming table just like you would find in a real-life casino. Players can engage with the dealer via a live streaming video link. Essentially, they've given players the option to go to the casino from the comforts of their home!
The vision at Evolution Gaming is to be the leading Live Casino provider in the world whilst ensuring that they create an unforgettable user experience as well as make operators successful. They accomplish this is by offering a localised Live Casino experience into regulated markets available on all digital platforms for online and land-based game operators, and players too.
Evolution Gaming is working towards maintaining and strengthening its position as a top Live Casino provider, while keeping up-to-date of developments within the global gaming market.
You can check out a wide variety of live Evolution games like Blackjack, Roulette, Baccarat and much more at Videoslots!
Play in our Battle Of Slots
Don't miss out on the opportunity to play a thrilling Battle with our special, unique and very first social online casino experience – Battle of Slots. Videoslots gives you the chance to play first time Battles against your friends and other players on videoslots.com with games from NetEnt, Thunderkick and Play'n GO. There is only one Battle of Slots – and you'll only find it on videoslots.com!