Battle of Slots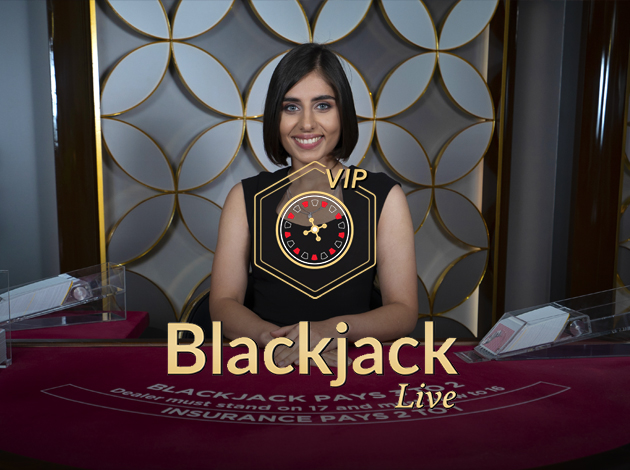 Play Blackjack Grand VIP online: Check out our review below
Blackjack Grand VIP Introduction
Online live casinos bring all of the fun straight to your home, and Evolution Gaming has upped the ante with their Blackjack Grand VIP game, a variation of standard live Blackjack, geared towards all the high-rollers out there.
Set against a luxurious backdrop with a rich red and gold theme, Grand VIP Live Blackjack offers the same VIP live gaming experience as Diamond VIP, but with a comparatively lower minimum bet. As on all the other VIP tables, professional VIP dealers provide the ultimate in service, personally welcoming VIPs back to the table to play with fellow high-wagering players who thrive on the exciting atmosphere.
Blackjack Grand VIP Game Features
While the Grand VIP version is aimed at players who prefer to play with high wagers, the essential rules of Blackjack are still adhered to. There are also plenty of side bets and extra features which you can read more about in the sections below.
Bet Behind
Blackjack is traditionally made up of seven players seated around the table. With this special feature, a limitless number of players can place bets behind one or more of the seven players, thus offering massive scalability as well as even bigger revenue opportunities.
Players can bet while waiting to take one of the main seats at the table, and there is also the option for one of the main seat players to bet behind any of the other players at the table. Scores are shown to all seated and waiting players to determine which are the hot players to Bet Behind to try and increase winnings.
Perfect Pairs and 21+3 Side Bets
Perfect Pairs and 21+3 adds an interesting element to the typical game of Blackjack, as well as some extra betting potential. The Perfect Pairs side bet gives players the opportunity to increase winning payouts if the first two cards dealt are either a Mixed, Coloured, or a Perfect Pair.
The 21+3 side bet gives players the opportunity to win from a whole range of Poker-style card combinations, consisting of the players' first two cards and the one open card, also known as the upcard, in the dealer's hand.
Pre-Decision
Pre-Decision keeps the pace up in the already fast-paced world of Live Blackjack. The Pre-Decision feature allows players to take a decision on whether they want to Hit, Stand, Double Down, or Split at the same time as the first player, without having to wait their turn. This makes for a much more speedy and engaging game, with more active game time for players.
Blackjack Grand VIP Rules
While there are other players at the table, players do not compete with one another but instead play against the dealer. It is usually played with one or more deck of cards, and the main objective of the game is to beat the dealer, which can be done in different ways.
You can beat the dealer by:
Getting 21 points on the first two cards without a dealer blackjack;
Reaching a final score which is higher than the dealer without exceeding 21;
Allowing the dealer to draw additional cards until their hand exceeds 21.
Blackjack Grand VIP Graphics and Sound
Blackjack Grand VIP is set in an elegantly-styled studio, with live dealers who welcome you personally to the table. The studio is designed with rich hues of red and gold, with a smartly-dressed dealer seated at the centre of the table. With the real-life audio playing and the possible interaction with the dealer, Evolution Gaming have ensured that their Blackjack Grand VIP game provides for an interactive, engaging and rewarding casino experience.
Blackjack Grand VIP Conclusion
Blackjack Grand VIP brings all the fun and excitement of Blackjack while providing a VIP experience for the high-rollers out there looking to add an extra dose of exhilaration to their gameplay. Apart from the standard game, there are diverse side bets to be explored, such as Bet Behind and Pre-Decision, which boosts the enjoyment of the game.
Play at Videoslots.com to experience the Blackjack Grand VIP treatment for yourself!
About the Provider
Evolution Gaming was founded in 2006 and since then, they've managed to revolutionise the European live dealer platform around the world. Their headquarters are in Riga, Latvia, but a majority of the employees are based in Malta as well. Since its conception, Evolution Gaming has become a leading B2B provider of Live Casino systems within Europe today.
Their Live Casino consists of real-life dealers that run the game in real-time on a casino gaming table just like you would find in a real-life casino. Players can engage with the dealer via a live streaming video link. Essentially, they've given players the option to go to the casino from the comforts of their home!
The vision at Evolution Gaming is to be the leading Live Casino provider in the world whilst ensuring that they create an unforgettable user experience as well as make operators successful. They accomplish this is by offering a localised Live Casino experience into regulated markets available on all digital platforms for online and land-based game operators, and players too.
Evolution Gaming is working towards maintaining and strengthening its position as a top Live Casino provider, while keeping up-to-date of developments within the global gaming market.
You can check out a wide variety of live Evolution games like Blackjack, Roulette, Baccarat and much more at Videoslots!
Play in our Battle Of Slots
Don't miss out on the opportunity to play a thrilling Battle with our special, unique and very first social online casino experience – Battle of Slots. Videoslots gives you the chance to play first time Battles against your friends and other players on videoslots.com with games from NetEnt, Thunderkick and Play'n GO. There is only one Battle of Slots – and you'll only find it on videoslots.com!