Battle of Slots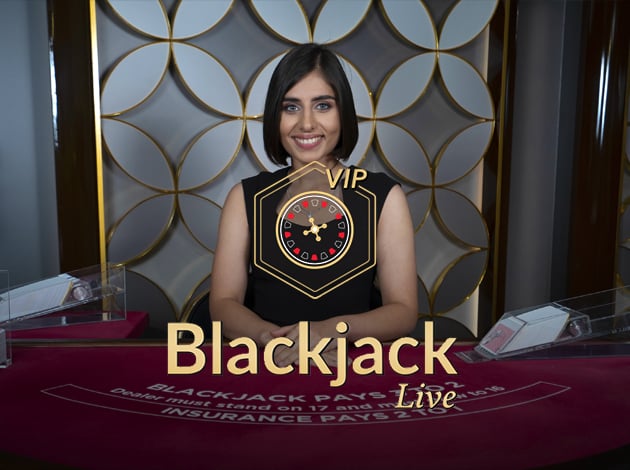 Play Blackjack Fortune VIP online: Check out our review below
Blackjack Fortune VIP Introduction
Evolution Gaming's Blackjack Fortune VIP combines luxury, elegance and high stakes. You can play it on your desktop or have it right in the palm of your hand if you prefer to take your gaming experience on the go.
But who was the mastermind behind such a casino classic like Blackjack? Some speculated that Blackjack has French and Spanish roots, while other have also suggested that it was invented by the Romans since they enjoyed gambling and used to play a game with wooden blocks of different numerical values.
By the time it reached the US shores, the game was still being referred to as 21. Although it followed the same rules, some casinos added a special bet to attract more people to the game. This hand featured either Jack of Spades or Clubs and the Ace of Spades, would pay 10:1 odds on the player's bet. Since then, casino enthusiasts kept referring to the game as Blackjack and eventually, the name stuck as we know it today.
Blackjack Fortune VIP Game Features
Blackjack Fortune VIP is quite similar to Platinum VIP. Although it's also hosted in a deluxe surrounding, we can assure you that luxury isn't the only thing that attracts so many players in Fortune VIP. The stakes are once again, very high. A game like this is suited for high-rollers who are after a fast-paced environment that allows for high betting options, fellow seasoned players and professional dealers. Blackjack Fortune VIP's minimum entry bet is 250 credits and you can also choose to place your bets across an extensive range of tables.
As seen in other Live Blackjack games by Evolution Gaming, other features include the Perfect Pairs and 21+3 Side Bets, Pre-Decision and the exclusive Insurance feature. Like Platinum VIP, the only option that isn't included is the Bet Behind feature.
Perfect Pairs and 21+3 Side Bets
The Perfect Pairs side bet can increase your chances of winning if you happen to have have a Mixed, Coloured or Perfect Pair. The 21+3 side bets are made up of the player's initial cards and the dealer's card which is facing up.
Pre-Decision
Hit and Stand
Players must 'Hit" when the dealer's hand is 16 or less, meaning the dealer needs to take an additional card. If the dealer has 17 or more, the dealer must 'Stand'. If the dealer's hand exceeds the 21 mark, he/she loses the round.
Doubling Down
Receive a third card when doubling down to match the dealer's main bet.
Splitting Pairs
'Split' your cards into two separate hands if the initial ones are of equal value.
Insurance
Coupled with the rest of the features in Blackjack Fortune VIP is Evolution Gaming's exclusive insurance feature. This can reward you with double the insurance bet if the dealer has an Ace + 10, Jack, Queen or King. However, you can lose everything if the dealer doesn't have any of these cards.
Blackjack Fortune VIP Rules
Blackjack Fortune VIP follow the same concept of a standard Blackjack game. As soon as the game beings, the players and the dealer go head to head to form a hand that does not exceed 21. Jack, Queen and King are valued at 10, 2-10 keep their face value, whilst the aces are either 1 or 11. Blackjack pays 3:2 and the insurance pays 2:1. Played with eight decks of cards, the dealer draws till 16 and stands on 17. Players can choose to split their cards and double down.
Blackjack Fortune VIP Graphics and Sound
Evolution Gaming's stellar line-up is designed in a way that truly raises the bar in the online casino world. All their games have vivid graphics and realistic sound effects thanks on their high-definition live feed. Blackjack Fortune VIP is just as compelling as any other VIP game. Played on a red table, this game also has professional and friendly dealers who are happy to help you out every step of the way.
Blackjack Fortune VIP Conclusion
Blackjack Fortune VIP is an enticing game that has been elegantly designed by Evolution Gaming. If you're looking for a high-stake environment that allows for lots of betting options as well as a luxurious ambience, then this is the game for you. Check it out on Videoslots.com today!
About the Provider
Evolution Gaming was founded in 2006 and since then, they've managed to revolutionise the European live dealer platform around the world. Their headquarters are in Riga, Latvia, but a majority of the employees are based in Malta as well. Since its conception, Evolution Gaming has become a leading B2B provider of Live Casino systems within Europe today.
Their Live Casino consists of real-life dealers that run the game in real-time on a casino gaming table just like you would find in a real-life casino. Players can engage with the dealer via a live streaming video link. Essentially, they've given players the option to go to the casino from the comforts of their home!
The vision at Evolution Gaming is to be the leading Live Casino provider in the world whilst ensuring that they create an unforgettable user experience as well as make operators successful. They accomplish this is by offering a localised Live Casino experience into regulated markets available on all digital platforms for online and land-based game operators, and players too.
Evolution Gaming is working towards maintaining and strengthening its position as a top Live Casino provider, while keeping up-to-date of developments within the global gaming market.
You can check out a wide variety of live Evolution games like Blackjack, Roulette, Baccarat and much more at Videoslots!
Play in our Battle Of Slots
Don't miss out on the opportunity to play a thrilling Battle with our special, unique and very first social online casino experience – Battle of Slots. Videoslots gives you the chance to play first time Battles against your friends and other players on videoslots.com with games from NetEnt, Thunderkick and Play'n GO. There is only one Battle of Slots – and you'll only find it on videoslots.com!