Battle of Slots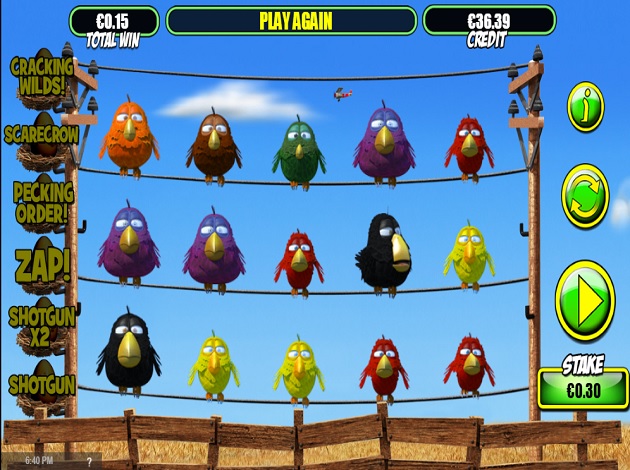 Play Birdz online: Check out our slot review below
Birdz introduction
"Five pretty birds were sitting on a branch
One flew away and then there were only 1 2 3 4 birds left.
Four pretty birds were sitting on a branch
One flew away and then there were only 1 2 3 birds left.
Three pretty birds were sitting on a branch
One flew away and then there were only 1 2 birds left.
Two pretty birds were sitting on a branch
One flew away and then there were only 1 bird left
One pretty bird was sitting on a branch
It flew away and then there was only the bra-a-a-nch left."
That´s how the jingle about the skipping birds on the electric wire goes. and thanks to Games Warehouse, we can now play this special edition along with the quirky and fun birds on the wire. This Video Slot is incredible if one compares to the classics, and we will tell you all about it in a minute! However uncomfortable it might be to shoot the feathered, this is what has to be done to keep the wins. And the game, of course, grants a pack of features, including Multipliers, Wilds, and a lot more. Keep reading to find out everything about it!
We proudly present; Birdz Video Slot from Games Warehouse!
Birdz features
The moment you start Birdz Video Slot, you will see that the game field isn't only of the classic reels, but instead three ropes which are the "rows" of this game. on there sits the five birds which are the reel formations. With this comes 30 paylines which pay from left to right on the rows. The control panel is then placed on the right side of the reels, and the first thing you need to do is to set your bet and choose the eventual option for autoplay.
Birdz free spins and bonuses
The game has the main symbol which is the white egg, which is the Wild of the game. with that said, we can joyfully tell you that the Wilds has the ability to substitute for other symbols to then help the creation of winning combinations.
Randomly after a non-win "spin", the so-called Blitz Birdz activate and then the birds will fly back and forth until a winning connection has been made.
After the birds flew onto a payline, they will disappear to give way to new winning formations in view.
After the birds flew onto a payline, they will disappear again to make way for new buddies. That way you can, with only one spin, manage to land some nice wins. with every successive win, the barometer to the left will rise.
Cracking Wilds means that all symbols on the first and third reels will be substituted by Wilds for extra high wins.
Scarecrow is the actual scarecrow who saves the birds, which will make new be-winged friends to appear on the reels.
Pecking Order means that three of the lower valued birds will be eliminated and replaced by higher valued birds.
In Zap! one of the three rows is electrically charged and liquidate all birds sitting on it. and thereafter new feathered ones will fly in onto the new row.
Shotgun shoots a randomly chosen bird on the three first reels, which makes new room for a new bird.
Birdz payouts
There are also 30 paylines in the game, playing from left to right. the amount paid out depends on the bet you placed before you started your spins. Between 3 and 5 matching symbols are demanded creating a winning combination to form. In the payout table, you can find three high valued birds, which are the purple bird, the black bird, and the white egg. Six birdies in red, green, brown, blue, and orange grants medium valued wins.
Birdz graphics and music
Birdz Video Slot doesn't just offer a unique grid, but also an utterly beautiful and crystal clear graphics and symbols of extraordinary quality. The game focuses on animations which will appear as you press the Spin button. As this is when the birds all take off towards the horizon, turn back around and returns to the reels. The skies are light-blue and over it, white fluffy clouds will race against a red-white air balloon and a blood-red aeroplane. The lightning strikes down in the dry straw mass while the rain falls down. But you know, after rain comes sunshine and a beautiful rainbow.
The music of the game is very calm and soothing, but as a feature is triggered, the tempo is taken up a notch.
About Games Warehouse
Games Warehouse – also called GW Games – is a relatively young company, with its first online slots released in 2013. As a company, Games Warehouse focuses a lot on creating engaging games that will make players come back again and again for more. The company is still in expansion, but it is still in a phase of growth, and it is growing bigger and better by the day. It is time to find everything there is to know about Games Warehouse!
Games Warehouse is a UK based game supplier that puts all its focus on delivering innovative, unique, and well-executed content for the global gaming and iGaming markets. They have created so-called omnichannel games, developed in-house, for multiple players in everything from retail to online and mobile.
Among Games' Warehouse first releases, we find smashing games such as The Baron and Gold Strike, both designed with stunning HD graphics and come full of great bonuses and action-packed features which will keep you hooked throughout.
We wish you the very best of luck!