Battle of Slots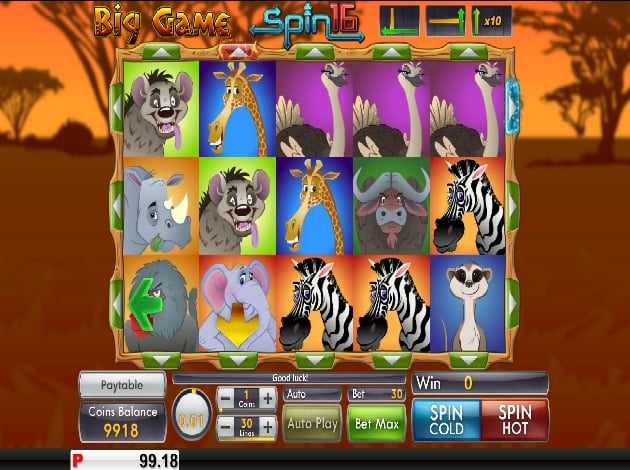 Play Big Game Spin16 online: Check out our slot review below
Have you ever been to Africa, the continent with extremely diverse nature and animal species? Well, honestly – neither have I. That is why Big Game video slot, brought to you by Genii, will be a blessing in the skies. Welcome to Africa!
Genii is a game provider with a main and steady focus set on building and developing online gaming platforms for the future. It is a company with a team of experienced and knowledgeable entrepreneurs who has all lead the fields in gambling and technology. The company was founded back in the 90´s, and a lot has happened for them since. They joined in cooperation with the biggest operators in the business and delivered its games to players all around the world. A big part of their success is the fact that they have focused a lot on mobile games, and today they have become one of the world´s leading deliverers of mobile games for Android, iOS, and Windows Phones. They continue to this day with creating fun games, with high entertainment value, and amazing graphics and animations – and Big Game Spin16 is certainly no exception.
Genii has previously given us the honour of playing games such as Aladdin´s Loot, Tomahawk, Nascash, and Mermaid Serenade. This time, Genii will prove their capability through a journey to a fascinating place on earth – this is Africa!
Big Game
Spin16
main game
The moment you enter Big Game, you will be awestruck by the pretty, yet simple layout and atmosphere of the game. It offers some well-made and clever animations, a bit cartoony like. You can see all kinds of different animal species spinning the reels. The theme might remind you of Disney's classic movies such as The Lion King or DreamWorks' animation - Madagascar. From a gaming point of view, it reminds slightly of Mega Moolah video slot from Microgaming with the same style of animations and graphics. It is, however, very easy to enjoy the game and you are in for a treat!
The symbols you can come across on the reels are all made to suit the theme of the game perfectly with everything you could come across in the grand savannahs of Africa. There are no standard card deck symbols as so many video slots offer to represent the lower paying symbols. In Big Game, you instead have the hyena, the meerkat, the monkey, the ostrich, and the zebra – these are all worth between 50 and 200 for a 5x symbol combination. The basic, high paying symbols, on the other hand, are all represented by the giraffe, the funny looking bull, the leopard, the sweet hippo, and the grass eating rhinoceros. This sweet beast is the top player of these basic symbols and can grant you a win of 3000 coins for a 5x symbol combination.
Apart from these, you can also take pleasure in two extra special symbols – these are the Scatter which is represented by the elephant. The Wild symbol is the majestic lion, and you do not want to miss out on the wins he can grant you with!
Big Game
Spin16
theme, graphics, and music
There are rainforests and deserts, but now we would like to tell you more about the Savannah. If you look around in the savannah, you would see endlessly long grass, a couple of trees and bushes here and there, but if you look carefully, you might get lucky and come across the inhabitants of the grand savannah. Africa's Savannah is the home for several animal species. There are baboons, leopards, meerkats, ostriches, hyenas, elephants, giraffes, zebras, rhinos, buffalos, hippos, and of course the kings of all the animals, lions. If you haven't already visited Africa, we at Videoslots.com would like to take you on a virtual trip to see the vast savannah with its beautiful views and mesmerizing animals. We are not able to do that just by ourselves, but with a little help from Genii. They provide you a colorful, cute and catchy video slot called Big Game. We are very excited to present you to this great addition to our constantly growing game library, and we're proud to have Genii's games on our online casino.
Big Game Spin16 payout
Big Game is a video slot with 5 reels, 3 rows, and 30 paylines. You can choose coin values of between 0.01 and 0.10 - as well as bets between €1 and €15.
Big Game
Spin16
bonus game
Since Big Game is a so-called Spin16 video slot, it offers a quite thrilling feature with the same name. On the sides of the reels, you have 16 arrows in different directions, up, down, left, or right. A yellow arrow will mark your pick, and a green arrow will then go around the reels after picking direction and reel. If the arrows match, you will get a 10x multiplier on any win. If you only match the reel, you will get a 5x multiplier, and when matching the direction, you will get either 2x or 3x multipliers.
In this feature, you also have the option to Spin Hot or to Spin Cold. This is the Spin16 feature´s spin button. You can choose to Spin Hot, meaning that you spin in the direction which is hot, the direction of the last green arrow. Or, you can Spin Cold, where the arrow hasn´t landed in a while.
Big Game
Spin16
free spins
Since this is a Spin16 version, and it offers an extensive bonus game, it does not offer any free spins. But as you are so into the African savannah and the wildlife that can only be seen there, along with free spins - you have to check out African Sunset from GameArt.It offers a rewarding free spins feature with additional multipliers.
Big Game
Spin16
special features
Wild symbol
But something is still missing. What would a video slot be without a wild symbol? No worries, this slot does have a whopping wild symbol and what else could that be than a lion, the king of all the animals. This roaring wild substitutes any of the other symbols in the game and always doubles the winning! If you get lucky and get 5 of those symbols appearing on an active pay line, you will be rewarded with massive x3000 of your bet value. Isn't that wild as a lion!
Scatter symbol
The Scatter symbol is the sweet elephant and this has the ability to multiply all wins with the help from it by the total bet made. The Scatter wins are then added to the payline wins.
Give this wonderful video slot a try. Great graphics and background music with African vibe makes Big Game very enjoyable to play. We guarantee that you will like this slot as much we at Videoslots.com do. We would like to wish you the best of luck with it.