Battle of Slots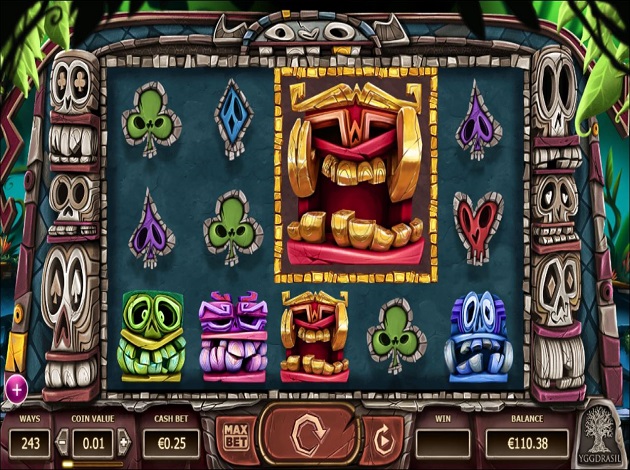 Play Big Blox online: Check out our slot review below
We are presenting a fun and entertaining video slot game brought to you by Yggdrasil. A video offering a splendid and interesting theme, incredibly well-made graphics, rewarding features, and 243 ways to win. This is the native inspired Big Blox video slot!
Yggdrasil Gaming is a provider of games for the online and mobile market, offering a wide range of games for the best operators in the markets. They have since their start worked hard and now has a standing reputation as one of the most reliable and most respected suppliers out there. But not only do they provide operators with their amazing games, but they have also created some innovations; one of them being the iSENSE 2.0 – this allows their operators to release their games simultaneously on desktop and mobile to make the releases smoother and better for both Yggdrasil and the operators.
The portfolio of games provided by Yggdrasil Gaming is wide with a good range of game themes and designs. What they have in common is their creative themes, gorgeous graphics, clear cut animations, and rewarding features. Some of these games are Nirvana, Wicked Circus, Monkey King, Vikings Go Wild, and much more.
This time, they have created a unique addition, Big Blox, and Videoslots.com are thrilled to be able to offer it in our collection.
Big Blox main game
The name of the game might not give away too much of what it is all about, at least not before knowing. But this video slot is all about the native American culture, and the Big Block feature – and it is surely fascinating. The feeling you get when entering the game is a bit mysterious, and slightly dark. The totems and the feeling of a tribe somewhere close make the sense of the game a whole lot more exciting.
The symbols of the game are matching the theme of the game perfectly, all of them are made with a weird twist. You can see the goofy and weird looking totem heads in different shapes and colours. You have the green, the blue, the purple, and the red and golden one. These are the higher paying symbols out of the ordinary ones, and the red and golden one gives a win of 400 coins for 5 symbols. Apart from these you also have the classic card suits, clovers, hearts, diamonds, and clubs – but they are all shaped and decorated as small totem signs. These represent the lower paying symbols.
This is, of course, not all. You can see the big totem block in sheer gold, where it says WILD on, this is pretty obviously the games´ Wild symbol. This can grant you with some major wins. You have a few other features offered in Big Blox, but we will more into these soon.
Big Blox theme, graphics, and music
Big Blox has clearly taken its inspirations from the native Americans and the culture that comes with it – for and most the totem symbols which you can see all throughout the game. Totem poles emblems animals and mythological creatures that are said to have spiritual powers, they are said to watch over families believing it. In other areas, the totem poles are made to tell a story – to record history and legends of tribes. So depends on where in the world you are, in what tribe, and what the belief is. What we do know, is that totem poles surely are fascinating – and stunning.
Big Blox has focused solely on these cool tribe symbols, but they have made them in boxes, in animated graphics and design. The details are however very clear and well-done, and the box of totem symbols are made very realistically with coloured details and carvings.
You can see the backdrop of the jungle, and the reels made out of totem poles – of course. Surrounding the reels are other totem detailed frames, with a small figure at the top. The small details you can see all over the place are all perfectly made in vibrant colours and a bit goofy-looking. Especially the reel symbols of the totem poles, they all look slightly dumb with big crossed eyes, huge teeth, and surprised looks.
The music in Big Blox is quite upbeat. As you spin the reels, you can feast your ears on some traditional and native music and sound effects.
Big Blox payout
Big Blox video slot offers 243 ways to win with additional 5 reels and 3 rows.
You have the opportunity to choose a coin value of between 0.01 and 4.00. This makes for a minimum bet of €0.25 and a total max bet of €100.
Big Blox bonus game
Big Blox does not offer any extensive bonus games or features.
But if you do enjoy this kind of a theme, with totems and inspiration from the native culture, then you should check out Totem Quest from GamesOS. Apart from this similar theme, the game also offers 3 bonus games. You can either go around the world, to solve puzzles, catch flying tiles, and catch gems to win some incredible rewards.
Big Blox free spins
Bix Blox does not offer any free spin features either, focusing more on higher wins.
But just like mentioned above, Totem Quest is a similar game with matching theme. Apart from the bonus, the game also offers a free spin feature. The totem heads can grant you with this feature, and you can win up to 15 free spins in this game.
Big Blox game features
Wild symbol
The golden totem is the games´ Wild symbol; it can help you win better and more by stepping in to replace all other symbols to create the winning combinations for you. The Wild can also turn into a Big Block, meaning you can hit some real big wins!
To sum Big Blox up, it is a video slot that does not offer any specific features. Luckily the big wins and the overall gameplay makes up for this. It is a popular theme with fun animations, and it will surely be well-liked by our players! We wish you the best of luck!