Battle of Slots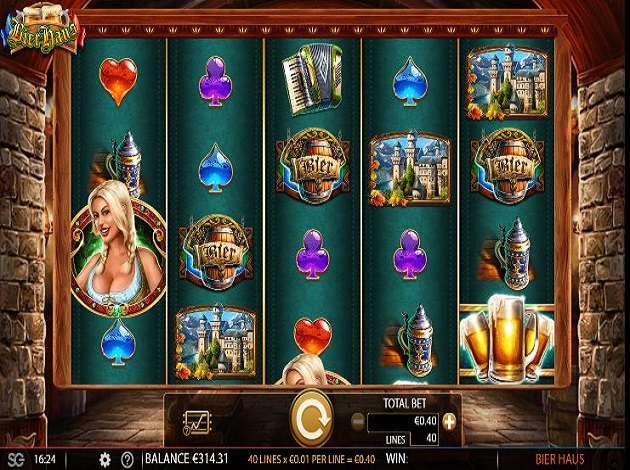 Play Bier Haus online: Check out our slot review below
Have you ever been at one of the famous beer festivals? The world's greatest one is called Oktoberfest and are arranged in München, Bavaria in Germany. This is a 16 days long festival that takes place in the late days of September to the beginning of October. Each year people from all around the world shows up and many of them appear year after year. The Oktoberfest is a traditional and important part of the Bavarian culture and have been arranged since year 1810. Other cities around the world have their own feasts with inspiration from the Oktoberfest in München. As you might have understood the amount of beer consuming is large, almost 7 million litres of beer are served during these 16 days. There are no doubt about it, this is definitely one of the most popular events of the year! So if you are a fan of the Oktoberfest or a just a beer over, you can now enjoy this golden drink here in Bier Haus from WMS gaming.
We at Videoslots.com are happy to wish you welcome to this fun and exciting game Bier Haus. We souls also like to wish our newest member WMS Gaming welcome to our slot family. WMS Gaming are one of the leading providers on the market for online casino games. They always offer games in the best of quality that are highly appreciated by all of our players and you will soon see that this beer filled video slot Bier Haus is not an exception.
The first thing that you have to do is to click on the image above. The first thing that you will notice when you enter the game is the amazing graphics. The game has a nice design and will get you a modern feeling. Bier Haus includes a lot of cool symbols as an acorn, an accordion, a beer barrel, beer glasses, a beautiful autumn landscape and of course some of the traditional symbols that you will recognize from the classic deck of cards. This game also includes some extra special symbols, the first of these are the Wild symbol that are emblazed with three beer glasses. This amazing symbol increases your chances to receive even ore winnings combinations by substitute for all the other symbols in the game except for the bonus symbol.
What are you waiting for? Come and play this amazing video slot right now! We can assure you that you will have a super fun time and that you will be rewarded with high winnings! Can it really be as good as this? If you still feel a little bit unsure about if you really want to play this game with real money, you can always try it in our demo mood that you reached when you are offline from your game account. You can then play the game as many times as it takes for you to fall in love with it. Of course the highest and real winnings will show once you are logged in to your account and are playing with real money.
So grab an ice cold beer, relax and get yourself ready to be amazed in this new and great video slot Bier Haus. We at Videoslots.com wishes you the best of luck!