Battle of Slots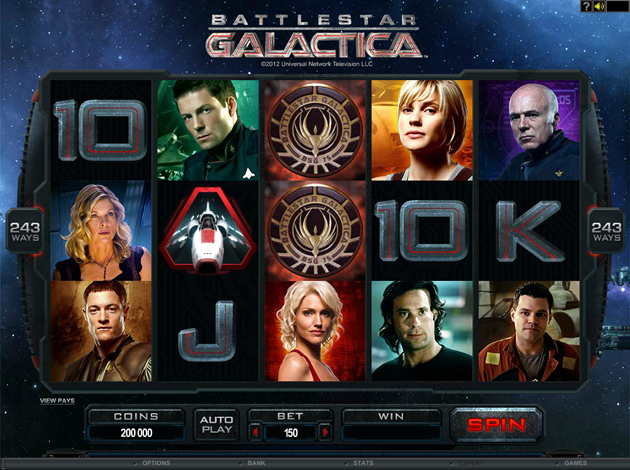 Play Battlestar Galactica online: Check out our slot review below
Welcome to this massive Video Slot, Battlestar Galactica! We guess this game does not need any further introduction since the TV-series, Battlestar Galactica, is one of the biggest success of all times. But in case you have not hear of it, I will try to give you a short introduction. This video slot is inspired by the TV-series Battlestar Galatica as earlier mentioned who is an American science fiction franchise created by Glen A. Larson. This video slot is as close as you can get a movie since it has 3D animations and short movies as symbols.

This game has 243 ways to win on it's 5 reels and 3 rows, and is filled with nice bonus features. All the symbols is pictures of the characters in the series, such as Starbuck, Six, Ellen, Apollo, Baltar, Helo, Tyrol and Col. Tigh. You will also find the standard card deck suit symbols from 10's to aces with a themed touch. To see what all symbols gives you, and to read more about the bonus features – take a look under view pays.

Except all the great bonus features and the good payout that this game has, I think we should focus on the amazing graphic. You can see a theme throughout the whole video slot, the music, animations and the design in general. And when I say that a game has good graphic, there is nothing that compares to this. Use the full screen function that you find in the upper corner to right and give a pleasure to your eyes. If you don't want to listen to the music and sound that comes along with the game, you can easily adjust that on the sound icon. Next to that symbol you will also find a question mark, and this icon is really good if you have any concerns or questions about the rules. There you will find all rules and also some general facts about the game.

So when we are talking about functions I could also tell you about the smart autoplay function this game contains. Just click the autoplay button and choose how many spin you want to do, the value of the coin and how many paylines you want to use. Then you can sit back and watch the slot spin by itself, it will not get easier than that.

Since you can play with up to 10 coins and choose between 3 different bet levels is this a game perfect for all players, no matter which kind of bankroll you have. You can also, next to the bet settings see your top 5 winnings during the round. I think it would be better if I let this game talk for itself, so give it a try. You will not get disappointed. Do as I have told you – use fullscreen mode, and have the original sound that comes with the game on to get the best game experience as possible.

Now it is your turn to get to know this amazing Video Slot, Battlestar Galactica. Good luck!