Battle of Slots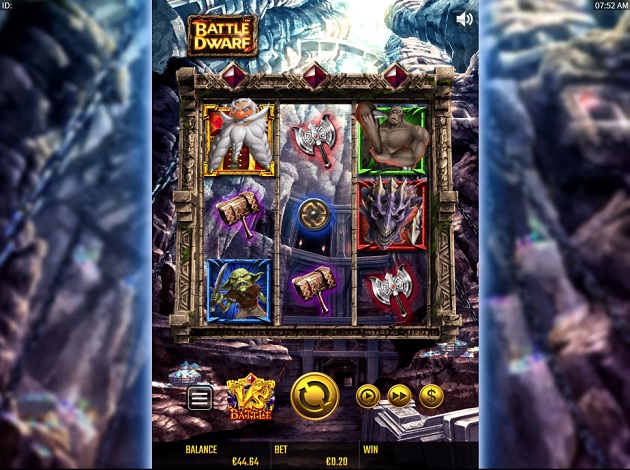 Play Battle Dwarf online: Check out our slot review below
Battle Dwarf Introduction
There's not much more to say about Battle Dwarf from Golden Hero except that it's an epic fantasy inspired slot taking you to a treasure filled alleyway deep within the mountains. The setup of this slot consists of three reels, three rows and a total of five paylines as well as a variety of interesting game features. When the features in this came are activated, the game comes to life on a whole new level; the symbols will move on the screen and you will even hear some of the characters making themselves known with their voices throughout as well. Additionally, the landscape will change a bit will everything will come to life.
Apart from the special effects giving the game a whole new energy, the game features in Battle Dwarf have sort of a trigger and response effect to them taking you from one to the next sometimes depending on the outcome of the current feature.
Get ready to battle against and with some folk story characters as you venture into these treasure filled mountain cracks!
Battle Dwarf Game Features
Battle Dwarf consists of many interesting symbols such as a VS Battle symbol, a treasure chest, a large Viking with a braided white bear, a spiky purple dragon, a large brown troll and a little green dwarf. There are also several weapons such as a double-sided axe, a hammer, a Viking helmet and a shield.
Battle Dwarf Free Spins and bonuses
Once a reel manages to activate a lock on it, that reel will stop while the other reels will spin again. When three reels lock in place, you'll get to take part a battle. There are three characters that can take place in this battle all with different victory rates which are either the little angry dwarf, the large troll or the spiky purple dragon! During the base game, you can choose to battle or run however, during the treasure rush feature you will always have to take part in the battle. You'll have to defeat the enemies with various picks that might be given and are listed below:
Attack
Damage
Attack x2
Damage x2
Win
During the battle, depending on how many hit points (HP) you have, you could win between seven and 30 free spins!
This battle feature is really cool, you'll change locations and will battle by clicking on the various button attacks that are given at the bottom of the screen. You will need to choose one at random and wait to see what the outcome will be.
Treasure Rush
During the treasure rush feature, treasure chests will appear much more often on the reels. You could potentially gain one to ten free spins from either silver or gold treasure chests. There is a relatively high chance that you could gain a battle every 30 spins, and retrigger with a win.
The scene also changes in Treasure Rush, taking you to the same location as the base game but instead there are mounds and mounds of gold and other treasures alike.
Ragnarök Mode
The ragnarök mode is essentially a higher-level treasure rush in which the dwarf awakens to new power battling a dragon every thirty spins. This can sometimes occur when entering the battle mode.
Elf Bonus
There's also an elf bonus which could give you the chance to gain big wins or battle by pressing on the big red button that will appear in front of the white-haired elf.
Buy Feature
Battle Dwarf also features a buy feature which gives you the chance to buy a battle during the base game.
Battle Dwarf Payouts
If the treasure chest symbol appears on the screen, you'll get a payout of 3-300x your total bet. The VS Battle symbol will award you with 0.5x for each symbol landed on the reels. The large white bearded Viking symbol can earn you 20x your total bet while the angry purple dragon symbol can earn you 7x your total bet. The large brown troll can award you with 5x your total bet while the little angry green dwarf can award you with 3x your total bet.
The double-sided axe symbol can award you with 0.5x your total bet while the large hammer symbol can earn you 0.4x your total bet. The Viking helmet can earn you 0.3x your total bet while the shield can earn you 0.2x your total bet.
Battle Dwarf Graphics and Sound
The reels of Battle Dwarf are encased in a tremendous and remarkable stone frame with carvings throughout it and three red gems at the top of the reels. The reels are set deep between several large mountains which have a hidden alleyway where these reels are set right outside of. Below the reels, you'll see several bowls full of a variety of coloured, glistening gems! Above the reels, you'll see the sun trying to sneak into the dark mountain corridor lighting the way for whoever wants to make it through.
The soundtrack in Battle Dwarf is adventuresome and suspenseful which adds an extra edge to Battle Dwarf! You will even hear some grunting sounds as well as the drum sounds getting stronger at certain moments. Additionally, when you spin the reels, and on a winning combination or trigger a bonus feature other sound effects will come into play.
There is both an autoplay option and a turbo mode option in Battle Dwarf which you can find both buttons for these easily at the bottom right-hand corner of the play screen. In order to find the paytable, simply click on the button in the bottom left-hand corner which is illustrated with three white horizontal lines.
Battle Dwarf Conclusion
Battle Dwarf will take you on a one-of-a-kind expedition through mountains that are engulfed in various types of treasures! Along the way, you'll encounter various fictitious characters such as dwarves, trolls and even a dragon. You might even go to battle with one of these characters! Battle Dwarf has some epic graphics and sound effects which makes the game experience that much more entertaining.
The nature of the special bonus game features in Battle Dwarf is that depending on the outcome of a battle, there's a chance that another feature might be triggered such as the treasure rush feature. Apart from these two feature there is also a ragnarök mode, elf bonus and a buy feature in Battle Dwarf – check it out at Videoslots now!
Gambling is a form of adult entertainment only. You must be over 18 to play. Play responsibly.
About the Provider
Golden Hero Group Ltd was founded in 2017 and works in collaboration with ORYX Gaming, a leading turnkey gaming solution provider. Additionally, Golden Hero is a member of the JPJ group whose parent company is JackpotJoy Plc which is listed on the London Stock Exchange.
Up until this point, Golden Hero has an admirable game portfolio under their belt which includes multiple innovative product lines of RNG slots! They are all about games that are made for online gambling on mobile devices with three components always kept in the back of their minds: easy, fast and fun.
The key focus for Golden Hero is to create content for mobile devices that allow easy access for everyone, everywhere. The games are all built on a brand new HTML5 framework and are optimised for flexibility, size and speed. Golden Hero games are also compliant and certified in several licensing jurisdictions, so together with Oryx's modern, well-known and stable games platform this allows any type of game mechanic and jackpot solution to be created successfully.
In addition, Golden Hero offers a Partner Program that enables third party content providers to leverage existing frameworks and operator networks, giving them the ability to fully focus on game development and growth as well as less on technical details and compliance.
Play in our Battle Of Slots
Don't miss out on the opportunity to play a thrilling Battle with our special, unique and very first social online casino experience – Battle of Slots. Videoslots gives you the chance to play first time Battles against your friends and other players on Videoslots.com with games from NetEnt, Thunderkick and Play'n GO. There is only one Battle of Slots – and you'll only find it on Videoslots.com!