Battle of Slots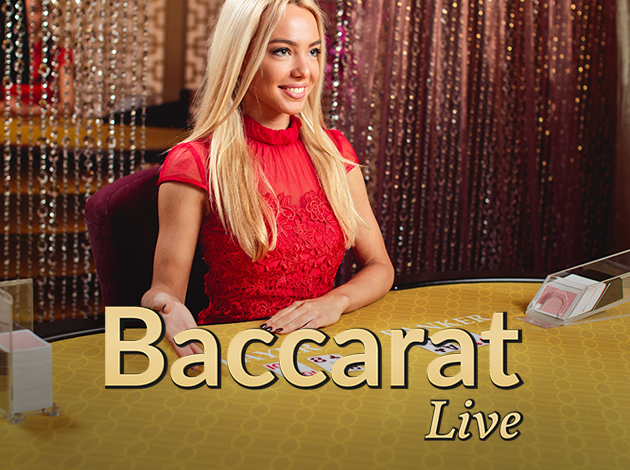 Play Baccarat Squeeze online: Check out our review below
Baccarat Squeeze Introduction
Revered as a game for the rich and famous, Baccarat is all about class. It was invented in the Middle Ages and named after the worst possible hand, a zero, rather than a winning combination or other- it's not a game for the faint-hearted, but despite this, its popularity has not diminished over the years! In fact, James Bond fans might recognise it as the centre of the plot in Casino Royale (the book, not the film).
In the light of this incredible pedigree, casino software developers Evolution Gaming have come up with a live dealer version of this timeless classic.
Baccarat Squeeze Game Features
Evolution Gaming's new and improved Live Baccarat has taken the thrill and suspense of Baccarat to a new high with a world-class, Macau-like gaming experience for every player type, from first-timers to the most experienced high rollers.
New features across all game variants include bean-shaped tables, cards dealt face down, a big choice of roads for keeping tabs on trends, and extra side bets too. And best of all, Baccarat devotees can also enjoy the ultimate in authentic Baccarat play with a choice of Baccarat Squeeze games — the multi-camera Live Baccarat Squeeze and Live Baccarat Control Squeeze!
This is the ultimate multi-camera Live Baccarat for devotees who love the ritual of the squeeze. What squeeze? The one where the dealer partially reveals a card before dealing it, that's what. Over 15 cameras capture every subtle nuance of the game, with the vital squeeze itself performed by the dealer captured in a series of tantalising close-ups.
It's a new dimension for online Baccarat play: Evolution Live Baccarat Squeeze keeps the gaming fun flowing while at the same time delivering maximum suspense and all-important authenticity. The dealer quickly reveals cards for the hand associated with the lesser total wager and will squeeze cards dealt to the hand associated with the greatest total wager.
Players can select from a wide range of standard and VIP Live Baccarat tables. Whatever Evolution Baccarat table the players chooses, gameplay is beautifully optimised for desktop, tablet and smartphone play with their user interface.
Baccarat Squeeze Rules
The beauty of Baccarat lies in its absolute simplicity. There are three possible outcomes—a player win, a banker win and a tie—and the dealer pretty much does all the work.
Players bet either on the player's side, the "banker" (aka the dealer) side or for a tie. Cards two through nine are face value, while a 10, jack, queen and king cards have a value of zero. An ace is worth one.
The dealer then deals out the cards face up—two each for the player and banker—and whichever hand totals closest to nine wins. If you've bet on the player hand and it has the closest to nine, the winnings are simply double what you bet. If you've bet on the banker hand and it wins, it pays 95 percent of your wager.
When the cards dealt are greater than nine, you have to add the two together and drop the one (or two) to get the value. For example, a hand of nine and seven cards dealt would add up to 16, and with the first digit dropped, the value in the game is six.
Baccarat Squeeze Graphics and Sound
Evolution Gaming Baccarat is on live video and most of the graphics are hovering help text bubbles which explain what is going on. They're excellent at doing that, by the way. There are icons at the bottom of the screen to help keep tabs on what happened in previous hands, as well as to chat with the room. The sound quality is excellent -- the dealer is clearly audible at all times.
Baccarat Squeeze Conclusion
A great rendition of a timeless classic. Baccarat Squeeze may have been roughly 600 years in the making, but it remains as thrilling today as it did in the Middle Ages. Thanks to the multi-camera studio option you can be immersed in gameplay that is as fun as it is lucrative to skilful players. Do you want to enjoy the ultimate casino thrill with its glamourous ups and downs? There is only one way to find out if you cut it as a Baccarat player - log in to Videoslots.com and give it a spin!
About the Provider
Evolution Gaming was founded in 2006 and since then, they've managed to revolutionise the European live dealer platform around the world. Their headquarters are in Riga, Latvia, but a majority of the employees are based in Malta as well. Since its conception, Evolution Gaming has become a leading B2B provider of Live Casino systems within Europe today.
Their Live Casino consists of real-life dealers that run the game in real-time on a casino gaming table just like you would find in a real-life casino. Players can engage with the dealer via a live streaming video link. Essentially, they've given players the option to go to the casino from the comforts of their home!
The vision at Evolution Gaming is to be the leading Live Casino provider in the world whilst ensuring that they create an unforgettable user experience as well as make operators successful. They accomplish this is by offering a localised Live Casino experience into regulated markets available on all digital platforms for online and land-based game operators, and players too.
Evolution Gaming is working towards maintaining and strengthening its position as a top Live Casino provider, while keeping up-to-date of developments within the global gaming market.
You can check out a wide variety of live Evolution games like Blackjack, Roulette, Baccarat and much more at Videoslots!
Play in our Battle Of Slots
Don't miss out on the opportunity to play a thrilling Battle with our special, unique and very first social online casino experience – Battle of Slots. Videoslots gives you the chance to play first time Battles against your friends and other players on videoslots.com with games from NetEnt, Thunderkick and Play'n GO. There is only one Battle of Slots – and you'll only find it on videoslots.com!