Battle of Slots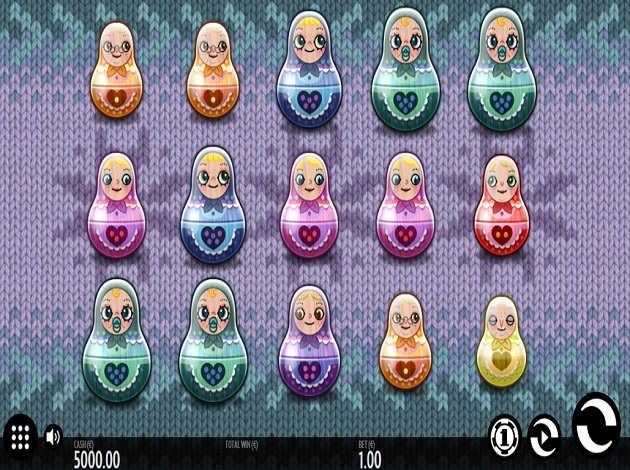 Play Babushka online: Check out our slot review below
Babushkas – or Matryoshkas, as these wooden dolls are also called – have gotten their own, upbeat video slot from Thunderkick. This game is simply named Babushkas video slot. These cute dolls are spinning the reels placed in front of the background that resembles knitted jumper. Babushka selection in this game is 7 dolls wide – odd number, as these sets tend to be because it is considered to reflect the continuation of life in the Russian tradition.
Thunderkick is part of game developers' new generation in the industry. However, it has succeeded to make a reputation for itself with the quality and uniqueness of its games. Thunderkick is Swedish company founded in 2012. It holds one of the most valuable gaming licence in the industry, the one from Malta Gaming Authority. This provider doesn't create a huge fuss around itself, but focuses on the games and creating positive hype around them. And by far they have succeeded very well in that!
Babushkas Main Game
Babushkas video slot takes the player into Slavic atmosphere with babushka dolls. These round, wooden dolls have represented against a multi-coloured background that resembles knitted sweater. This very cosy background is almost fully visible to the player because all of the 5 3-row reels of Babushkas video slot are invisible. So all the attention goes to the symbols of the game, to the babushka dolls.
The reels of Babushkas video slot are filled with 7 babushka dolls. Also, there are 2 special symbols, one wild symbol and one mystery wild. The size of the babushka doll symbol will reveal the value. However, the biggest doll doesn't bring the biggest win but the other way around. The biggest babushka doll symbol is the baby one, pacifier in her mouth, dressed in green. After the biggest one, there is one dressed in blue, one dressed in purple and then one dressed in pink. After these dolls, you might notice that the faces of these dolls are getting older. Yes, you guessed correctly! They are getting older and older the smaller they get. The second biggest wins you can get with the red babushka doll that already has glasses on. Yellow one brings the biggest wins of Babushkas video slot.
Both special symbols of Babushkas video slot are colourfully painted eggs, hatching surprise inside them! The basic wild symbol you can recognise from the letter w painted on the side. Mystery wild has a star in addition to the light blue letter w on its side.
Babushkas Theme, Graphics and Sounds
If your friends or family – or even yourself – have been travelling to Russia, you might have seen babushka dolls on bookshelves or coffee tables. This doll is usually presented as a female figure, and you can find the smaller one by opening, the bigger one. So at first you see only one doll, but open it and you will find another, bit different doll. And after that? There is again another one waiting inside! This amazing doll has gotten its own game – Babushkas video slot, which hatches some nice surprises on its reels.
Babushkas video slot has amazing graphics with colourful babushka dolls. This game has very nice, happy and relaxed atmosphere which can also be seen from the graphics. But maybe even better than the graphics are the sounds you will hear through the game. The soundtrack of Babushkas video slot has inspired by traditional Russian music, which gives the perfect finishing touch for Babushkas video slot.
Babushkas Payout
Babushkas video slot has 17 fixed paylines and the bet is set by clicking the chosen amount on the betting table you can open the control panel. Betting options are quite wide in this game; the minimum bet is €0,10, and the maximum bet goes as high as €100. So Babushkas video slot is suitable for low and high rollers.
Babushkas video slot is relatively low variance slot so it doesn't have as big risk as some high volatility slots have.
Babushkas Bonus Game
There are several features in the Babushkas video slot, but bonus game is not one of them. If you, however, fancy some bonus game action and want to try out some other Thunderkick's game, you might want to visit the reels of Sunny Scoop video slot. From this delicious slot you will find the bonus round, which gives you the chance to spin the bonus wheel. Bonus wheel will take you to the bonus game or give some nice multipliers to your wins.
Babushkas Free Spins
Mystery wild symbol of Babushkas video slot might, alongside with some other features, take you to the free spins. This mystery symbol is hatching some funny bear characters inside and if it reveals the Dance Bear – bear playing accordion – it means that you will get 7 free spins! And during these free spins, there will always be a wild symbol on the middle reel.
Babushkas Features
Babushkas video slot's mystery wild symbol can trigger 3 different features, which are described below.
Scare Bear: If the egg reveals one of the three scary bear characters, the lowest valued symbols on the reels are upgraded by 1, 2 or 3, depending on the size of the bear.
Charm Bear: All the symbols on the reels are upgraded by 1.
Dance Bear: 7 Free Spins with the wild symbol appearing on the reel 3 on every spin.
Besides the features triggered by mystery wild symbol, Babushkas video slot has another feature too. If there is a possibility to get longer or even totally new winning combination by upgrading some symbols, those will be upgraded. And if after all upgrades all symbols on the reels are the same, they will be upgraded one more time. This is called wipe feature, and this feature will bring a special prize, if all the symbols have been the highest value symbols before upgrading.
Battle of Slots
Battle of Slots is unique, social casino concept, offered by Videoslots. These battles can be played on the reels of Thuderkicks, NetEnt and Play'n Go video slots. So choose your battles carefully and start playing against the others!
Babushkas video slot has surprise after surprise to offer for the players. Just spin the reels and check what you can find from these reels!