Battle of Slots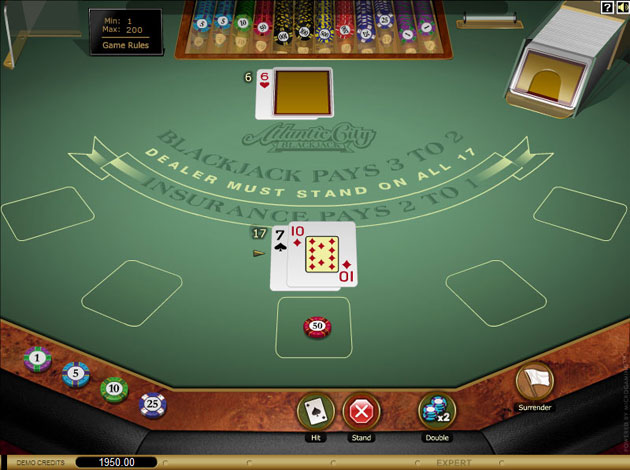 Play Atlantic City Blackjack Gold online: Check out our review below
Atlantic City Blackjack Gold at Videoslots.com has successfully reached the goal to look and feel like the real Blackjack game that is played on the casino floors in Atlantic City. It is very easy to learn and any player can be up and running in no time. The Atlantic City Blackjack Gold features some nice options that make the game even easier including Auto Re-bet and Quick Deal.

Atlantic City Blackjack Gold is played with eight decks of 52 playing cards which are shuffled after each round of play. This ensures a random shuffle on each hand and if you are looking to count cards we need to recommend you to the casino floors in Atlantic City.

Start the game by clicking on the picture above. Once the game has loaded and are ready to play, you are able to choose your desired marker value. You can find the marker values in the lower left bottom of the game. You can choose from 1, 5, 10 or 25. Minimum bet for this Blackjack game is 1 and maximum 200. Use your pointer to place your marker on the table to make your bet. If you want to bet more than the markers value, simply click one more time for another marker to be placed on the table. When you are satisfied with your bet simply click on Deal to start the game. The dealer will deal two cards to you with their faces shown. And the dealer also gets two cards with only one card faced.

As usual in Blackjack you want to hit a total of maximum 21 or less, and higher than the dealer. Both you and the dealer can go bust and that occurs when you receive a total of 22 or over. Add your two cards value and decide what your next step will be. You will have the option taking another card if you are to far away from 21 by clicking on Hit. If you are satisfied with your value you can click on Stand. If you want to double your bet click on Double but you will risk losing your bet if you bust. If you get two cards of the same value you can chose to split them for an extra chance to win. If you feel that your hand is about to bust you can click on surrender, but that will cost you half of your initial bet.

Along the way you have the option of splitting pairs or doubling on any two cards that are you are dealt. You also have the option of insurance which can be purchased when the dealer has an Ace showing as a first card, and which pays off at 2-to-1.

Atlantic City Blackjack Gold also offers some features to simplify the game even more for you. The options of Auto-Rebet and Autoplay, available after switching into Expert Mode, not only provide for the same bet to be made over and over again, but for the strategy decisions to be automatically made as well. Tune in your settings and start winning!

At VideoSlots.com we offer a wide variety of Blackjack games and other table games. We can guarantee that you will never have a dull moment.