Battle of Slots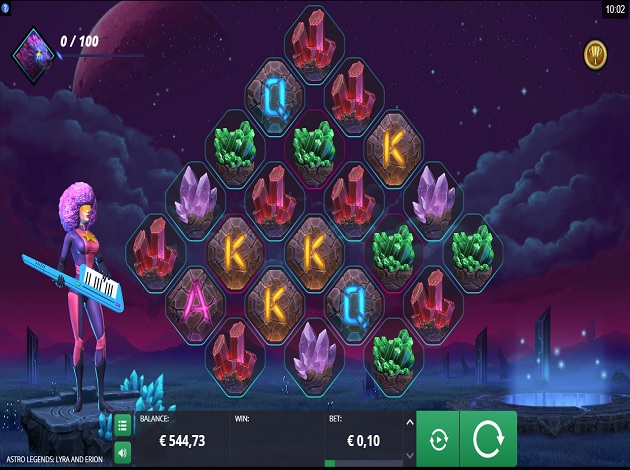 Play Astro Legends Lyra and Erion online: Check out our slot review below
Astro Legends: Lyra and Erion Introduction
Foxium invites you to find your groove in this music-inspired, space themed slot featuring Lyra and Erion, the stars of the sci-fi themed slot. It's not just any sci-fi themed slot though, it's actually a space techno pop theme that's impressively creative and unique to video slots.
Lyra is an intergalactic musician in an imagined futuristic world where she's known for amazing keytar solos. You get front row seats to her performance on this slot, and you can even witness the mesmerising transformation into her spirit animal. Erion is Foxium's genius creation, an eccentric artificial intelligence creature, armoured in precious gems. He presents great danger to Erion, and you must help Lyra overcome the danger he poses so she can be re-united with Astro Legends for a galactic gig.
The game engine on Astro Legends: Lyra and Erion is a bit different than usual, as there are no reels and rows. Rather, this game is made up of 22 independent reels, presented in a gorgeous diamond-shaped cluster.
This is easily a slot that will appeal to all sorts of players thanks to the highly original theme, inventive bonus features, and engaging gameplay that tells a fascinating story. Read on to find out how to make your own story in Astro Legends: Lyra and Erion and discover your star power! You can even win up to 15,000x your bet if you're extra lucky in your intergalactic space adventure.
Astro Legends: Lyra and Erion Game Features
You can play Astro Legends: Lyra and Erion with bets ranging from € 0.1 up to the maximum up € 10. The cluster reels will be made up of several gems like Garnet, Amethyst, and Peridot, as well as lower value playing card symbols (ace, king, and queen). Rather than spinning, symbols will simply pop onto the reels with each spin.
The pink rock is the wild multiplier symbol. This not only substitutes for any symbol, but will also multiply your win by 2x, 3x, 4x, or 5x when doing so! The multiplier wild can appear in three red cells only.
Stardust Collection
When the game begins, you'll immediately start collecting stardust to fill up the Stardust meter above the reels. The stardust bubble may randomly appear anywhere on the reels, landing on top of a symbol. Lyra will burst the bubble and a random number of points, (between 2 and 10) will be added to the collection.
If Lyra collects enough stardust from the crystals and gems on the reels, meaning she has 100 points, you'll witness Lyra shape-shift into her spirit form: a glowing wolf with incredible running abilities. If you have extra points, these will be carried over to the next round. The Lyra Spirit Bonus now begins.
Lyra Spirit Bonus
This bonus is played on a different screen, where you'll see three race tracks and the Lyra spirit (the wolf) at the start. You have three lives when the bonus begins and there are seven levels for the wolf to get through, and your job is to choose which path the wolf takes to avoid being hit by the giant Erion.
This is essentially a Pick Me bonus, where you have to pick a path for each level to try and avoid the obstacles put out by Erion. As the levels increase, so does the danger. The wolf loses one life if its path is hit by Erion. The bonus ends all three lives are lost or if you manage to get through all seven levels.
You'll get a multiplier of 20x your bet as an extra prize if the wolf has lives remaining at the end of level 7!
Sonic Re-spin
Any cluster win will randomly activate the re-spin feature if all winning clusters are made up of the same symbol. During the re-spin, all winning symbols will remain on the grid while the rest of the symbols will be replaced. If the winning combination increases or if an additional cluster of five or more symbols of the same type is formed, then all these symbols will be held in place for yet another re-spin.
You'll keep getting re-spins until the spin doesn't increase the size of the cluster or until a cluster completely fills up the screen.
Astro Legends: Lyra and Erion Free Spins and bonuses
Astro Legends: Lyra and Erion doesn't offer any free spins, instead, you get plenty of re-spins for extra chances to form winning clusters for free!
Astro Legends: Lyra and Erion Payouts
You'll earn prizes in Astro Legends: Lyra and Erion when you get a cluster of at least five matching symbols. The paytable shows the multipliers of your bet that will be given for each combination. The Garnet is the most precious symbols in this universe, followed by the Amethyst and the Peridot next. The lowest wins come from the three playing card symbols.
Astro Legends: Lyra and Erion Graphics and Sound
Foxium has created an entire universe with impressive details in Astro Legends: Lyra and Erion. Lyra stands next to the reels, constantly playing her keytar and occasionally interacting with the reels as well. Each feature is impressively animated and designed, with an incredible amount of detail that's enough to immerse you in the story of this slot.
In the background, you'll see the futuristic city of this imagined planet, with blue, pink, and purple hues blending into each other to create a stunning, starry sky. The soundtrack is really fun to listen to and doesn't just loop repetitively. Rather, it changes according to the action in the game and according to which stage of the game you're in. This changing soundtrack creates an atmospheric experience that's easy to get immersed into.
Astro Legends: Lyra and Erion Conclusion
Astro Legends: Lyra and Erion is a visual masterpiece by Foxium that will easily engage you with its story and entertain you with its rich graphics and atmospheric music. Foxium has created a game like no other, where you have the unique experience of being part of an engaging intergalactic story, with great music and exciting features. What are you waiting for? Play it now at Videoslots!
About the Provider
Foxium gaming – "Outfoxing the Ordinary" since 2015. Meet this young new company who have already gained a great reputation for themselves with 2 games in particular: Big Time Journey and Stereo Miami.
This is a company based in Tallinn, Estonia, a lesser-known base for iGaming businesses. Being a young company, it was definitely a challenge to enter the competitive business with gaming giants dominating the market. However, they made a smart move when they partnered with the Odobo slots platform, a Gibraltar based software company who provides smaller companies like Foxium with a complete software package through which they can produce their games easily through HTML5. They also take care of technical issues like mathematical models and multi-platform optimisation.Thanks to their partnership with Odobo, Foxium games are guaranteed to be fair, compliant, and available to enjoy on all platforms.
Onto their games, Foxium have released 8 games by 2018, with many more in the making. Within this small portfolio, Foxium have already defined itself as a talented company, with 8 games that are completely different from each other. The Great Albini, for example, is an amazing magician-themed game featuring a mystery respin and bonus box. Other games explore everything from sci-fi themes, vampires, cartoon designs, to adventure and fantasy. With a strong entry into the business, we're sure Foxium is set to enjoy more success in their future within the business.
Check out 3 of their games here at Videoslots.com: The Lost Riches of Amazon, Odd Forest and Lucky Bakery.
Play in our Battle Of Slots
Don't miss out on the opportunity to play a thrilling Battle with our special, unique and very first social online casino experience – Battle of Slots. Videoslots gives you the chance to play first time Battles against your friends and other players on Videoslots.com with games from NetEnt, Thunderkick and Play'n GO. There is only one Battle of Slots – and you'll only find it on Videoslots.com!