Battle of Slots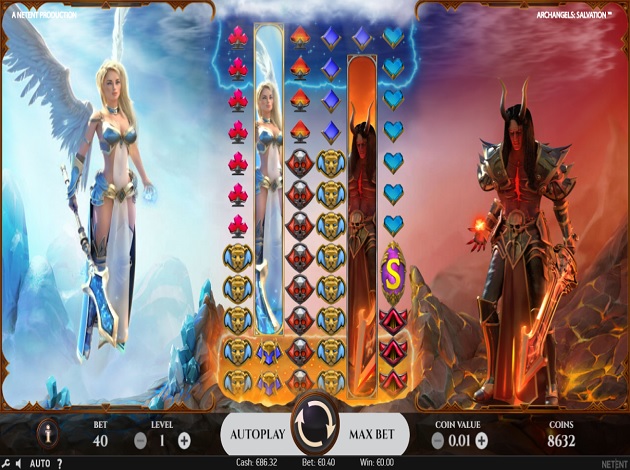 Play Archangels Salvation online: Check out our slot review below
Archangels: Salvation Introduction
Pick your sides: are you for good or for evil? There's a lot more than just that in this fantastic, spectacular video slot from NetEnt, who aren't new to delivering video slots with different reel setups and slot formats in the past – now, Archangels: Salvation not only features 100 winning paylines, but it's also a game that's jam-packed with features and action that will blow you away! It also comes with a revamped payout system that makes its Cluster Pays feature roar like no other! We're sure you won't be disappointed with what Archangels: Salvation offers – we feel this game is truly out of this world, so let's have a good look at this screamer from NetEnt!
Archangels: Salvation Game Features
The minimum bet amount on Archangels: Salvation is of € 0.4 but you can obviously bet with higher amounts as you prepare for this titanic struggle. The game's 100 paylines are housed in a revolutionary 6 reels by 12 rows setup.
The Bonus features in Archangels: Salvation includes the Heaven and Hell Features, the Hotspot Reactivation Feature, Wild Symbols, and the Archangels: Salvation Free Spins Round.
Archangels: Salvation Free Spins and bonuses
Let's start with the easy bit first: the Archangels: Salvation Free Spins mode is triggered when at least three Scatters land anywhere on the reels, and you will get up to 25 Free Spins. This is the number of Free Spins you'll receive based on the Scatters you land:
Three Scatter Symbols = 10 free spins
Four Scatter Symbols = 15 free spins
Five Scatter Symbols = 20 free spins
Six Scatter Symbols = 25 free spins
The Scatters take up two vertical spaces on the reels, but they count as one in all instances, even if they don't fully land in view. In the Free Spins mode, the Heaven and Hell hotspots will expand to occupy three rows – but let's have a look at this bonus mode now.
There are two easy to spot hotspots on the reels of this video slot, one being a row at the top and the other at the bottom. They aren't just mere designs – these trigger two fantastic bonuses, the Heaven Feature and the Hell Feature.
A Wild symbol landing within the area of the top hotspot will bring the angel to life, and you will receive anything between three and five single Wild stacked symbols on the reels. You can either get two stacks if the Wild lands partially within the hotspot or if it lands in full you will get four Stacks. These stacked Wilds can land anywhere on the screen – and that includes Wilds and Scatters as well.
At the bottom of the screen, inversely, you can land a Wild within the Hell hotspot, and a partial or full Wild will give the idle-handed devil something to do. Single Wilds will be fired at random all over the reels, excluding the hotspot itself, however, they cannot cover other Wilds or Scatters. You will get eight single Wilds with a partially visible Wild in the hotspot, and sixteen if you land it in full!
The Hotspot features cannot be retriggered – strictly speaking – but if a Wild Stack or part of it lands within the Hell area or a single Wild lands in the Heaven Hotspot, you will trigger the Hotspot Reactivation feature. Each Wild in the alternative hotspot will generate one Stack of Wilds or four Single Wilds! In addition to this, you have a very high chance of triggering the Reactivation bonus since the probability of hitting a sweet spot stands at 50%!
Finally, the larger-than-usual reels have inspired NetEnt to expand the Wilds to a size of 2x2, so that they will take up squares to substitute for all other symbols except for Scatters. This will surely give you an improved chance to win!
Archangels: Salvation Payouts
There are 4 low-paying symbols in this slot – two red card game suites and two in blue; while another two red and another two blue symbols offer medium payouts. The high paying symbols are the demon and the angel themselves, which land stacked on the reels.
Archangels: Salvation Graphics and Sound
An angel on the left, a demon on the right – NetEnt have, as usual, delivered a stunner with plenty of animations, a compelling sound effect array and, in general, a video slot that feels like a modern console game. Top marks in the graphics department thanks to high-quality visuals, very clear symbols and a clean interface.
Archangels: Salvation Conclusion
A fantastic video slot from NetEnt, who has yet again delivered an incredible video slot with plenty of features that can make your experience more than just the average hour of fun!
About the Provider
NetEnt is a premium supplier of online casino games used by many of the world's most successful online casino operators. The NetEnt CasinoModule™ is a leading- edge gaming system which includes high-quality online casino games, powerful bonus programs and a sophisticated Back Office.
Founded in 1996 by one of Scandinavia's leading off-line casino operators, NetEnt was one of the pioneers in online gambling. The heritage in real life casino operations is one of the reasons behind the success of the company.
NetEnt is unique in the market, not only in its focus strategy on casino games, but also because of the fact that the company does not have any casino operation of its own, nor any interests in such operations. This means that there are no conflicts of interest between NetEnt and its customers.
Thanks to a combination of our heritage and focus strategy, the NetEnt casino stands in a class by itself. Another contributing factor to the success of the NetEnt games is the high entertainment value delivered through rich graphics, intriguing bonus games, entertaining animations and innovative features and functions. The games from NetEnt are not just games! They are productions of a team of highly dedicated and motivated individuals, spanning a wide range of talents with one thing in common – Passion for Gaming!