Battle of Slots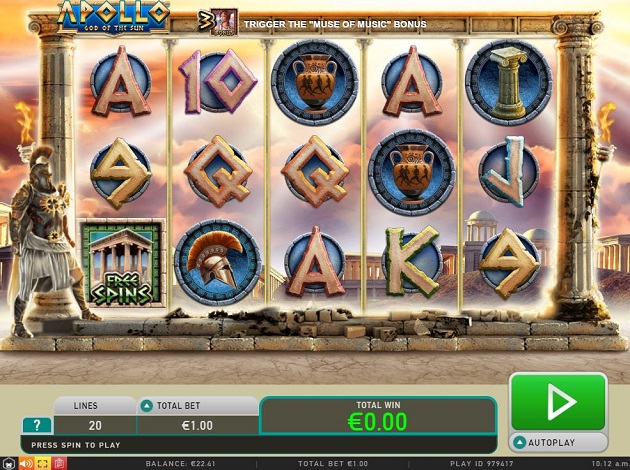 Play Apollo online: Check out our slot review below
It is time to reveal all the powers of Apollo, the ancient Greek god, one of the famous Olympian deities. Apollo is considered the god of music, poetry, and truth – but he is also the god of sun! This mighty god can heal, but he also has a power of bringing ill-health in form of plague. However, now Apollo will join you on the reels of Apollo God of the Sun Video Slot and bring you some nice features while you spin the reels.
Apollo God of the Sun is brought to us by Leander Games. This South American game provider has created several creative Video Slots for online casinos but also for social gaming market. They have also cooperated with several big names in the industry to create even more intriguing and captivating games. Leander Games is known for targeting the Latino markets, but they have also created many games that have been successful all over the world.
By using their own mathematics to prompt the slot sequences Leander Games have created something truly unique that works in sequences with the advanced graphics to offer a dynamic user experience and an ease of implementation for online casinos.
Apollo God of the Sun is an amazing example of Leander's expertise and now you will learn a lot more about this Video Slot.
Apollo God of the Sun Main Game
As soon as you open the Apollo God of the Sun Video Slot, you will get lured into ancient feeling. All around the reels you will see ruins and temples familiar from Greek legends. Sun is slowly setting and clouds are racing through the orange sky. In the middle of this view, you will see 5 reels set between pillars. Fire torches are bringing some more light and maybe even warmth to the set, when Apollo himself is watching your gameplay from the left side of the reels.
This game introduces you some beautiful, ancient Greek symbols, but also few traditional card deck symbols, which will bring you the lowest payout of the game. Vase, pillar, and helmet symbols will pay higher wins. Apollo is the top player of the game and will bring you the highest wins of the game.
There are also few special symbols on the reels of Apollo God of the Sun. Sun is the Wild Symbol of the game, muse acts as a Bonus Symbol and ancient Greek temple is the Free Spins symbol. These features will be introduced more thoroughly soon.
Apollo God of the Sun Theme, Graphics, and Sound
Apollo – also seen as a God of the Sun – is one of Olympian deities and thus a part of classical Roman and Greek religion. He wasn't only a god of the sun, but also god of many other subjects such as music, poetry, and healing. There are also stories about Apollo helping Paris to kill Achilles and even participating in Trojan war. In this game, he is indeed wearing something that looks like a soldier's uniform.
The graphics of the game are beautifully executed. Symbols on the reels of Apollo God of the Sun are razor sharp and all the animations are very smooth. While spinning the reels, you will hear nice background music that fits well with the theme. In addition, there are some sound effects to get you even more excited when you land winning symbol combinations on the reels.
Apollo God of the Sun Payout
Apollo God of the Sun is played with 5 reels and 20 fixed paylines. Fixed paylines mean, that you don't need to worry about activating paylines because those will all be active all the time. Just set the total bet from the control panel of the game and start spinning.
Apollo God of the Sun Bonus Game
Do you hear the beautiful music? That is the Muse of Music Bonus Game, which you will get to play, after landing 3 Bonus Symbols on reels 2, 3 and 4. You will see different coins and get to reveal different instruments behind them. Collect enough instruments to win the bonus prizes and you might get back to the main game with amazing wins.
Apollo God of the Sun Free Spins
Eternal flames are enlightening your path during the Eternal Flame Free Spins bonus of Apollo God of the Sun Video Slot. Land 3 Free Spins symbols on reels 1, 3 and 5, and you will be rewarded with 7 Free Spins. Every Free Spin is special and ensures you a win because you will get the Almighty Sun Feature triggered on every single one of them.
And next, we will reveal what Almighty Sun Feature actually can bring you and how it is triggered.
Apollo God of the Sun Special Features
Apollo God of the Sun is a Video Slot filled with features. This game offers you Free Spins and Bonus Game, but also randomly triggered Almighty Sun feature. In this feature, Apollo himself will bring you Wild columns to the screen. And when we say columns, we indeed mean several ones. So, if you are lucky, you might get more than one reel filled with stacked Wild Symbols.
You don't need to wait for the sun to rise, because on the reels of Apollo God of the Sun, there will always be sunlight. Apollo – as a god of sun – can fill some of the reels with Wild Symbols and you might get to enjoy beautiful music in the Muse Bonus. There is also Free Spins to grab, so why don't you try this Video Slot straight away?
We wish you the best of luck!