Battle of Slots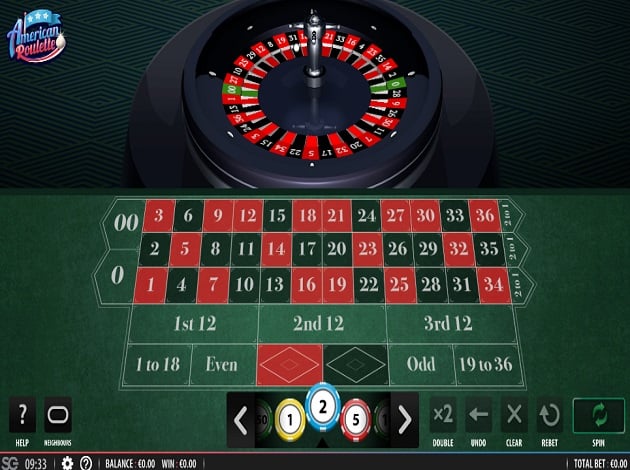 Play American Roulette online: Check out our review below
American Roulette Introduction
Red7's American Roulette gives you the opportunity to play one of the most popular table games of all time, in a realistic setting that gives you the feeling of playing in a real-life, luxurious and elegant casino, all virtually! American Roulette from Red7 is a classic double zero American Roulette game, very similar to the European variant but with the addition of the double zero pocket. Red7's American Roulette follows all the standard rules of American Roulette and is very easy and simple to play!
The aim of the game is to predict where the white ball will land on the Roulette wheel, with a variety of different bets that you can place on the betting table. The Roulette wheel consists of 36 pockets, numbered from 0 to 36 and including the 00 number. If the ball lands on the number you've predicted, you win a prize!
American Roulette Game Features
All you need to do to start the game is place your bet by choosing a chip size from the ones available on the table. Then you need to choose where to place the chips on the table by clicking the positions you want to bet on. There is also the option to choose the 'Neighbours Bet' view to see the numbers in the order that they appear on the Roulette wheel. The following are all the different bets possible in American Roulette.
Single number – a bet placed on any individual number on the table layout, from 0 to 36, including the 00 number.
Split bet – a bet which is split between two adjacent numbers on the table layout.
Street bet – a bet placed on three consecutive numbers on the table layout.
Corner bet – a bet placed on four numbers that are adjacent to each other.
Five number bet – a bet placed on five consecutive numbers.
Six number bet – a bet placed on six numbers that are located on two adjacent rows.
Column bet – a bet placed on any one of the three columns on the Roulette table.
Dozen bet – a bet placed on one of the three groups of numbers: 1-12, 13-24, or 25-36.
Odd/Even numbers bet – a bet on whether the ball will land on an even number or an odd one.
High/Low numbers bet – a bet placed either on all the low numbers (1 to 18) or all the high numbers (13 to 36).
Red/Black numbers – a bet placed on whether the ball will land on a number from the red section of the table or the black section.
Once you've placed your chips on the table, hit the spin button to get the ball moving! When it comes to a stop, the winning number will be displayed, and any wins will be paid out. You can then choose the Rebet option to repeat your previous bet or click Clear to remove all the chips and place different bets.
American Roulette Payouts
To win a prize in American Roulette, the ball needs to land on a number where your chips are placed (i.e where you have placed a bet). The payouts for each different bet are as follows.
Single number bet pays 35:1
Split bet pays 17:1
Street bet pays 11:1
Corner bet pays 8:1
Five number bet pays 6:1
Six number bet pays 5:1
Column bet pays 2:1
Dozen bet pays 2:1
Odd/Even numbers bet pays 1:1
High/Low numbers bet pays 1:1
Red/Black numbers bet pays 1:1
American Roulette Graphics and Sound
American Roulette takes place in a typical Las Vegas style setting, with a green felt table and a black Roulette wheel spinning above it. The Roulette wheel is very realistically designed with a shiny exterior and high-quality, 3D graphics. The numbers are all neatly placed below, with all the different chips available underneath that. Next to the chips, you can find the following options: Double, Undo, Clear, and the Rebet button. You can also select Neighbour view to see the numbers in the order that they are displayed on the Roulette wheel. You can also easily access the help button from the game panel at the bottom which will take you to the rules of the game. Overall, Red7 has managed to give American Roulette a wonderfully luxurious look with the best graphics and the right sound effects to give it a realistic feel. There is also a smooth, jazzy soundtrack in the background, making you feel like you are playing in a luxurious casino.
American Roulette Conclusion
Red7's American Roulette is the perfect opportunity to enjoy the popular Roulette variant virtually, complete with the right atmosphere and a realistic look. American Roulette is designed to be user-friendly and easy to understand, making the gameplay even more straightforward, even for those who are beginners in American Roulette. So, place your chips, hit spin, and see what happens!
Check out American Roulette from Red7 at Videoslots today.
Gambling is a form of adult entertainment only. You must be over 18 to play. Play responsibly.
About the Provider
Red7 is an online gambling software developer that's been behind the scenes providing content for some of the most well-known operators in the UK and Europe. So far, they've got a sizeable collection of games and they do a lot more than just producing slots (although they do this impressively well!) Red7 offers an impressive range of services, most notably their ability to convert Flash games to HTML5 as well as their creation of sports apps and online sportsbooks.
Red7 started out in the iGaming industry in 2011 as a small company based in Bristol, UK. Since their establishment, the company has worked tirelessly to grow and over the years, they've worked with many major partners, offering a range of services and products across the industry. Their range of services include art and design services, bespoke game and app development, converting existing Flash games to HTML5 games, platform integration, and quality assurance.
Red7 is much more than a slots provider and their portfolio is an impressive mix of games. They also have table games, instant win games like Keno, and interesting, themed scratch games as well. If you browse through their colourful portfolio, you'll notice that Red7 has already developed a clear, unique style of their own. A lot of their games are very cartoon in style, featuring cartoon graphics, bright designs, and cute animals, although they branch out into other themes as well.
Check out Battleship Direct Hit, Elvis Lives and Spartacus: Legendary Warrior at Videoslots.com!
Play in our Battle Of Slots
Don't miss out on the opportunity to play a thrilling Battle with our special, unique and very first social online casino experience – Battle of Slots. Videoslots gives you the chance to play first time Battles against your friends and other players on videoslots.com with games from NetEnt, Thunderkick and Play'n GO. There is only one Battle of Slots – and you'll only find it on videoslots.com!