Battle of Slots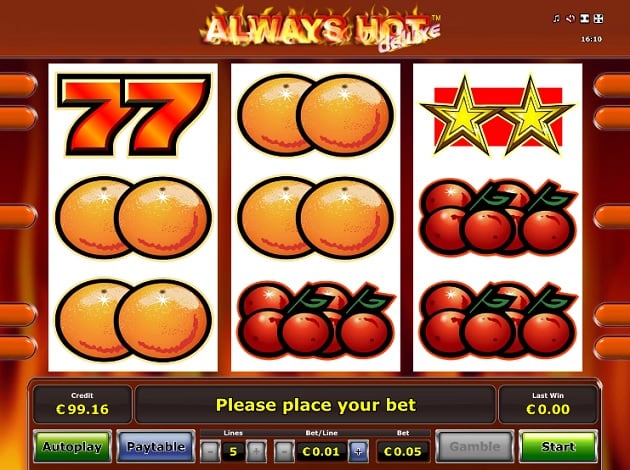 Play Always Hot Deluxe online: Check out our slot review below
Always Hot Deluxe Introduction
A classic that never gets old - or cold, Always Hot Deluxe will definitely warm the cockles of any old-school fruit machine fan. Remember the thrill of winning after sneaking a couple of spins on the slot machine at your local bar, ten, twenty years ago? Relive those glory days and more, because Always Hot Deluxe is certainly bringing something new to the table.
But when all's said and done, is Always Hot Deluxe a game that will fan the flames of high-quality online slots play? Read on to find out.
Always Hot Deluxe Game Features
In line with its classic feel, Always Hot Deluxe uses fruit symbols that experienced gamers are accustomed to, such as cherries, lemons, grapes, and melons, but it also has the other classic bonus symbols such as bells, stars, and lucky 7s. Best of all? Get ready for some huge prizes on offer with payouts of up to an eye-watering, mind-boggling 30,000x your base bet, which can range from € 0.05 to € 250.
With bets starting as low as 2.5 coins per spin it's also a game that will net you some big wins at a low cost. Everyone enjoys the comfort and familiarity that comes with playing a retro slot. A game like this, with its 3x3 reel system where you just need to line up 3 matching symbols, a lack of kinks or special rules, and familiar symbols, is bound to please everyone.
Always Hot Deluxe Free Spins and Bonuses
This slot incorporates the much-loved "Gamble" feature where players can gamble their winnings in the hope of doubling them or even quadrupling them. Every single aspect of Always Hot Deluxe is classic through and through, which makes it a real treat for the nostalgic among us, and one that certainly lives up to its "Hot" name.
After scoring a winning combination you're presented with the option to gamble your winnings or collect them. The gamble feature gives you the chance to double, quadruple, or lose your winnings. The game itself is simple enough. Just choose if the next card will be black or white. In order to quadruple your winnings, you also need to guess the suit of the card (club, heart, diamond or spade). While it is hardly the most advantageous of bonus features, there is no denying that it adds to the classic thrill of the game.
Always Hot Deluxe Payouts
A game with the word "hot" in the name is sure to be filled with hot prizes and this is no exception. Always Hot Deluxe will pay up to 4,000 coins for lining up winning combinations of cherries, lemons, oranges, and plums on the reels. Double that if you manage to get bells or grapes - you heard right: up to 8,000 coins. The winning doesn't stop there, either. A line of melons can earn you up to 10,000 coins if you're lucky enough to land them, while lining up a set of stars will probably leave you feeling like one, paying out up to 20,000 coins.
Three lucky sevens are all you need to win a heavenly grand prize of up to 30,000 coins. Don't expect free spins through - this game harks back to a simpler time before the madcap complications of modern multireel fruit slots.
Always Hot Deluxe Graphics & Sound
The 8-bit sound effects caused a momentary lapse into a reverie, nostalgic for my old Amstrad, which I think is all part of the appeal of this fun little title. Likewise, in all fairness, there's not a great deal that can be expected, graphics-wise, of a retro classic. The visuals are as pretty as they need to be and no more. And let's be honest, none of us is here to see unicorns flying through immaculately rendered 3D worlds-we want to win big. Box ticked.
Always Hot Deluxe Conclusion
This game is beautiful in its utter simplicity. As an easy to play, a highly rewarding trip down memory lane, or a simple introduction to the basics of playing slot machines, Always Hot Deluxe is a winner.
About the Game Provider
Greentube is one of the most appreciated, well-known, and most experienced game suppliers of everything from software, games, and land-based gaming products in the world. With its launch in 1980 and their successful, international expansion only 2 years later, the company strived hard and reached all its goals quickly. Today it has offices and locations in over 50 countries all over the world and still exporting high-tech gaming equipment to over 70 countries. The company has 24,000 employees, all working to provide its players with brilliant products, which consist of, among others, 160,000 gaming terminals!
The way to its success can surely be found in its dual strategy as the operations go from being producers of high-tech gaming equipment and operators of electronic casinos, regular casinos and sports betting outlets, as well as technology and service partners in the lottery segments. As you can see, there is no stopping this brilliant company.
But we are here for its online video slots – and they sure are brilliant too. Currently, over 240 video slots are offered by Greentube, and they all offer us vivid themes, a grand gameplay, thrilling features, and big winning opportunities – which is why Greentube is one of the most beloved game suppliers on the markets. They also offer video slots for both online and land-based casinos, as well as Multigames, Jackpots, and Electronic Table Games.