Battle of Slots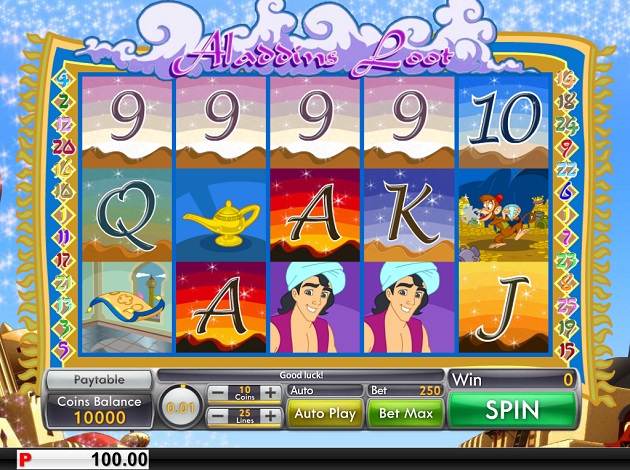 Play Aladdins Loot online: Check out our slot review below
Arabian nights, sunsets and sunrises in the shade of a golden coin, and an adventure in the desert is upon you. This is a video slot inspired by the famous Aladdin and the genie of the lamp. This is the fascinating – Aladdin's Loot from Genii!
Genii is a gaming technology provider focused on building and create next-generation online gaming platforms. The company is based on a team of entrepreneurs who have led the field, both in the business of gambling and technological innovation, since the 1990´s. the company has since that year continued to strive and grow steadily, creating online games and mobile games. They are today one of the world´s largest provider of mobile games for iOS, Android, and Windows phones. All of their titles comes with graphics that are sharp as razors, symbols that matches the theme of each game to 100% and the music and sound effects is something that are far beyond what you are used to!
This time, Genii has created a video slot that is very easy to love, especially if you grew up with these main characters. They have taken a favourite Disney character, and given hi his very own slot – and it turned out to be absolutely brilliant!
Aladdin's Loot main game
The moment you enter Aladdin's Loot, you will be showered in colours and vibrant, moving animations. A cartoony styled slot game, with many known characters and views. The grand desert is in the backdrop, louring you in with its promises of riches and wealth. It is a happy feeling as you enter the game, with many fun animations, and a generally pretty look of it.
You will come across symbols created and made to fit the theme of the game perfectly while in the gameplay. Some of these symbols are the high paying ones, and these are the flying carpet, the monkey, Abu, in the gold cave, and Yasmine the princess. She is the highest paying symbol with a coin win of 2000 for a symbol combination of 5. These represent the higher paying symbols, along with the card deck symbol Ace, with a background of a sunset. The lower paying symbols are the other card deck symbols; these are 9, 10, J, Q, and K – all with nice backgrounds of sunsets and sunrises.
But Aladdin's Loot video slot would be what it is without its no less than three special symbols. The magic lamp in gold is the Scatter free spin feature and can grant you with a grand feature, the genie himself is the Scatter symbol and can grant some real high wins, and last but not least - Aladdin in own flesh and skin represents the Wild symbol of the game. What kind of grand rewards these symbols can grant you with will be explained soon!
Aladdin's Loot theme, graphics, and music
Arabian Nights, Arabian days, the rise of the moon, the set of the sun with the same shade as a golden coin. This is the adventure only existing in fairy tales and stories, except for that you can now live it yourself in Aladdin´s Loot. You can see the camel caravans in the desert, strolling on their path under the heat of the sun. they are heading east, so maybe we should still to them and see where we end up. Truth be told, camels has an incredible sense of smell and can smell water from miles away. Maybe now you can imagine what these gold-diggers can accomplish- the journey is long and hard, but in the far away you can see the domes belonging to the magnificent city of Agrabah. You might not recognize the name of this city, but the moment you lay your eyes on it, you will know. Agrabah is the city where Aladdin and his genie in the story from Disney lives. In Aladdin´s Loot, you will get familiar with both.
You will explore the streets of Agrabah with Aladdin, all while seeing the fascinating buildings, domes, colourful surroundings, and the backdrop of the desert you so bravely made your way through. The animations, designs, and the graphics in Aladdin´s Loot are all very well-made, in a cartoon styled way. This, however, somehow makes the game even more appealing and soothing. The vibrant colours and the familiar characters all make up for a gaming experience you won´t want to leave.
Aladdin´s Loot payout
Aladdin´s Loot offers 5 reels on 3 rows – with a possibility to keep 25 paylines active while in the game. You can choose yourself how many to keep active, but for a higher payout, more paylines are recommended. You also have three coin sizes to choose from; these are either 1, 5, or 10.
The minimum bet is of €0.25, and the max bet is €2.50 – making it a low limit slot. But the high paying symbols quickly makes up for this.
Aladdin´s Loot bonus game
Aladdin´s Loot offers some high payouts, and three special features – but not a bonus game. But, if you love the Disney inspired video slots – then you simply have to check out Pinocchio from Betsoft. A brilliant game based on the Disney children's movie with the same. It offers a great theme, incredible graphics, and a bonus game where you enter different worlds, all with different rewards and features.
Aladdin´s Loot free spins
The magic lamp is the free spin scatter symbol of the game, and this activates your rewarding free spins feature. When landing on only two lamps, you will win 10 free spins, 4 symbols give you 15 free spins, and final, 5 symbols give you 20 free spins!
All wins from the free spin feature are doubled, and you can re—activate the feature simply by landing on yet another three lamps during your spins.
Aladdin´s Loot special features
Scatter symbol
The Scatter symbol is the genie, and he has the grand ability to give away a high win for a simple 5 symbol combination. When you manage to land on 5 genies, you will get 2500x your bet for that spin!
Wild symbol
This is where Aladdin steps in for real in his classic outfit with the blue turban and purple shirt. He is the Wild symbol and he is the top player of the game. For a symbol combination of 5, you can win 7500 coins, and a 4 symbol combination giving you 1000 coins. He can accomplish a lot more than that though, since he can step in to replace other symbols to create winning combinations for you.
Are you ready to take the hard and sweaty journey to Agrabah? I can assure you that it will be worth every single sweat drip as you will experience the real life of Aladdin and his friends. You do not want to miss out on this unique and thrilling video slot from Genii!