Battle of Slots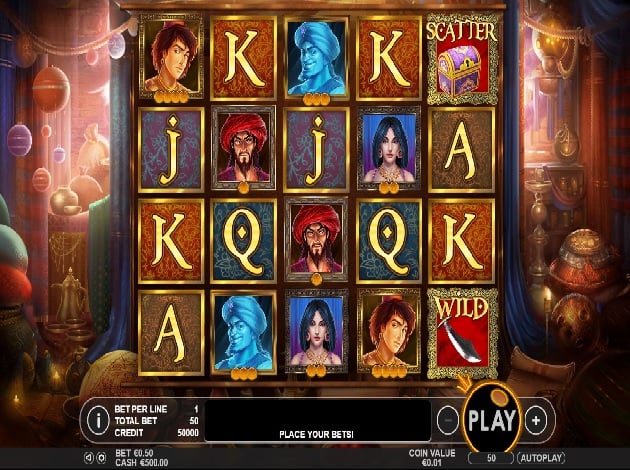 Play Aladdin's Treasure online: Check out our slot review below
Welcome to the Persian inspired Video Slot – much resembling one of the world´s most infamous and loved fairy-tale boy. Here you are taken on an adventure along with Aladdin, and you will get to go treasure hunting with him for the very first time. It is a brilliant game brought to you by Pragmatic Play – please welcome Aladdin´s Treasure!
Pragmatic Play – one of the greatest and fastest growing provider of both online and mobile games for all devices you can think of. With games to prove this, they are certainly one of the rising stars to keep an extra lookout for.
The main focus and goal with Pragmatic is to keep players entertained, satisfied, and constantly looking for more. They have a way of reeling players in by creating and developing products that can suit all kinds of players, all likings, and be most rewarding. This is the way they have risen – amongst others. Gamers constantly seek for thrills, with action and high stakes. Pragmatic is aware of this, and customizes their creations after it to create the most fulfilling product they can for the players.
Everything provided by Pragmatic is developed and made in-house, with content for over 150 verified and great games for both mobile and desktop. The goal of these games is that they will be the mantra of innovation and dedication to help shape the online gaming industry.
Some of the games from Pragmatic Play are Lucky Dragon, Beowulf, and Romeo & Juliet.
Now, we will get closer to this hero – Aladdin – let´s start!
Aladdin´s Treasure main game
Aladdin has, for countless years, been an infamous character from well-known stories from Disney and others. He was among others featured in A Thousand and A Night, and in 1992 the featured film from Disney was released, one that told the tale of him and his friends. It was a movie highly appreciated by both children and adults, and it still is to this day. Now, finally, you will find a Video Slot as appreciated.
The symbols you can come across on the reels are all made to suit the theme of the game flawlessly, creating a clear red thread throughout the game. The lower valued symbols are the classic card deck symbols ranging from Jacks to Ace and these can award you between 50 and 80 coins for a symbol combination of 5x. The higher valued symbols are the four characters of the game. The man in the red turban, the beautiful woman, the man with the big smile and the blue turban, and Aladdin himself. These are higher valued, and comes with worth of between 150 and a staggering 1000 coins for the top player, being Aladdin.
Above the basic symbols, Pragmatic Play has also made sure that we have a few extra special symbols to keep a lookout for on the reels. These are the Bonus Symbol, the Wild Symbol, and the Scatter Symbol. We will get more into which these are, what they can award you, and more, shortly.
Aladdin's Treasure theme, graphics, and music
To start the game and get to the reels of it, you simply press the Play button. When this has been done, you will enter the beautiful Persian world. Everywhere you can see Persian fabrics, rugs, pillows and cushions, water pipes, pots, and much more – everything that is connected in somewhat to the Persian style of life.
The graphics and designs of it are very well-made, as always when it comes to games from Pragmatic. The symbols and animations are made in full details, and very well, in colours that are easy on the eyes. While spinning the reels you can also choose to listen to some classic Persian sounds that will get you in an instantly right feel.
There is simply no going wrong with this masterpiece.
Aladdin´s Treasure payout
Aladdin´s Treasure Video Slot offers 5 reels on 4 rows, with additional 50 fixed paylines. the minimum bet is of €0.50 but you can choose to go higher if you wish too. To adjust your bet, you simply press the + and – buttons.
Aladdin´s Treasure bonus game
This is a Video Slot offering a great deal, and a Bonus Game is part of this. The Bonus is triggered when you land on three of the Bonus Symbol – which are the symbols showing the golden key within the red velvet fabric.
When the Bonus starts, you are taken to a new screen where a room is packed with pots and various artefacts. Your goal here is to choose one of these pots, and after done this, you are awarded the price hiding in these. In the next step, you are taken to another screen. Here you will see the magic lamp and under this you can see 8 different lamps. Your goal in this step is to choose one and reveal the price it gives you. Your win is then accumulated, and the Bonus game is over.
This symbol can also award you on its own. They can look as following:
3 Bonus Symbols awards you 150 coins + 525 Bonus points
4 Bonus Symbols awards you 450 coins + 1575 Bonus points
5 Bonus Symbols awards you 750 coins + 2625 Bonus points
Aladdin´s Treasure free spins
Aladdin´s Treasure also offers a Free Spins Feature which is triggered by three or more of the Scatter – which is the treasure chest. These symbols can award you as following;
3 Scatters grant you 15 Free Spins and a Multiplier of 2x
4 Scatters grant you 30 Free Spins and a Multiplier of 2x
5 Scatters grant you 50 Free Spins and a Multiplier of 2x
Aladdin´s Treasure special features
Wild Symbol
The Wild Symbol of the game is the sword lying on a red fabric, with the text "Wild" written on it. This can step in to replace other symbols to help you create winning combinations.
We hope that you are ready to go back and feel the euphoria of all of ours favourite Disney star.
We wish you the best of luck!