Battle of Slots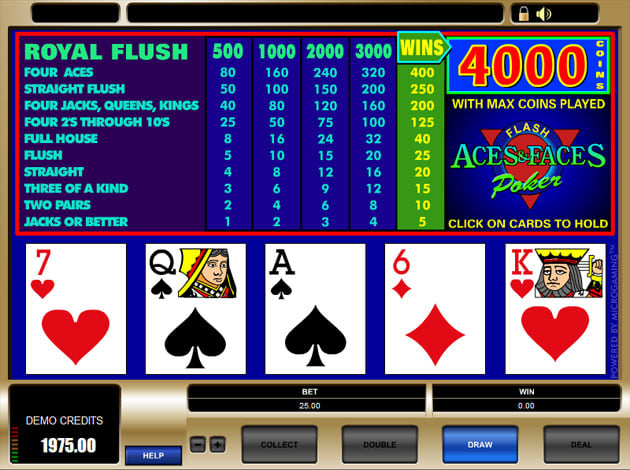 Play Aces and Faces online: Check out our review below
Aces and Faces Poker is a standard video poker game. This means, there are no wilds in this game. In comparison to other video poker games which have a wild, Aces and Faces offers you high payouts for combinations of four Aces or four Face cards. So, you really want to have some high cards before the draw of new cards. The payouts start with a pair of Jacks.

When playing Aces and Faces at Videoslots.com you will find that the graphics are like a classic video poker game should be. No complications with new symbols or features, this is a classic and simple video poker game. Start by clicking on the paytable to select your bet, click thereafter the "Deal" button to start the first game round. You will be dealt cards twice during every game round and you can hold as many cards as you want from the first round of cards. The cards will get marked with "Held" when they are held, so it's easy for you to keep track on which card that have been held.

A feature you will find on any video poker game at Videoslots.com is the option to double your winnings. Let's say you hit 3 of a kind and you win 15. If you decide to click double, the dealer will draw one card. You would then have the chance to double your winning if one of the four cards on the right has a higher denomination. If your pick is a lower card value you will lose your winning. In the double mode you can choose to double several times. If you are lucky to double a 15 coin winning five times you will get awarded with 480 coins. But remember that every time you choose to double you will have the risk to lose your stake. The maximum payout in this video poker game is 4000 coins!

You set the coin of your bets in five levels to fit your wager preferences. Aces and Faces at videoslots.com you can pay you up to 4,000 coins, if you hit the Royal Flush and bet size is 5 coins. You can read more about the game by clicking the red "Help" button to the left in the game, that's great if you are new on this type of game and want to read a bit more about the rules and suchlike.

Try out this video poker game today, it is a fun and simple game filled with great prizes. You will hear sound effects every time you draw new cards, it is nice sound effect that really contributes to a great atmosphere. Choose to either leave the sound on to hear these cool sound effects or you can also turn off the sound by clicking the small speaker in the right upper corner, the chose is up to you. Take the chance to win loads of money in this fantastic video poker game, hopefully today is your lucky day. Press the image above to enter the game!