Battle of Slots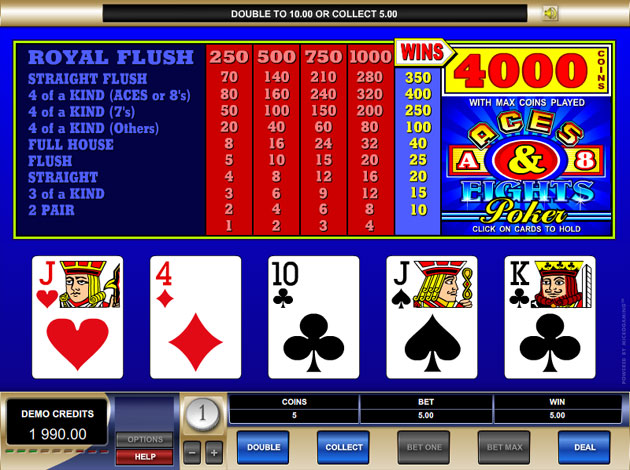 Play Aces and Eights online: Check out our review below
This is a classic video poker game. Do you know which legendary American who was sitting with aces and eights, and why it is called "dead man's hand?

Aces and Eights is played with a 52 card standard deck.

The first step in Aces and Eights video poker is to decide the size of your bet. You can play with up to 5 coins and with a coin value from € 0 up to € 5. You can set the number of coins you wish to play with by pressing one of the fields in the paytable and also change the coin value by pressing the plus and minus buttons to the left in the game. To have the chance to win the 4000 for hitting the Royal Flush, you have to bet the five coins maximum bet. In order to make the maximum bet, click on the Bet Max button. Otherwise, choose another bet size by clicking the Bet One button. After clicking the choose Deal button you are dealt five cards. You are dealt two rounds of cards in each play round, so make sure to save the best cards already in the first round since you can't affect the second round of cards and it will be determinant for if it will be a win or not.

Often, one or more cards are Held. There is a proposal of cards to keep. In this video poker game you can choose other cards to hold or discard pre-selected Held cards by clicking on the respective cards.

Videoslots.com will pay you extra if you hit quad eights or aces in this video poker game.

When you receive a winning hand, you choose either to collect the winnings, or if you want to take the chance to double your winnings. When doubling, a card is faced on the board. Then you select from one of the other four cards and hope that your card is higher than the original card on the board. Maybe you choose to double several times, but remember, every time you choose to double you risk losing the bet. This is the real excitement in Aces and Eights video poker. How many times do you dare to double?

This video poker game has a classic layout that can be nice for you that's a player with a lot of experience of video poker games. This game does not have a lot of complicated symbols and features which we think is good, it's nice to keep it nice and simple sometimes. You will listen to nice sound effects every time you draw cards. This is a great addition to the game since it contributes with a nice atmosphere and really increases the feeling of you playing a real video poker game. You have the option to turn off the sound if you prefer to play in silence or just want to listen to something else. You can simply turn off the sound by clicking the speaker in the right upper corner.

Good luck and have fun!