Battle of Slots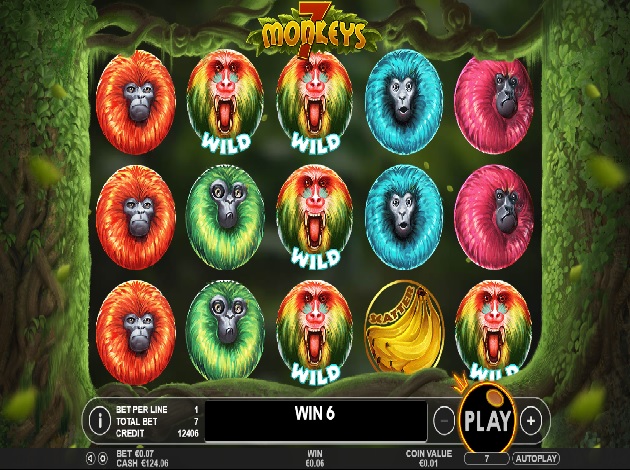 Play 7 Monkeys online: Check out our slot review below
It is time to take a trip, one into the deep and green jungle somewhere unknown. And as the name of the game implies, you will get to meet your share deal of monkeys with attitude. This time it is the amazing game provider that is behind this unique game, Pragmatic Play, named 7 Monkeys!
Pragmatic Play – one of the greatest and fastest growing provider of both online and mobile games for all devices you can think of. With games to prove this, they are certainly one of the rising stars to keep an extra lookout for.
The main focus and goal with Pragmatic is to keep players entertained, satisfied, and constantly looking for more. They have a way of reeling players in by creating and developing products that can suit all kinds of players, all likings, and be most rewarding. This is the way they have risen – amongst others. Gamers constantly seek for thrills, with action and high stakes. Pragmatic is aware of this, and customizes their creations after it to create the most fulfilling product they can for the players.
Everything provided by Pragmatic is developed and made in-house, with content for over 150 verified and great games for both mobile and desktop. The goal of these games is that they will be the mantra of innovation and dedication to help shape the online gaming industry.
A few of the games provided by Pragmatic are Hot Safari, Sugar Rush, and Dragon Kingdom.
But this time, we will put all our attention and glory on this brilliant game named 7 Monkeys.
7 Monkeys main game
7 Monkeys is a game that is a lot more fun that one can imagine when first hearing about it. But the moment you enter the game you will see all the quirky looking monkeys of all kinds. The game offers a great deal of vibrant colours, fun animations, vivid graphics with moving details, and a lot of thrills during the gameplay. We will reveal all about what you can get out of playing this fabulous game in just a bit!
The animations of the quirky monkeys we are referring to are all symbols of the game, with fun and innovative features and twists. The basic symbols of the game are of just these – you have the furry monkeys in different shapes and colours. The pink fluffy monkey and the orange grumpy monkey are the lower valued ones, with a worth of 15 coins each. The surprised looking blue monkey, the "hmmm"-ing green monkey, and the peeking yellow monkey are the higher valued ones with worth of between 50 and 150 coins. The peeking monkey is the top player out of these three.
Above these basic symbols, Pragmatic has also made sure that we have a few extra special symbols to keep a lookout for while in the game. You have the raging monkey in its multiple colours, which is the Wild Symbol, as well as the bunch of bananas which is the Scatter Symbol of the game. We will reveal more about how these can award you shortly.
7 Monkeys theme, graphics, and music
A unique theme not used too often in games like this one – which makes it a breath of fresh air. Something out of the ordinary is always appreciated, and sure, there has been monkey-inspired themes before, but none quite like this.
The graphics and designs of the game is very well-made, one that sets in the deep green forest. You can see this in the backdrop, the huge trees, the slowly falling green leaves, and the vegetation growing everywhere. The reel set is made transparent to make this stand out even more, and the reels are surrounded in green branches and trees. It is a pretty sight to say the least, granting a grand gaming experience in its turn.
7 Monkeys payout
7 Monkeys is played with 5 reels on 3 rows, and additional 7 paylines to keep active.
7 Monkeys bonus game
7 Monkeys offers a great deal of rewarding attributes, as well as features. But a Bonus game is not one of them.
If you do, however, enjoy the theme set and what comes with it, then you should check out Monkey Business from Genii. It is a game that offers a theme inspired by quirky monkeys, all in business suits, with an additional Bonus game called "Fire The Monkey" offered.
7 Monkeys free spins
This game does, however, offer a great deal of Free Spins once triggered. Generous like few others, the symbol of the bunch of bananas can grant you a win of up to 150 Free Spins! These are the amounts you can win;
3 symbols grant you 50 Free Spins with a 1x Multiplier
4 symbols grant you 100 Free Spins with a 2x Multiplier
3 symbols grant you 150 Free Spins with a 3x Multiplier
7 Monkeys special features
Wild Symbol
The raging baboons are the Wild Symbols of the game, and this is quite a rewarding symbol – in various ways. These Wild Symbols can step in to replace all other symbols, apart from the Scatter. This to then create winning combinations for you.
But in its own, the Wild is a high paying symbol. Landing three of them can grant you a win of 50 coins, landing four of them can grant you a win of 400 coins, and landing five symbols can grant you a staggering win of 1500 coins!
Not bad at all, is it?
How does this sound to you? Cause, to be frank, this is a game that is definitely worth your wild. You have everything one can ask for in a video slot, with grand graphics, fun animations, stylish backdrops, a thrilling gameplay, and extremely rewarding features and high wins. there is simply no going wrong with this Pragmatic Play game!
We wish you the best of luck – squeak squeak squeak!