Battle of Slots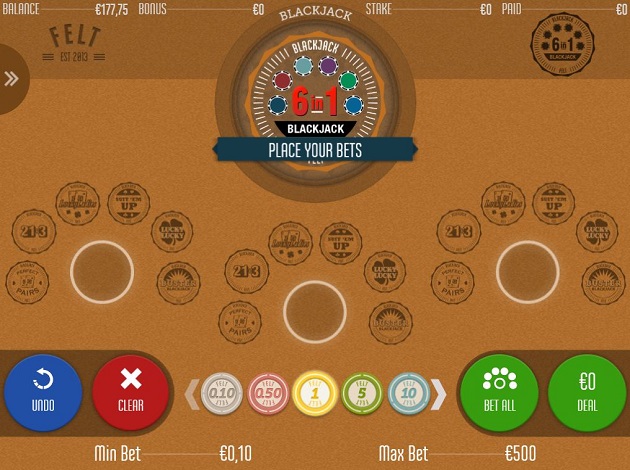 Play 6in1 Blackjack online: Check out our review below
We are proud to introduce you to a game that offers all the best and most popular Blackjack Side Bets in the world – one that grants all favourite Side Bets in one Blackjack game. This is a special edition where you get the best of all worlds, and the provider behind this game is one of the best in the business when it comes to online table games, and they are here to revolutionise. This time, Felt LTD are bringing us 6in1 Blackjack!
Felt LTD is, as mentioned, one of the world´s most exclusive, dedicated, and leading providers of online table games in most genres. The main focus at Felt is to create authentic and realistic looking games that can take players on a gaming experience like no other – an experience similar to the one when playing in a real-life land-based casino. These qualities mixed with intuitive interfaces, while using only high-tech and cutting-edge technology makes their games stand out in the crowd with games that can entertain for hours ends.
Felt creates a connection between the real casinos and a modern, and straight forward design of games. They are all made to look as real as possible, with high-end graphics and sound effects. And what might be one of the best things – Felt games are available for play via desktop, tablet, and mobile – also in both single and multi-player formats, meaning you can play these games with others.
How does this sound? We had a blast trying this fun styled game out, and we know that you will too. If you like what you hear, then you should check out some of their other games. Among others, there are Buster Blackjack, 3 Card Holdém, Double Ball Roulette, and Perfect Pairs Blackjack.
What is 6in1 Blackjack?
6in1 Blackjack is a game where you get the possibility to play six of the world´s most popular and loved Blackjack Side Bet games on a single hand of Blackjack. You still play a hand against the dealer and the six Side Bets that can be played in addition to these hands. They are as always optional, and you can choose which bets you wish to play, or none of them.
The six Side Bets available are the Perfect Pairs, 21+3, Lucky Ladies, Lucky Lucky, Buster Blackjack, and Suit´em Up. We will tell you more about these, how they work, and what they can grant you shortly.
How to start the game
6in1 Blackjack has the same qualifications as all other Blackjack games, where you must place the first Blackjack Bet to be able to start the game. You choose your desired chip values from the chip selector at the bottom of the screen, and you can mix the values up how you wish, as long as they don't go over the max bet of the game. The first bet is as said the Blackjack Bet, not the Side Bets.
The table looks a bit different, though. After placing the first bet, you can choose if you wish to place the Side Bets. These are clearly visible as circles each possible hand to bet. Surrounding the Blackjack Bet circles, are the six Side Bet options, and you can see which is which as it stated inside them. Remember that you cannot place your Side Bet until after the Blackjack Bet has been made and settled.
In this game, you also have a "Bet All" button, meaning that if you press this, you will automatically place your bets on all Side Bets available. The amount will then be the chip value that is currently selected. If you press a €1 chip and then press the "Bet All" button, all Side Bets will be with a bet of €1.
How to play 6in1 Blackjack
When all bets are settled and chosen, you simply start the game by pressing Deal. Right after the cards are dealt, before you play your Blackjack hand, they will be evaluated according to the pay table. Then all Side Bets are settled from left from right, all but the Buster Blackjack Side Bet. Meaning that all bets but that will be settled before the game starts.
This is due to that the Buster Blackjack Side Bet is all about betting if the dealer will bust or not, and the rest of the Side Bets are about the two cards dealt at the beginning. The Buster will be settled when the dealer has completed the last hand.
Remember that the Side Bets and they have no effect on the outcome of your Blackjack result.
After all Side Bets are laid, you will be asked to play your first hand of Blackjack. The object of the game is still to beat the dealer with a hand value total that is higher than that of the dealers but without exceeding 21.
As mentioned before, you can choose to play six Side Bets. These are the Perfect Pairs, 21+3, Lucky Ladies, Lucky Lucky, Buster Blackjack, and Suit´em Up. They all grant you something extra, and they can all grant you some high wins when getting the right hands.
If you wish to read more about them all, and how they work – then you can simply go to the "Help" section in the Menu button at the top left corner.
This is a flawless game for hi-rollers and chance-takers. And this one, you can play anywhere and anyhow via both mobile and desktop version. If you are a true gambler, then you will surely love this game. Felt LTD has made a great job developing and delivering this Blackjack game, and remember, once you go black, you don't go back!
We wish you the best of luck!