Battle of Slots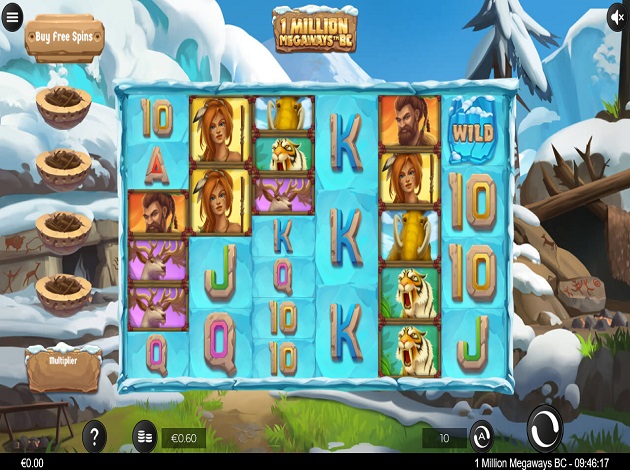 Play 1 Million Megaways BC online: Check out our slot review below
1 Million Megaways BC Introduction
Get ready to experience the life and times of early man in slot form, as Iron Dog Studio presents 1 Million Megaways BC! This prehistory-themed slot is a Megaways number, meaning its 6 reels can hold anything from 2 to 7 rows, allowing for up to 117,649 paylines. The number of reels increases to 7 during free spins through the addition of a "Mammoth reel" holding up to 9 rows. This actually brings about an explanation of the game's title - it is not only set over 1 million years in the past, the Mammoth reel can bring about over 1 million paylines! Now that is an amount that's as massive as any of the animals our ancestors had to share the world with, some of which you will meet on the 1 Million Megaways BC reels.
1 Million Megaways BC Game Features
Being a Megaways slot, 1 Million Megaways BC features 6 reels each with 2-7 rows, a number that varies with each spin. This means each spin brings a number of paylines ranging from 64 all the way up to 117,649. Forming these paylines still requires you to hit matching symbols on adjacent reels, starting from reel 1 and moving from left to right. Symbols forming a payline also disappear, causing a cascade (or, as Iron Dog Studio puts it, a "tumble") with new symbols falling down in their place. This process also kicks off a multiplier, which starts from 2x and increases by +2 with each successive cascade up to a maximum of 8x during regular spins.
Going back to the symbols on the reels, 1 Million Megaways BC features 10 in all. These are divided between 5 high and 5 low pays, with the high-paying symbols consisting of a deer, sabre-toothed tiger, mammoth and a couple of early humans. The traditional A, K, Q, J and 10, on the other hand, fill the low-paying role. Also found on the reels is an icy wild. This appears on reels 2, 3, 4, 5, 6 and 7 and can substitute for any symbol on a payline.
1 Million Megaways BC Free Spins and Bonuses
You might have noticed the 4 fire pits stacked on top of each other on the left-hand side of the reels. These are key to earning free spins in 1 Million Megaways BC. The fire pits light up with each cascade, with a sequence of 4 triggering the free spins round. The minimum of 4 cascades earns you 8 free spins, with any successive cascade adding +2 extra free spins, up to a maximum of 14. This round adds the 7th Mammoth reel, which is squeezed between reels 3 and 4. This oversized reel can carry a total of 9 rows, increasing the potential number of paylines to 1,058,841 when all reels are maxed out.
If you manage to get 9 rows on the Mammoth reel it freezes up at that number for the duration of the free spins round. It also adds +5 free spins. Regular reels also freeze should they reach 7 symbols and add +1 to a score multiplier. This multiplier also increases with each cascade, and does not reset between spins. Finally, the Mammoth reel can land sticky wilds, which lock in place for the rest of the round.
1 Million Megaways BC Payouts
Iron Dog Studio says payouts reaching up to 45,000 your stake are possible through the free spins and multiplier features. During regular spins, the early man brings the biggest payout at up to 100x your stake, followed by his female companion at up to 70x. The mammoth, sabre-toothed tiger and deer are worth up to 20x for a full payline of 6, while the low pays can all bring you up to 10x your stake. The numbers increase during free spins, as a payline with 7 early men is worth 140x your stake. In this case the woman is worth up to 100x your bet, the mammoth 80x, the tiger 60x, the deer 40x and all the low pays 20x.
1 Million Megaways BC Graphics and Sound
1 Million Megaways BC makes good use of the prehistoric theme, with the reels set over a backdrop of early man's cave dwellings. The location is covered in snow during regular slots, but the weather gets warmer and sunnier once the free spins round starts. The reels seem to be carved out of solid ice and feature colourful versions of the prehistoric animals, not to mention the early humans. The music is also based on the theme, as it consists of a tribal-style rhythmical beat that brings about a suitably primal feel to the game.
1 Million Megaways BC Conclusion
1 Million Megaways BC is another worthy addition to the selection of Megaways games on offer - one that's the first to bring over 1 million paylines, thanks to the addition of the 7th Mammoth reels. The result is more exciting gameplay, as getting successive cascades is key to getting a round of desirable free spins! Add the prehistoric theme and you get a very entertaining slot you can check out right now here at Videoslots Casino!
Gambling is a form of adult entertainment only. You must be over 18 to play. Play responsibly.