Battle of Slots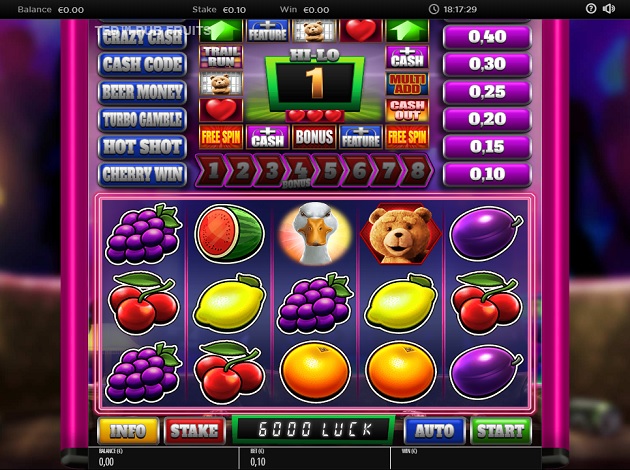 Spiel Ted Pub Fruit online: Unsere Slot-Rezension folgt unten
Ted Pub Fruit Introduction
Ted Pub Fruit from Blueprint Gaming is a five-reel, three row slot with a whole lot going for it!
There is a total of five paylines and the game has loads of features! What's the great thing about the heaps of features you might ask? Well, the features are what makes this game such a blast to play because first you need to activate the bonus round and then get all the way up to the eighth 'level' in order to keep climbing from feature to feature and cash prize to cash prize. Although it might look intimidating at first glance, Ted Pub Fruit is a lot of fun and will motivate you to climb up the ladder immediately. Oh, and it's inspired by the Ted-teddy bear movie that so many got a good laugh from.
Ted Pub Fruit Game Features
The minimum bet in Ted Pub Fruit is € 0.1 and the maximum bet is € 10.
This fun, movie inspired slot has a total of nine symbols in Ted Pub Fruit and they are the ted logo, ted the teddy bear himself, a white duck, a watermelon, purple grapes, a purple plum, an orange, a lemon and cherries.
Ted Pub Fruit Free Spins and bonuses
When you land the fruits in the base game and you hit up to four, then you enter the bonus round which goes up like a ladder and it's a chain effect basically, if you click at the right time on the start button when the game asks something of you.
As you may see by looking at the layout of Ted Pub Fruit, there are loads and loads of various features and fun gameplay. However, it all comes down to a triggering, jumping ladder effect. Firstly, in order to trigger the bonus round, you must land up to the number of four on the base game reels. You'll see that various fruits or other symbols will have a number aside of it and as long as you land up to the number four on all reels, you will trigger the bonus features. After triggering the bonus, it's like a domino effect. You always need to pay attention to what is said in the green box in the middle bottom of the play screen. If you click the right thing, you can play in this mode for awhile as you will be able to go up the ladder in all aspects; feature wise and cash prize wise.
Ted Pub Fruit Payouts
The highest paying symbol is the Ted logo symbol which can earn you up to 10x your total bet. The teddy bear Ted character symbol can earn you with up to 5x your total bet. The white duck and watermelon h=can earn you with up to 4x your total bet. The grapes and plum can earn you up to 2x your total bet and the rest of the fruit; the orange, lemon and cherries can earn you up to 1x your total bet as they are the lowest paying symbols in this slot.
Ted Pub Fruit Graphics and Sound
In the background is a soundtrack that's film inspired from the Ted movie with the feeling of a happy romance. You will see the couch from the Ted film in the background with a light on the left-hand side and empty beers laying on the couch. The main colours of the slot are hot pink, purple, green and red with other bursts of colour here and there.
You can find the paytable by clicking on the yellow 'info' button in the bottom left corner of the screen and the autoplay button is to the left of the start button on the bottom right corner of the screen.
Ted Pub Fruit Conclusion
Ted Pub Fruit from Blueprint Gaming is a very interesting and extremely entertaining slot for players of all levels. This game has a domino effect when it comes to the way that you trigger the loads of features that are mended into the composition of Ted Pub Fruit. Once you trigger one and manage to click at the right moment to go further and further up the ladder, the game is engaging keeping you hooked throughout.
Play Ted Pub Fruit at Videoslots today and see how far up the ladder you can climb.
About the Provider
This is a company that's been around for a long time, having extensive experience in both land-based slot machines and online slots as well. Blueprint Gaming was acquired by Gauselmann group in 2008, a large gambling conglomerate in Germany, propelling them to further success. Now part of the Gauselmann group, they develop their own unique games as well as exciting licensed games.
The goal at Blueprint has always been to create exciting slot games for the global online and mobile markets. Today, their products are available to be played on over 100,000 land-based gaming terminals across the entire UK, as well as in Italy and Germany.
Their licensed games offer an extra-special experience for players, with games like Casper and Worms, inspired by the ghost film and the famous computer game of the same names. Ted is another licensed slot, based on the popular comedy film of the name. One of their latest and already hugely popular licensed slots is Spinal Tap, a slot jam-packed with interactive features and animations, based on the mockumentary from the 1980's.
Blueprint gaming already has a strong portfolio and many of their games are now available to play on mobile devices too. As their portfolio keeps growing, we're can't wait to see what's next for Blueprint Gaming. If you're a fan of action-packed slots with a great sense of humour, you can't miss checking them out. You can play Ted, Top Cat and Wish Upon A Jackpot and more right here at Videoslots.com.
Play in our Battle Of Slots
Don't miss out on the opportunity to play a thrilling Battle with our special, unique and very first social online casino experience – Battle of Slots. Videoslots gives you the chance to play first time Battles against your friends and other players on Videoslots.com with games from NetEnt, Thunderkick and Play'n GO. There is only one Battle of Slots – and you'll only find it on Videoslots.com!