Battle of Slots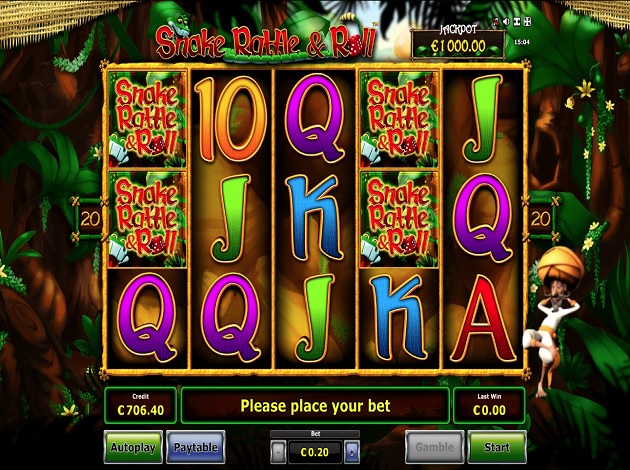 Spiel Snake Rattle N Roll online: Unsere Slot-Rezension folgt unten
Snake Rattle 'n' Roll Introduction
Snake Rattle 'n' Roll is a video slot that gives players all the simple bare necessities: 20 paylines, 5x3 reels.
So how about a slot that incorporates a good old game of Snakes-and-Ladders -- a novel way to earn Free Spins with three options for different paylines -- and the award of a limitless Progressive Jackpot if you reach the top of the board? Extra-Wild-Symbols conjured by a friendly snake charmer, that keep their place until the end of a spin?
Follow the tunes of the snake charmer's pungi, and read on...
Snake Rattle 'n' Roll Game Features
With a vaguely Indian theme to the game, cartoon characters that look excitingly familiar, and well, charming, and also many possibilities of extending your play, the Snake Rattle 'n' Roll video slot is the closest thing to fun you're likely to come across this side of the jungle.
Snake Rattle 'n' Roll Free Spins and Bonuses
Sliding Wild symbols can slide in random directions, substituting symbols for extra wilds.
The Snake-Charmer sometimes gets up from his perch, blows into his pungi, and low and behold, more Sliding Wilds!
The Dice Scatter is the key to unlocking the Snakes-and-Ladders game. Three dice let you in and give you three dice rolls, and so on until five.
The Snakes-and-Ladders game is really something. As you progress up the board, you will win cash prizes, further dice rolls, free spins, and extra wilds. The free spins are gained via a lottery wheel, and sent to three coloured boxes: yellow, blue, red. Get Snake Eyes on your first dice roll, and you shoot right to the win. If you luck out, you still get to have the free spins, and you can choose whether you want 20 paylines (yellow), 40 paylines (blue) or 50 paylines (red).
Baskets can appear on reel 5 during free spins. Light up five basket icons, and you get to pick a basket to reveal a number of further free spins.
You can Gamble up to a maximum € 100, but this feature isn't available when you win the jackpot.
Snake Rattle 'n' Roll Payouts
For the minimum bet of € 0.2, Snake Rattle 'n' Roll pays out the following amounts:
The Coiled Snake pays € 0.6
The Game Logo gives € 0.4
King and Ace pay € 0.28
Ten, Jack, and Queen are worth € 0.2
Snake Rattle 'n' Roll Graphics and Sound
The Snake Rattle 'n' Roll actually feels like a game -- a computer game from the good old days. The graphics are bold and colourful, the animations are fun and surprising at times, and when you hit on a special feature or, better still, enter the Snakes-and-Ladders bonus, it does feel like you have gained something, that you have notched yourself up a new level.
The music sounds South-Asian enough to put you in an exotic frame of mind, and the sound effects do their job quite nicely.
Snake Rattle 'n' Roll Conclusion
The Snake Rattle 'n' Roll video slot feels like it is aimed at those testing the waters of the fun world of online casinos. The bounty of bonus features keeps the game play varied, and the surprise features and animations make playing this slot a livelier experience than what is offered by more traditional games.
The whole experience feels solid, the fun factor way up there, it works equally well on the phone and at home, and the promise of the jackpot lump sum in itself makes giving Snake Rattle 'n' Roll worth giving a spin, or two, or more -- come on, you just have to find your way into the Snakes-and-Ladders subgame!
About the Provider
Greentube is one of the most appreciated, well-known, and most experienced game suppliers of everything from software, games, and land-based gaming products in the world. With its launch in 1980 and their successful, international expansion only 2 years later, the company strived and reached all its goals quickly. Today it has offices and locations in over 50 countries all over the world and still exporting high-tech gaming equipment to over 70 countries. The company has 24,000 employees, all working to provide its players with brilliant products, which consist of among others 160,000 gaming terminals!
The way to its success can surely be found in its dual strategy as the work goes from being producers of high-tech gaming equipment and operators of electronic casinos, regular casinos and sports betting outlets, as well as technology and service partners in the lottery segments. As you hear, there is no stopping to this brilliant company.
But we are here for its online Video Slots – and they are sure brilliant too. Currently, over 240 Video Slots are offered by Greentube, and they all offer us vivid themes, a grand gameplay, thrilling features, and big winning opportunities – which is why Greentube is one of the most beloved game suppliers on the markets. They also offer Video Slots for both online and land-based casinos, as well as Multi-games, Jackpots, and Electronic Table Games.
Some examples are Captain Venture, Book of Ra 6 and Lord of the Ocean.
Play in our Battle Of Slots
Don't miss out on the opportunity to play a thrilling Battle with our special, unique and very first social online casino experience – Battle of Slots. Videoslots gives you the chance to play first time Battles against your friends and other players on videoslots.com with games from NetEnt, Thunderkick and Play'n GO. There is only one Battle of Slots – and you'll only find it on videoslots.com!