Battle of Slots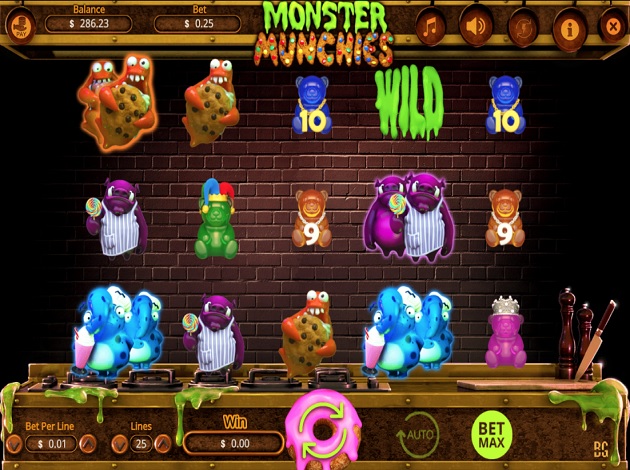 Spiel Monster Munchies online: Unsere Slot-Rezension folgt unten
Messy, slimy and – eurgh – what's that in the kitchen? These, erm, adorable monsters are up to trouble again and their beastly twins have come over to give you even better wins!
Videoslots.com is busy mopping up the floor and scrubbing green grease off the worktops as we present to you the mighty new offering from Booming Games, the 5-reel, 25-payline Monster Munchies online slot!
Booming Games is a game developer founded in 2014 who, despite their relatively short history, have managed to grow rapidly and achieve quite a lot of prestige in the industry. Booming Games have offices in London, the Isle of Man, Athens and Manila, and deliver high-quality game content to many online casinos.
This game developer aims to become one of the leading players in the industry. Booming Games' activity in the European gaming market has already indicated that it has everything a successful game developer needs in its back pocket. In the future, there will be plans to focus on the rest of the market, especially for other game developers in the Asian market today.
Booming Games's gaming products are always based on top quality algorithms around which gaming solutions providing rewarding experiences have been built. All of their games, of course, are also fair and meet the requirements of laws and regulations. Booming Games works closely with online casinos to create high-quality gaming content all over the world.
In addition to Booming Seven Deluxe video Slot Game, Blooming's range of games includes other amazing games such as Cherry Bomb Deluxe, Classico, and Desert Drag.
Monster Munchies Game Features
Got the munchies? Well, they've got cookies, doughnuts and candy lollies but you'd better not take any from them. Start off, instead, by choosing how many paylines you want to play on (minimum 1, maximum 25) and the coin value (minimum € 0.01, maximum € 2 allowing you the flexibility of betting anywhere between € 0.01 and € 50.
Monster Munchies is a low volatility game which can land you some huge prizes – the best thing about all this is that you don't really need to trigger the bonus features to win some decent prizes. That said, Booming have also been monstrously generous with their bonuses in this game, even though you might have to dirty your fingers on your way to the prizes.
Free Spins and bonuses
You won't be disappointed with Monster Munchies' bonuses.
Scatter symbols landing three times anywhere on the reels trigger ten free spins; you can choose to gamble before your free spins but not after they have begun. You then have the option to gamble after getting 3 or more "Scatter" symbols on the reels, but only before your free spins have begun.
The bet amount and number of active paylines cannot be changed during the free spins; if you get 3 or more Scatter symbols during your free spins you will trigger an additional 10 free spins to your current spins. The number of current free spins is displayed on the free spins counter, which only appears during the free spins mode. And, since the Monsters' mischief knows no limit, more free spins can be retriggered during this mode. Collecting cash prizes from your free spin bonuses can bring you to earn up to 2500x your original bet.
The Wild symbols on Monster Munchies (watch out for the Wild spattered in green slime all over the reels) will substitute for all other symbols except the Scatter and Special symbols: with a bit of luck there will be so much goo flying around to land you combinations worth up to 5000x your bet.
Payouts
Monster Munchies players are the only human beings in the world to rejoice at the sight of slime: the Wild is the highest paid symbol with a maximum win of 50 credits for 5 hits on the reels. As for the "normal" symbols, the blue monster can appear up to a whopping ten times through the "Double Symbols" for a credit payout of 5x, the purple monster grants a maximum of 3x and the orange cookie monster bags you a 2.50x credit. There are some minor symbols in the shape of jelly tots wearing the King, Queen, Jack, 10 and 9 hats, and as such award you minor prizes.
Monster Munchies Graphics and Sound
Monster Munchies is fun to play: mostly because of its graphics and the smoothness with which the reels spin. The characters are drawn with such detail you'd expect the monsters to jump out of the screen straight into your lap (make sure you're not wearing your favourite outfit); a bit like a cartoon series which both adults and kids can enjoy.
The game is set in a now-very-dirty-kitchen, and the reels are transparent and set against the brick wall in the background. The command buttons replace the oven and hob controls even though slime is pouring out of them and – oh, that's the Videoslots logo oozing green stuff. Somebody's gotta clean that up.
The music too suggests the cartoonish mischief of ghost and monsters, before going into cute jazzy tunes when you trigger the Free Spins mode.
Monster Munchies Conclusion
There's bags of fun to be had in this video slot by Booming Games, thanks to its universe of mischief and its subtle sense of humour. The paytable is rather generous and you get to win big sums even without the bonus modes.