Battle of Slots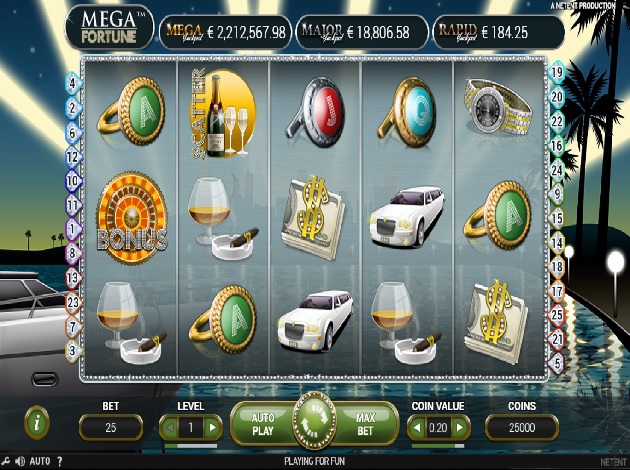 Spiel Mega Fortune online: Unsere Slot-Rezension folgt unten
Everyone likes a bit of fortune, but this time NetEnt are providing us with the Mega Fortune jackpot slot that allows players to enjoy a magnificent free spins feature as well as a Mega Fortune Bonus game.
NetEnt is one of the world's biggest and leading B2B providers where it comes to both casino systems and games which many of the leading casino operators are lucky to have. In fact, NetEnt currently has more than 120 of the biggest operators in the industry using their systems and games.
NetEnt came to life in 1996 by one of Sweden's leading land-based operators. This was a time when one-arm bandits were not permitted in Sweden, so they decided that it would be a wise move to create NetEnt with the help of some investors. They started selling casino modules in 2002, and since then they have not looked back. They built a pretty good name for themselves in Europe, and in 2015 they moved into the US market.
NetEnt has international presence around the world with operations in Malta, Sweden, Gibraltar, Ukraine, and also New Jersey. They have an impressive team of 700 employees that are constantly working hard to present the iGaming industry with the best and most sophisticated games.
Some of the games provided by NetEnt are Starburst, Dead or Alive, Piggy Riches, and Creature from the Black Lagoon
Mega Fortune main Game
Mega Fortune is a 5 reel, 25 payline progressive jackpot slot game and the theme used for the whole concept of this game is simply living life the luxurious way. Fancy bling bling you'll be seeing on your reels, and bling bling you will surely be able to afford if you hit one of the jackpots. We're talking about gold cards, sparkling diamond watches and rings, cigars, Cognac, speed boats, expensive cars, and heaps of cash.
If you obtain 3 or more scatters anywhere on the reels in the main game, you will trigger a Free Spins Feature. However, the best part of the whole game remains the Mega Fortune Bonus feature. But we will tell you more about these amazing options in a little while.
Mega Fortune game theme, graphics, and sound
By simply looking at the graphics on this game, you are thrown into a world of filthy richness; you celebrate scatter wins with chic champagne bottles and glass images, and the payline numbers are substituted with luxurious accessories and possessions such as diamonds, cash, cars, yachts, limousines and much more. And we ain't ready just yet; the game also comes with a smooth ambience instrumental track that plays in the background while you make your way to the Mega Fortune lifestyle.
Mega Fortune Payout
The coin value on this game runs from 0.01 up to a maximum of 2.00; the minimum possible bet is €0.25 running up to a maximum of €50. The minimum amount you can win from the Mega Jackpot is €250,000, but since it is a Network Jackpot, the maximum winning amount will always vary.
Mega Fortune Bonus Game
To enter the bonus game you need to spin 3 of the bonus scatters in a win line combination and this will give you the possibility to win the jackpot. The bonus game is a wheel of fortune, with 3 wheels. The first wheel consists of several coin values or an arrow that will move you into the next wheel, you can either let the wheel stop automatically, or you can click stop to play. The next wheel again gives you the chance to win coins and as well to move into the next wheel, but you also get the chance to win the Mega Fortune Rapid Jackpot. The third wheel is again the same, but this time you get a chance at also winning the Major jackpot. If you land on the Mega Fortune from this wheel – you have won the Mega Fortune Mega Jackpot. But if you want to be in with the chance to achieve this, you will need to be playing on a 25 line win spin.
Mega Fortune Scatters and Free Spins
In the game of Mega Fortune, you will notice that is features scatter wins and scatter symbols that you can click on which in turn reveal the win multiplier and the number of free spins you would have been awarded. On 2 scatters or more, the game will pay out. When you get three or more champagne scatter symbols, you need to choose one, click on it and then free spins are activated.
Then there are the Mega Fortune Scatter symbols. But, how do they work? Easy, once you are in free spins mode, you have a display showing you how many free spins you have left to play and the current multiplier applied to the free spin wins. During the free spins round, two or more scatters activate additional free spins or a multiplier – and it doesn't take much. Just click on a scatter symbol to reveal the number of additional Free Spins or multiplier.
Mega Fortune game features
The Mega Fortune Jackpot has many features such as Free Spins, Wilds and the Wheel of Fortune. The Wild symbol with the yacht on it substitutes for all other symbols except the Scatter and Bonus. If you match five of them, you will immediately receive a generous 10,000 coin payout. The Scatter symbols across the reels are represented by two goblets and a bottle of champagne, and if you get three or more of them, you will get Free Spins. All you need to do is wait for them to appear and click one to see what prize you've won. When the spins begin, start adding up your winnings.
Our final comments
If you are a slot lover who really enjoys bonus games and likes to be in the midst of luxury, then you have most definitely found the perfect slot game for you. The jackpots are simply amazing and go down well with the theme of this game, they are progressive, and there is more than one.