Battle of Slots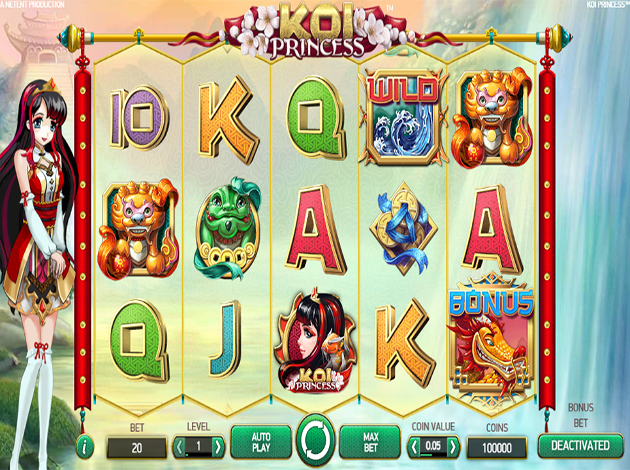 Spiel Koi Princess online: Unsere Slot-Rezension folgt unten
Hi yall and welcome to play this brand new video slot Koi Princess and behind this awesome looking video slots stands proudly one of the best game provider that you can find from the markets. It is the one and only Net Entertainment! This game consist so much fantastic features so let's begin to go these trough!
If you click the image above, you get to experience Far East without that you need to actually go to the place, you can do it straight from home! Koi Princess video slot is 5 reels in 3 rows and it consist 10 paylines that you can keep active. If you want to experience the ultimatum game experience, keep all the 10 paylines activate! This games graphics are just beautiful and this game is full of beautiful symbols and the sound effects just boosts the games theme. As mentioned before, this game has some super-duper cool features: 4 Random Features and 4 Bonus Features.
So there is a Bonus Bet Feature, which means that if you activate this, it will double your bet. But when you activate this feature, you increase the possibilities to get more Random Features as well as changing values on the Bonus Wheel and increases sure coin wins for Sure Win Free Spins. If you get Bonus-symbols on reels 1, 2 and 5 it will award a bonus to you. The bonus can be either Sure Win Free Spin, Wild Reels Free Spins, Bonus Wheel or Coin Win.
For example the Sure Win Free Spins works like this. You will get 10 free spins. For spins 1-5, 1 additional Wild-symbol is placed randomly on either reels 1, 2 or 3. After the fifth spin, yet another Wild-symbol is placed randomly on reels 3, 4 or 5. Wild-symbols position are re-drawn for each spin.
We mentioned earlier that this game consist a Random Features. There is a The 5-Hit Random Feature and it will award you 1 spin with a guaranteed 5-Hit win with a random symbol. Then there is a The Random Wild Random Feature which will give you again 1 spin with 4-9 extra Wild-symbols placed randomly on the reels. Awesome features, don't you think? And this is not all, we have 2 more Random Features to go! The third feature is The Wild Reels Random Feature. Again you will get a 1 spins where 2 to 5 reels becomes Wild reels! Which means that if you get 5 reels just Wild-symbols: ka-ching! Then there is the Bonus Activation Random Feature. It will give you 1 spin and you will get to activate on of the Bonus features. OMG, we here at Videoslots.com can't really even process this that there is a game in this world that has so many cool and amazing features.
Have you dreamed to go on a trip to Asia? Well now is your chance! This game will take you there and hopefully you will come back with so much winnings that your kimono will explode. Click the image above and purchase your ticket to Asia. Enjoy your trip and good luck!