Battle of Slots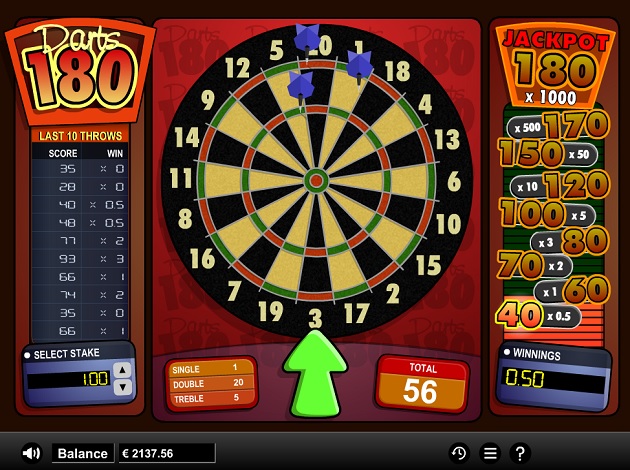 Spiel Darts 180 online: Unsere Rezension folgt unten
Darts 180 Introduction
If you've ever enjoyed a good game of darts before, then you're already familiar with the thrill of this simplistic game that has entertained the crowds for centuries. The modern game of darts was created by a British carpenter in the 19th century, however the history of its origins goes back much further.
Today, you're able to take your aim at this classic game thanks to this virtual rendition. Darts 180 is a 1x2 Gaming slot that features a dartboard that's been divided into 20 equal segments, along with three blue darts per round.
Darts 180 Gameplay
Darts 180 is a simple, quick, darts simulation game that could potentially offer some generous rewards for a perfect 180 score. Getting started is easy, simply select your stake using the up and downward facing arrows to your left. Once you're pleased with your selection, go ahead and hit the large green arrow located right at the centre of your screen.
This will get a new game started, launching three darts at the board. Individual dart throw values are listed in a table to your left, whereas total points accumulated during that particular round are displayed to the right of the green central arrow. All potential Darts 180 rewards are listed to your far right, including the 180 jackpot that's worth 1,000 times your bet.
Darts 180 Points Structure
When it comes to the dart board, each of the number segments are divided into smaller sub-sections displayed in different colours. A random number generator (RNG) is used to launch the darts at the board, with any that land on the central red circle scoring an instant 50 points.
Darts landing on the green central circle will award 25 points, whereas any darts landing within the middle circle will score three times their value, and those that land on the outer circle worth twice their value.
All other areas on the dartboard will score the single value of the area, with your total value indicating the total score of all three darts.
Darts 180 Graphics and Sound
This quick game is extremely entertaining to watch and play, with darts flying towards the board at the click of an arrow, all of your last throws are displayed to your left allowing you to keep track of your performance, whereas all potential rewards are listed to your right.
As mentioned earlier on you're able to adjust your bet using the arrow buttons, whereas you're also able to turn audio on and off by hitting the speaker button right below. Click the tiny question mark '?' button to your right for access to game rules and other information.
Darts 180 Conclusion
With no additional skills required, you're now able to play darts at Videoslots any time. If you're in the mood of playing something that's quite out of the ordinary, Darts 180 might be a great place to start. It's simple, entertaining, and could potentially have you screaming out 'bullseye!' in no time. Check out all the latest games at Videoslots.com!
Gambling is a form of adult entertainment only. You must be over 18 to play. Play responsibly.