Battle of Slots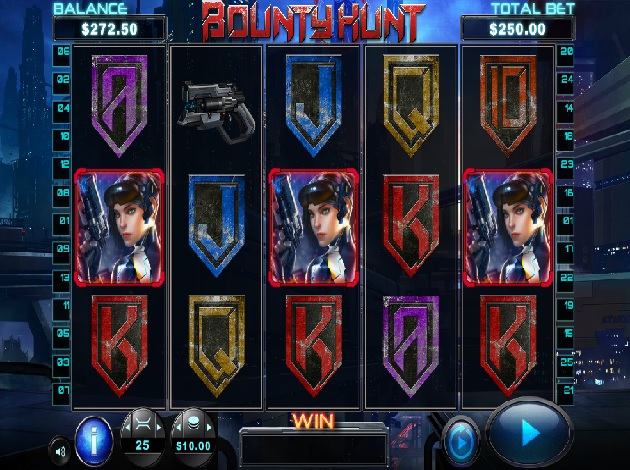 Spiel Bounty Hunt online: Unsere Slot-Rezension folgt unten
Are you ready to catch some wanted criminals? Get your bounty hunter gears on and start Bounty Hunt, which conveniently is the name of this Chance Interactive's video slot! Intriguing, exciting and even a tiny bit dangerous adventure is a head of us, but don't be afraid. You will be guided by the most talented bounty hunter who will find the right target. You only need to watch and learn – and collect the bounties!
Bounty Hunt video slot is brought to us by Chance Interactive. This Australian based game developer was founded in 2014, but it has strong experience behind it. Chance Interactive pushes Australian game developing heritage forward by creating innovative and beautiful slot games, which players love to play. Besides its own amazing game development, it also helps others by providing for example game mathematics for those, who only have the idea.
In addition to Bounty Hunt, there are some other great games in Chance Interactive's game library. Buster Hammer is one perfect example of those games.
Bounty Hunt Main Game
Open Bounty Hunt video slot, and the first thing you will see is dark and futuristic city view. There are some flying vehicles but other than that the landscape is quite empty. The darkness of the city makes it the perfect place for wanted criminals to hide. This is exactly where we are going to find some of them and get rewarded!
Bounty Hunt is 5 reel and 3 row video slot. All the symbols suit the theme very well, even the low paying ones, which are represented by card deck symbols. You can get a bit bigger wins by landing grenade or pistol on the reels. Even bigger wins you will get from the criminal symbols – Big Boss, Dr Fury and Hank Blade. The highest paying symbol is of course our very own bounty hunter.
Special game deserves some special symbols and Bounty Hunt really is one special video slot. In this game, all the regular symbols can be wilds. And how is that possible? You ask. And we will tell; there is a crosshair which stops on one of the symbols after every spin and that specific symbol transforms into wild symbol and might transfer some others too. But we tell you more about it later.
Bounty Hunt Theme, Graphics and Sound
Bounty Hunt video slot is – as you might have guessed by the name – based on bounty hunters. Bounty hunters are people, who find and arrest criminals and wanted people and take them to police. And why they are called just bounty hunters? Because they are not only after criminals, but also after the bounty they will receive after giving out the criminals. This is somewhat dangerous job, especially in America, where everyone can carry a fire gun.
Bounty Hunt video slot takes place in futuristic world, even though we have some bounty hunters in today's world too. This game paints dark picture of the city terrorised by group of criminals, which our bounty hunter is about to catch. The graphics are amazing and sounds add even more excitement on the reels. Bounty Hunt video slot is great game in whole, visuals as well as the sounds are very well executed.
Bounty Hunt Payout
Bounty Hunt video slot is about bounty hunting, of course. In this game, you will have 25 paylines to hunt the bounty from. You can activate as many paylines as you want, but remember, that you will only get the wins from the active paylines. Might be wise to activate them all!
In Bounty Hunt video slot, you can also choose the coin value you want to bet per spin. This is easily done from the control panel. You only need to click the arrow to either bet down or bet up from the default bet.
Bounty Hunt Bonus game
Bounty Hunt video slot is intriguing game and it has some very nice features, but bonus game is not one of them. However, if you feel like you want to get some hunting action spiced up with the possibility of triggering bonus game, you might want to try Playson's Space Corsairs video slot. In this game, you can travel around the space and hunt some treasures. And there is a bonus game too, as we promised. In Space Corsairs bonus game, you will try to find the biggest wins by clicking the planets.
Bounty Hunt Free Spins
We already told you about the crosshair that will stop on one symbol after every spin in Bounty Hunt video slot. If it stops on the wanted symbol, you will win 10 Free Spins. During the Free Spins, there will be one criminal target and if crosshair hits that target, it turns all the similar symbols into wilds.
Bounty Hunt Special Features
The wild symbol in Bounty Hunt video slot is very interesting. This is not just one symbol, but a crosshair which can transform any of the symbols into wilds. And some of the symbols transformed into wilds, can create even more wild symbols on the reels. This is the feature that can bring you some very tasty bounties!
Now we will tell you what happens, when each of the symbols get transformed into wilds.
Bounty Hunter: Transforms into wild and adds one wild symbol to each of the other reels.
Criminals: Turns into wild symbol and transforms all the equivalent symbols on the reels into wilds too.
Grenade: Turns into wild and fills the whole reel with wild symbols.
Pistol: Turns into wild and transforms one random symbol on the reels to wild.
Card deck symbols 10-A: Turns into wild symbol.
Criminal wilds: the whole reel on which the symbol appears, turns into joker.
Three evil criminals are out on the run and there is only one who can catch them. This is our very own bounty hunter, who have the nerves of steel and eyes of the hawk. She will catch them eventually, but now you can help. Are you brave enough to play Bounty Hunt?