Battle of Slots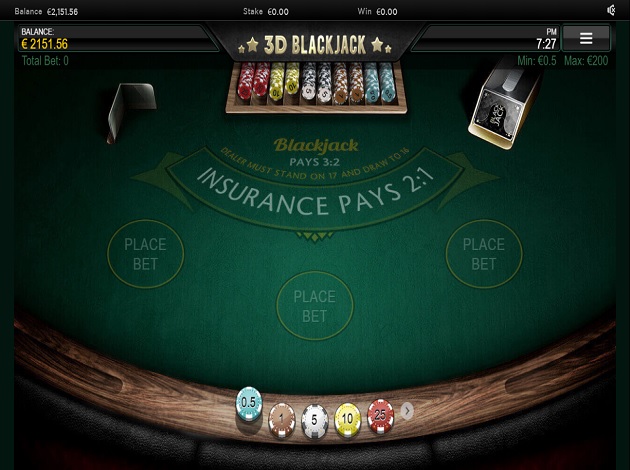 Spiel 3D Blackjack online: Unsere Rezension folgt unten
3D Blackjack Introduction
3D Blackjack from Iron Dog Studios offers a state of the art Blackjack experience with impressively realistic graphics in an elegant casino environment. Iron Dog Studios intended to create an immersive casino atmosphere with their 3D Blackjack game, using high-definition graphics and sound effects to recreate the authentic casino atmosphere on the screen. 3D Blackjack follows the same basic rules of the classic table game and it is played with six standard card decks which have 52 cards each.
How to Play 3D Blackjack
To begin the game, you need to place your bets by placing the chips on the table. There are chips with different values, and you can simply click on each chip to place it in the betting area. Once you've placed your bet, all you need to do is click 'Deal'. The cards are dealt, and you can then choose whether you want to double up or clear your bets. Once the round is over, you can choose to rebet, to double your last bets, or place new bets on the table. With every game round, the card deck is reshuffled.
Insurance Bet
If the dealer's visible card is an ace, then you have the option to buy insurance by betting an additional 0.5x your initial bet. If the dealer then gets a Blackjack, you win 2x your insurance bet. If the dealer doesn't get a Blackjack, then you lose your insurance bet.
Split
If you're dealt two same value cards, then you have the option to split the cards. This doubles your initial stake so that both hands of the split have the same stake. Keep in mind that if you've split, then Blackjack cannot be called on that hand. You can only split once per hand and each one is played at a time.
When the first hand is dealt a second card, you have to decide whether you want to Stand, Double, or Hit. If you decide to Hit, another card is dealt to you. Once you play the first hand, the second hand is played by repeating the same process. The dealer must deal until he has a total of 17 or more.
Double
You can double your bet after viewing the first two cards. If you double, you get an additional card to your hand. Then, you have to Stand, unless you go Bust.
3D Blackjack Payouts
Blackjack pays 3:2
Insurance pays 2:1
Player wins pays 1:1
Same value is a Push
3D Blackjack Graphics and Sound
Smooth jazz music welcomes you to the table of 3D Blackjack along with the dealer's voice he greets you and invites you to place your bets. The blackjack table is the typical green felt material and the graphics are very realistic, making you feel like you are at a real Blackjack table.
3D Blackjack Conclusion
3D Blackjack from Iron Dog Studio does a great job at recreating the classic Blackjack experience virtually. The gameplay will be familiar to anyone who has ever played Blackjack before but it's also easy to understand if you're new to the game. Check out 3D Blackjack at Videoslots Casino today!
Gambling is a form of adult entertainment only. You must be over 18 to play. Play responsibly.