Battle of Slots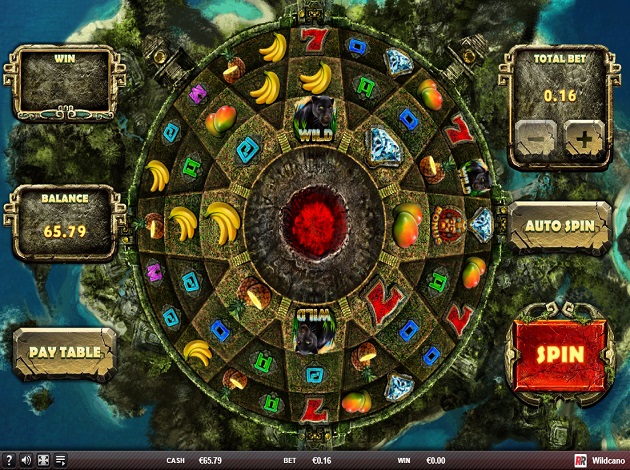 Play Wildcano online: Check out our slot review below
Wildcano Introduction
Get ready for a new sizzling take on slot games. Wildcano is circular reel slot game that takes place on top of a bubbling volcano.
This game's hottest prize is of 20,000,000 coins. Only the bravest will be given the chance to win this prize, however. The tribe who lives on the island is there to encourage you and keep you going with mystical music and tribal chants.
As you spin the reels, full of colourful, tropical symbols, get ready for a myriad of welcome disasters. Whether its earthquakes, flowing lava or gushing volcanic fragments, they could all lead to more winnings in this game.
Wildcano Game Features
Although the game has an unusual design, players will quickly become accustomed to playing it. Wildcano is a 3 reel, 8 payline slot game. What is unusual about it is that the reels form circles and one if bigger than the other. You can start betting from as little as € 0.16 up to a maximum of € 120. The game features both a free test mode and a real money mode.
Wildcano Free Spins and Bonuses
This slot comes with plenty of bonuses for you to enjoy. Apart from the unique design, what also makes this game special is its random bonus. As you are spinning the reels magma can suddenly start flowing down from the centre of the volcano. This lava will fill up two paylines and this leads to the symbols to become ash and be replaced with new ones. Whenever this happens, you win a prize.
Another random effect is the Pyroclast effect. As the reels are spinning, the volcano can shoot out pyroclast and whichever symbol it lands on will change to a wild symbol.
If you enjoy playing high stakes, then Wildcano can give you the prizes you have always wished for. If you bet 120 and get 6 of a kind of most symbols you will win millions in coins. You get the highest prize if you land 6 wild symbols. In Wildcano, the wild symbol is a black panther.
Even if you are not normally lucky, this game will take care of you. The Earthquake effect can come into play when you have a losing spin. During this effect, you automatically get a free respin.
Similarly, with the Sacrifice effect, you can get new symbols to replace those on no-win paylines.
As if all the above weren't enough, you can also get free spins if you get at least 3 scatter symbols. In this game, the scatter symbols are totem masks.
Wildcano Payouts
The excitement and surprises in the game are made all the more fun when you see the possible winnings that you can get. If you get 6 black panthers on the reels with the maximum bet, you can win a heart-stopping 20,000,000 coins. If, instead, you get 6 diamonds or 7s you win 12 million and 9 million coins respectively.
The winnings remain in the seven figures if you land on 6 mangoes, pineapples or bananas. You even win up to 2 million coins if you get any of the 4 ancient text symbols. The payouts are also very attractive if you only get 3 symbols instead of 6. With even the lowest possible prize being that of 50,000 coins, awarded if you get 3 green ancient text symbols, you will not be disappointed whatever the outcome of the game is.
Wildcano Graphics and Sound
Players will immediately identify the game by its outstanding circular design. The 3 reels are atop the ancient volcano with the red-hot magma spewing from the centre. The volcano is located on a tropical island, surrounded by gorgeous blue sea. As you play the game you will hear the tribal chanting and music in the background. You will eagerly await the volcano's next explosion as you know it will mean hot winnings for you.
The animations of the game are also a huge hit with players. You will witness the gushing lava, the explosive pyroclast and the bubbling volcano as the game progresses.
Wildcano Conclusion
It's evident that Red Rake took a chance by creating such a unique slot game, and that gamble has paid off.
About the Provider
Red Rake Gaming is a software development company, specialising in Slots and other casino games. Spain might not be the Mecca of online gaming, but Red Rake Gaming provides an exception. With a development crew of Spanish natives, the website is offered in Spanish and the company headquarters are in Valencia, Spain. Because of this, the main markets are those of Spain and Europe. The Red Rake Gaming team consists of 40 experienced professionals, who have created the world´s first video slot with orbit reels!
The employees mostly focus on generating high-quality content in the casino industry, with a particular focus in slot games. These are all quite successful, generating a volume of more than 5 million spins daily, just to mention some of the statistics related to it. These statistics are pretty positive: Red Rake is a company with over 40 employees, offering over 50 Slots in 16 languages, 7 casino games on Facebook, 15 million users, and 15 new Slots every month – just to mention a few.
The game portfolio of Red Rake Gaming is vast and versatile, offering games with various themes, spectacular graphics, and animations, as well as careful algorithms that result in an even better gaming experience.
Red Rake Gaming editions we offer at Videoslots.com right now are Little Red Riding Hood and Atlantis.