Battle of Slots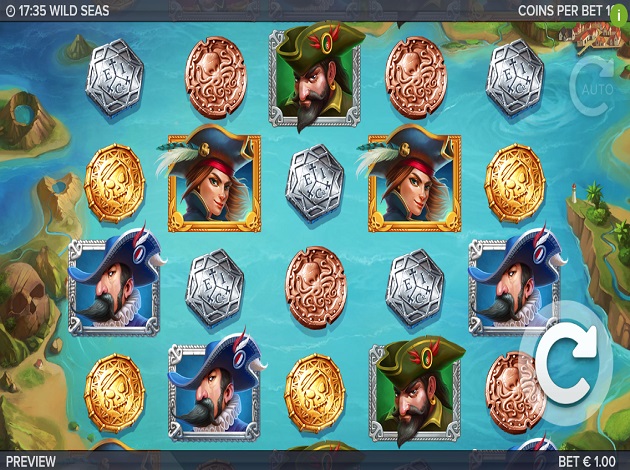 Play Wild Seas online: Check out our slot review below
Wild Seas Introduction
Pirates of the Caribbean, Peter Pan and Cutthroat Island are movies that have one thing in common: pirates! And that's exactly what this Video Slot is about.
The reels of Wild Seas are set against a map where land surrounds the crystal blue seas of what looks like the Caribbean. Perilous waters indeed – here, outside Port Royale, no one is safe from the dangers of these stormy waters or indeed, the pirates that infest them. Worry not, however, because you're in the company of Anne Bonny, the fearless sea captain who has vowed to return the treasures of these seas to the natives of these islands.
Anne Bonny knows the Caribbean more than any other seafarer and she can control the ship even during her sleep. Having grown up at sea, she followed her father on his adventure across the Caribbean, and here we are with her today, following her as she fights off pirate after pirate in this fantastic adventure set in the Golden Age of Piracy! Welcome to Wild Seas, a Video Slot produced by ELK Studios!
Wild Seas Game Features
Wild Seas is a medium volatility video slot with 178 ways to win. Played on five reels with 178 connecting paylines and you can ride the high seas from € 0.2 up to € 100. Let's join the Golden Age of Piracy by having a look at the bonus features this game offers!
Wild Seas Free Spins and bonuses
The bonus game in Wild Seas starts with the Break the Convoy! mode where convoys of sailing wilds move from right to left of the reels. Two Wild Seas symbols landing on the reels will take you to this bonus game, and Pirate ships on reel 5 will fire their cannon at these ships. Each hit breaks the convoy and will hold back the hit ship for another spin. With three lucky hits you will sink a ship and reveal the captain's loot chest, and this will also take you to the second level of the bonus mode, called Loot the Treasures!
Here, you have to collect treasure chests to generate massive sticky wild wins, but if you hit one of the explosive barrels you will go back to the base game.
Wild Seas Payouts
The icons in this Video Slot consist of coins in bronze, silver and gold, as well as three merchant ship captains and Anne Bonny herself. The latter three offer the better payouts of the game, and with a few lucky hits, you can expect to hit a decent treasure!
Wild Seas Graphics and Sound
This video slot is designed with a bird's eye view of the Caribbean acting as a background to the reels. From here, pirate ships laden with gold set sail from all over the world busy looking for places to hide their loot. The symbols are designed in the highest quality, with the icons of the captains and Anne Bonny designed in clear 3D graphics as well as great animations.
Like all other ELK Studios Video Slots, you can play Wild Seas on any device. Whether you're on the go with your mobile phone in hand or sitting in front of your desktop computer at home or using the tablet while lying down on your couch, Wild Seas is bound to offer hours of fun, adventure and treasure hunting! All Video Slots from this game provider have the "Mobile First" seal from ELK Studios which guarantees a top-notch gaming experience!
Wild Seas Conclusion
Wild Seas is yet another spectacular offering from ELK Studios, combining a wonderfully adventurous theme not only with the opportunity to sink ships for treasures – just like real pirates used to – but also with stunning quality graphics. Follow Anne Bonny in these waters and sail into the pirate-infested waters in search of the gold. Good luck and ship ahoy!
About the Provider
ELK Studios is a young but a well-known newcomer to the amazing casino world. This game developer is based in the capital city Stockholm of Sweden, where they have been operating since 2012. The company was founded fore and most to create casino games that are compatible with mobile devices.
Since ELK Studios launched a couple of years ago, they worked really hard to continuously develop new tools and their distribution to mobile casinos, in order to take it to a whole new level. ELK Studios has always aimed for the stars which can be considered really ambitious for a newcomer, but it is the only way to make it to the top in this very highly competitive branch. With help from advanced mathematics models and the highest technical standard, they have achieved their goals at the very least.
They have in their few years created and developed successful games, a few of these are Ho Ho Towers, Electric Sam, Bloopers, and Taco Brothers.
However, that is not all - they have also managed to retain the feeling of tailored games for each and every player, creating them to catch the eyes of the beholders.