Battle of Slots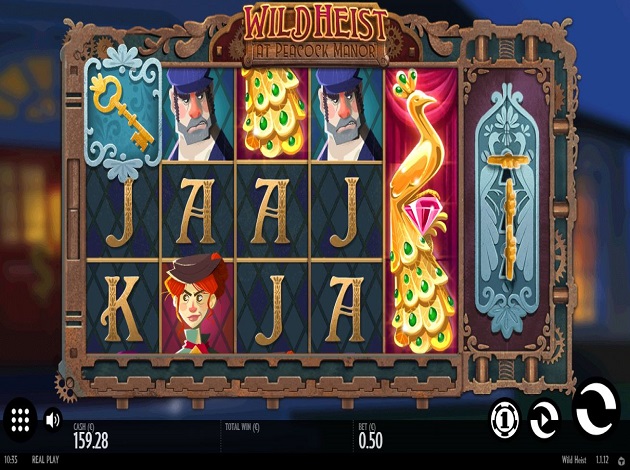 Play Wild Heist at Peacock Manor online: Check out our slot review below
Wild Heist at Peacock Manor introduction
Wild Heist at Peacock Manor is a Video Slot offering mystery, drama, along with Bonuses, Free Spins, Multipliers and Wilds I various shapes and forms. It is simply a game that offers every meaningful component for a promising gameplay.
As you make your way into the game, you are introduced to four handy treasure heisters on their way to make a heist of town´s noble and most wealthy family. But what is it that they really want? What is hiding behind those mansion walls? We will tell you just that; in this noble family´s saloon, which is decorated with red velvet curtains and family portraits, there is a rare peacock made from solid gold and decorated in diamonds.
You have to be sneaky and smart with the heisters when creeping into this mansion. To your help you have an architectural map drawn of all rooms of the mansion. Nails, saws, wires, files, and other tools are parts you need to fill you bag with, as you never know what you might be in need of during a heist as big as this one. With some ice in the belly and virtuosity, the heist will go down a success for sure.
We proudly present; Wild Heist at Peacock Manor by the masterminds, Thunderkick!
Wild Heist at Peacock Manor features
Wild Heist at Peacock Manor Video Slot comes with 5 reels over 3 rows and additional 17 fixed paylines. The first thing you need to do is place your bets which you do easily by using the control panel at the bottom of the screen. The minimum bet is € 0.1 and if you wish to bet higher then you can, of course, do so thanks to the wide range of available bets.
In the control panel you can also open the menu to read upon the rules, the values of the symbols, as well as the way around the Free Spins and Bonus features. A feature that many players likes to get more familiar with is the Autoplay, which goes from 5 and 5000 automatic spins.
Wild Heist at Peacock Manor free spins and bonuses
There is a sea of various features in Wild Heist at Peacock Manor Video Slot, truly astonishing. All Wilds substitute for standard symbols, apart from the Scatter Symbol, to help the creation of winning combinations. But which symbols are then the Wilds? We are not talking just a few here, there are a total of 8 Wilds in this game. So surely you can see that there are plenty of chances to win!
As 3 or more Scatters (golden keys) falls down onto the reels, the Free Spins and the Click and Pick Feature which grants you the opportunity to click 3 of the card shown in front of you. Underneath these, there are rewards such as Multipliers, classic Wilds, more Free Spins, Wild Reels, random Wilds, and walking Wilds.
In a random spin of the base game a so-called Mystery Feature can be triggered. This means that some reels are Wild and can then increase the chance to win. The Mystery Feature can also generate in Walking Wilds and transform any symbol into a Wild.
And as that wasn't enough! As two or more Scatters land in the Bonus game, the Re-pick Feature is triggered. This means that you get to choose more cards for better payouts.
Wild Heist at Peacock Manor payout
As we mentioned, there are 17 paylines in this Video Slot, with wins from left to right.
In the payout table we can see the classic card symbols of 10, J, Q, K and A as the lower valued symbols and after this comes the four heisters dressed in hats and caps.
Wild Heist at Peacock Manor graphics and music
Wild Heist at Peacock Manor is a very thought-through Video Slot with a powerful theme where all symbols on the reels are related to an animated detective´s story. The animations are smooth and cool, but the characters are especially the ones to change its mimes, moving their heads in funny gestures. The music is phenomenal and contributes to a thrilling game experience.
About Thunderkick
Thunderkick is a quite young company that develops slot games and a related gaming platform. The company is located in Stockholm, Sweden. Thunderkick's simple goal is to contribute to a change in the gaming industry by enhancing the overall user experience of an online casino. Thunderkick is founded by a team with years and years of experience in gaming and game development. All of the game development and platform development is done in-house. Thunderkick is driven by a passion for developing amusing games and always strives to let quality come before quantity.
Contributing factor to the success of Thunderkick's games is the high entertainment value delivered through very rich graphics, wonderful bonus games, awesome animations and innovative features and functions. We believe the Thunderkick's products speak for themselves. Their development team always maintain the highest level of quality in everything they produce.
Thunderkick is defining its own style by creating the perfect balance in the games they produce great graphics and excellent animations. They deliver quality games – the kind of games we as players would enjoy. Thunderkick creates video slots that are definitely worth playing. They always deliver exactly what the market desires and what both the gambling operators and players need. They do this with a lot of passion. Their purpose is simple - to create one of the world's greatest gaming experience.
Their games include Flux, Babushka, Birds On a Wire, Zoom, and Spectra, just to name a few.