Battle of Slots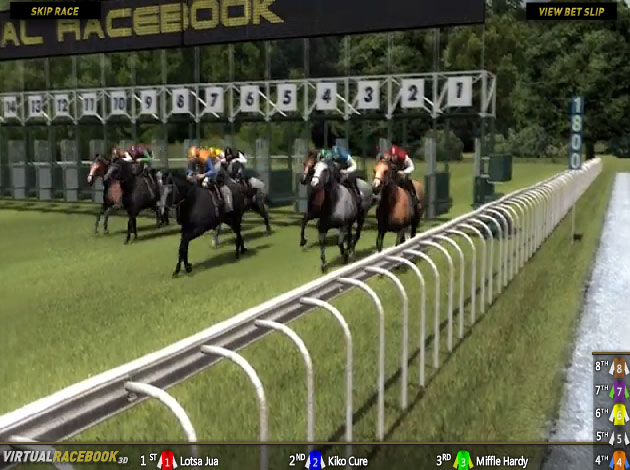 Virtual Racebook 3D
Gallop Sports is a type of equestrian where galloping horses race up on an oval track, ridden by small light rider, known as jockeys. The English full-blood is the foremost thoroughbred horse and running with thoroughbreds are often called "sport of kings". Videoslots.com presents Virtual Racebook 3D from Betsoft. "Betsoft Gaming has been around a long time, if you consider that the online casino industry only really took off in the late nineties. It was established in 1999 and most players think of it fondly for its cutting edge 3D SLOT3 series. If you are a slot fan and you have not tried these games, it is highly recommend that you stop whatever you are doing and try it out as soon as possible. The slots games are highly innovative and animated and a cut above what you used to know as online slots games. They also offer a great variety of video poker games". Virtual Racebook 3D is an exciting, multi-bet horse racing game just like in real life. View horse statistics and place informed bets for single, lay, show, forecast, or tricast. The odds will be automatically shown as soon as you place your bet. You can remove your selection from a particular horse you have chosen before you begin the horse race by lowering the bet to zero, and then you may choose another one by placing a new bet.

When you have placed all your bets, be it on just single, or even on all types of the bets that is available, you are to add them to your bet slip. And when you are done betting, you may click on the "begin race" button in order to start off the race. Once you begin the race, you will be transported to a second screen where the animated 3d video of the horse races is shown. If you can't wait to see the results - you can also choose to skip the race and go directly to the results screen.

You will also notice the positions of the horses changing from the lower side of the screen during the race, so you can keep track and know who is in which position. As soon as the race is over, the animated video will stop and you can see your result on the bets you have made. From this screen you can also see the finish photos of the horses that won from the first place, the second, and the third place.

You then click on the "Return to game" button in order for you to place your new set of bets, and choose either different horses or different types of bets that you have chosen previously, after the previous result of the race. So if you think that another horse is better, or vice versa, you can place new bets, add it to your slip and start a new race to continue on playing this excellent virtual Racebook 3D game with stunning cinematic qualities.

Enjoy Virtual Racebook 3D at Videoslots.com.