Battle of Slots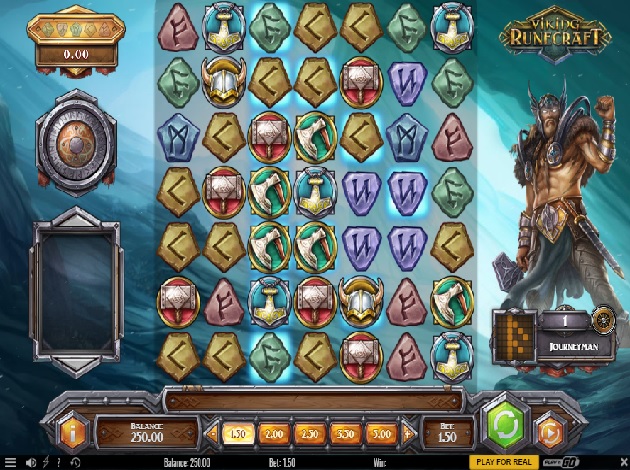 Viking Runecraft
Viking Runecraft Introduction
We are about to introduce a game very anticipated, a game that takes you on an adventure with the Vikings in a quest for wins. Surely, this game is one that has been exceeded by this game provides – a game that will shower you in symbols, rewarding features, and reaching levels to win more. You are in for a real treat, and we are about to tell you just why!
We proudly present; Viking Runecraft Video Slot, a game brought to you by Play´n GO!
Viking Runecraft main game
The moment we entered Viking Runecraft Video Slot we were absolutely blown away. Most stunning is the entity of both designs and graphics. In the backdrop, you see the dark and cold mountains, with Gods and Goddesses appearing in view – all in full 3D and high-def. This with the unique reel set of 7x7 grid filled with symbols symbolic to the theme. The game takes you to Valhalla, greeting the mightiest of Gods.
The symbols you can come across on the reels are all made to suit the theme of the game, and full of runes and amulets. The lower valued symbols are the runes of various colours with various letters on them. These are worth between 15.00 and 75.00 when landing 15x symbols in the grid. The higher valued symbols are the golden necklace, the axe, the warrior helmet, and the hammer. This is also the top player of the game with a worth of 1500!
Apart from these symbols, there are also quite a few extra ones to keep a lookout for on the reels. The four Gods and Goddesses in the game can all grant you big wins, while reaching new levels, hitting a Bonus, and much more. We will get all into these shortly!
Viking Runecraft theme, graphics, and music
Viking Runecraft Video Slot is a stunning game, to say the least – it is incredibly impressive and everything is very well-made. You can see the reel grid of 7x7 filled with symbols and surrounded by gears and cool animations. The backdrop displays the amazing black mountains, with snow heavily falling, and Gods and Goddesses standing next to the reel sets. They are made in 3D graphics, making them stand out even more.
Play´n GO has surely exceeded them when it comes to all of this – and the game is unlike any other you have seen before.
Viking Runecraft payout
As mentioned, Viking Runecraft offers a grid of 7x7 and when five or more symbols are connected to each other and at least touching each other, you land a win.
Viking Runecraft Bonuses and Features
The Bonus Game of Viking Runecraft Video Slot is one based on runestones of various colours. When you win on the 5 different rune stones you are automatically collecting them. These collected stones will activate a winning space on the games´ Bonus Wheel. You simply win the Bonus by hitting any of the activated winning spaces on the wheel.
The Bonus amount won is indicated in the Runes of Valhalla display.
The Gods of the game all have one symbol each representing them, and these are of gold with various signs. This is what the various Gods can grant you;
Thor; Lightning strikes the reel grid which creates between 5 and 9 Wild Symbols.
Odin; 4 Wilds are created in groups of two.
Freya; The light creates Wilds in four clusters until at least one win is achieved.
Heimdall; One Wild is created on each row of the game.
Viking Runecraft levels
"Can you reach the level of the Gods?"
In the game, you have the chance of reaching new levels by clearing patterns on the grid. Clear patterns by winning on all the indicated positions. On each level, you are blessed with the presence of one of the four Gods.
Charge of Destruction; Next, to the grid, you can see a stone of ancient scripts, and this one can light up for you when reaching higher levels. This comes with four different features.
Fury of Fenrir; Four diagonal lines of symbols are selected. Two are then removed and the other two are transformed to the same symbol.
Judgment of Jörmungandr; A chain of symbols on the grid is selected. Most are destroyed but some are transformed to the same symbol.
Scorching of Surtr; Three different symbols are selected and surrounding symbols are destroyed and then selected symbols are duplicated.
Lure of Loki; All of two different symbols are selected. One group is destroyed and the other symbols transformed to the same symbol.
The round stone then charges and lights up when winning and it can activate the above mentioned after winning on 20 symbols.
Ragnarök; When you win on yet another 20 symbols after the Charge of Destruction feature you trigger the Ragnarök Feature.
These features then end when all four features above have been triggered.
After these two features, and when all winning symbols during the Ragnarök Feature, you will get a Multiplier charge that can land you either 2x, 3x, 5x, or 15x.
As you might already have realized, you can see that this is a most rewarding game with a big bunch of features. This along with the amazingly made designs and graphics all make up for a splendid gaming experience.
About Play´n
GO
Play'n GO – with its main headquarters in Växjö, Sweden – was established by a tight-knit team of professionals dedicated to delivering a full range of smart, made-to-order solutions for online gaming and entertainment.
Executives and key personnel at Play'n GO each have more than 15 years' inside experience in the Internet gaming industry. In 1997 they developed the first gaming solution, acting as a sub-contractor to one of the today's competitors. They have led the development of leading online gaming products utilised by leading gaming corporations within both the public and private sectors. Today the company has established themselves tremendously, and today they also have a branch office in Hungary and holds licenses in the UK, Malta and Alderney. They have recently started a filial in Manilla, Philippines as well.
Play´n GO has developed to be one of biggest operators on the mobile market, and more or less all games they offer are also offered for mobile devices. For two years straight, they have won the prestigious prize at the annual IGA awards in London for Mobile Product of the year!
Some of the games brought to you by Play´n GO are Hugo, Grim Muerto, Aztec Idols, Book of Dead, and Cloud Quest.
We wish you the best of luck!