Battle of Slots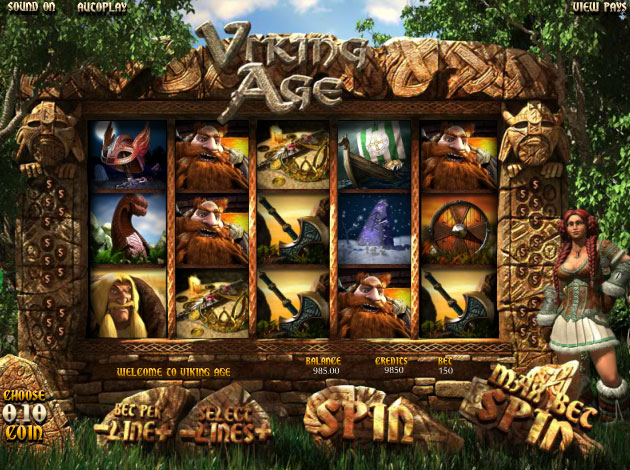 Viking Age
Vikings! The legendary warriors from the north. like most adventurers, they spend their lives searching for treasures in remote lands across the sea. Fearless explorers that stopped at nothing to find what they seek. Dozen deadly seas, strange lands without hesitation or apprehension always under threat! Many wish their death, but they have a strong drive to survive – Brave souls always exploring new frontiers, in search of one thing and one thing only – Treasure! This is Viking Age!

Vikings is a five reel, three rows and thirty payline video slot game. The objective of the game is to match symbols from left to right on any active payline. So you first need to choose the value of the coin you wish to wager in each bet, then select the number of lines that you wish to play on. Then you need to select the number of bet per line you wish to play with. Symbols in this game include Viking ships, axes, treasure, shields, Viking head gear, Amma, and Vikings themselves of course.

Apart from the astonishing graphics that this game has to offer as well as its animated symbols on screen, you will also appreciate its background music as well as fine high definition sound effects during the spins, as well as when landing on winning combinations and even when entering a bonus round which is a perfect fit for this Viking age themed game. This is without mentioning this game's extremely high-end intro animated video where you will see a brief storyline about the Vikings Age and to what this amazing video slot game has to offer.

Three or more Viking metal hat symbols triggers the runestone doors. This combination awards the runestone feature!Zoom into the action to help Amma choose a symbol after transported to a second screen! You will be awarded instant credits, free spins or even instant access to the bonus round! When the runestone doors feature is over, your winnings will be instantly added to your balance in the main game.

Further more, Three or more Amma symbols triggers multiplier free spins. This combination awards the multiplier free spins feature! Join as Amma discovers the multiplier spinners hidden behind the stone structure! During free spins, these reels will also spin. If you get a winning payout on a payline that has a matching start and end multiplier, your win is multiplied by that amount.

Three or more arm wrestle symbol triggers the bonus round! Here you will be transported into yet another second screen of the game, where you need to choose one of the Viking's side – either Elgrim or Erik and compete in the greatest competition of strength that is arm wrestling! Then as they are on the table ready to start of their arm wrestling battle, you will need to choose the outcome of the coin toss between heads or tails. The more times you get it right, the more extra credits you will earn. After the bonus rounds end, your winnings will be instantly added to the balance in the main game.