Battle of Slots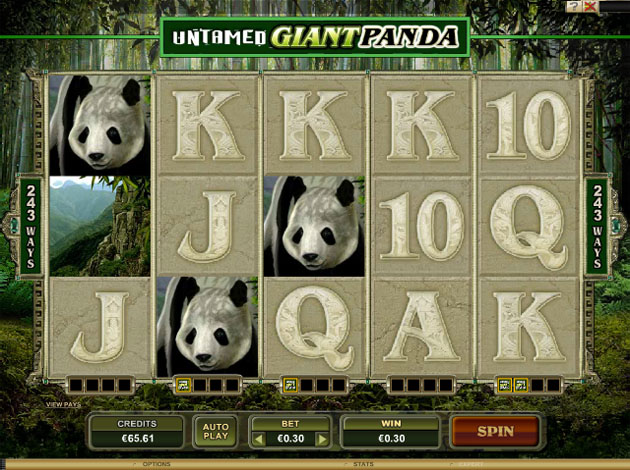 Play Untamed Giant Panda online: Check out our slot review below
The central land in the south of China is an unbelievable place where you will be stunned by a nature that you have never seen before. The beautiful lakes are many, the forests are dense and green and you are going to see mountains with tops high above the clouds. This part of the world are the home of one of the worlds most threatened creature, the giant panda bear. Many years ago, this peaceful bear was wandering the fields of the chines country side but as the years passed by, the humans invaded the land more and more for every day. Like it was not enough that humans took over the panda bears homes, they also started to hunt these fantastic animals for their fluffy and amazing fur.

This turned into a huge escaping of the panda bears. To survive they started to run to higher altitudes in the mountains where they have lived in peace ever since. They made their way up to the Chinese mountains where no human ever had put their feet. Here the bamboo are next into never ending and you cannot see a trace of the bad life they had before. When they came here they also experienced something that each human being could make way much more money on than of their furs, a lot of high winnings. In this video slot, Untamed Giant Panda, you get the chance to meet this furry bear eye to eye. If you treat her with respect she will let you enter her green kingdom to have a look for all the winnings that are hidden under the leaves.

This game has 5 wheels, 3 rows and includes as many as 243 different winnings combinations. Before you start Untamed Giant Panda, you have to choose your coin value. You can make settings from € 1.5 up to the mind blowing € 22.5.This wide bet range makes this a game that suits all players and wallets. The giant panda herself are also guarding some special and valuable symbols. The first one of these symbols are the Wild symbol. This is a great symbol that substitute for all the other symbols in the game, except for the scatter symbols. This will help you to even more fantastic winnings. If you are lucky enough, the panda might even provide you with a round of Free Spins.

This is your lucky day. Not everyone gets the chance to enter this breath, unexplored world. This means that all the winnings that are hidden here are all yours to collect. Keep in mind that the panda bears might be huge but as long as you treat them in the opposite way from how they were treated erstwhile, they will greet you with open arms. They are the only ones that can show you all of the yummiest bamboo shoots, the most amazing views and all of the highest winnings! We wish you the best of luck!